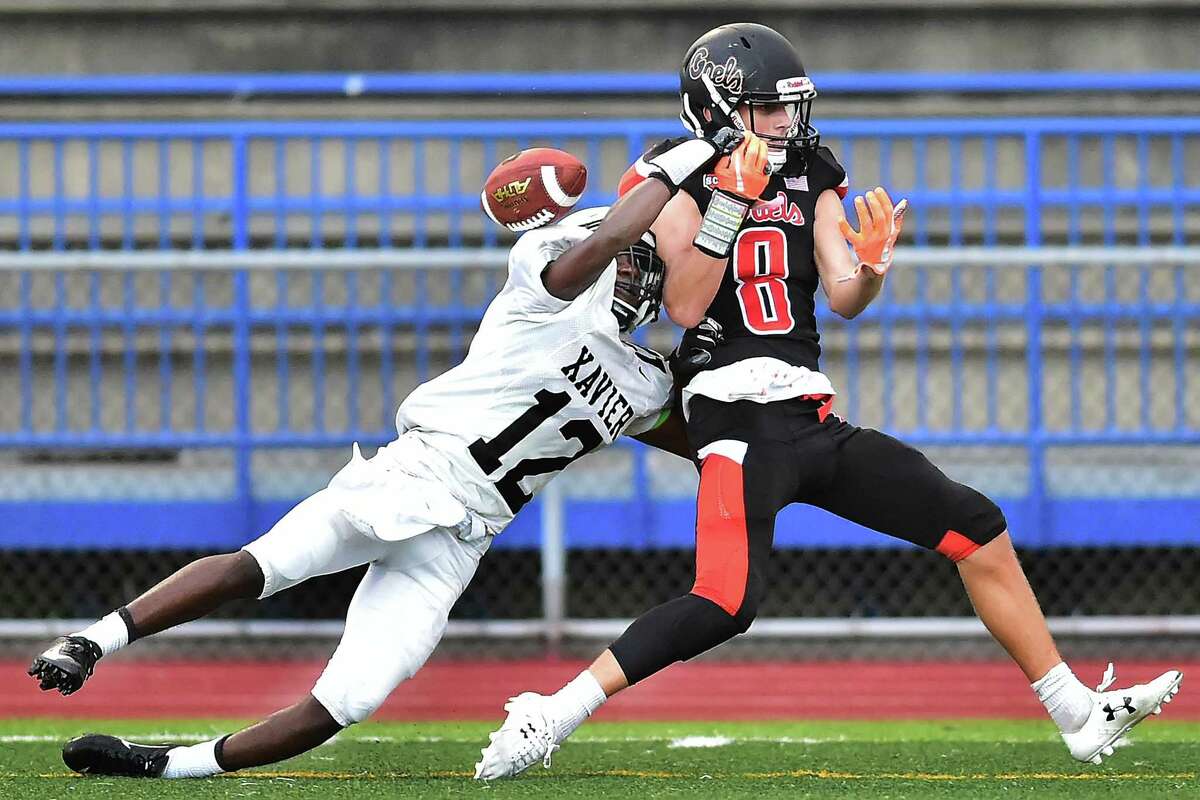 WEST HAVEN — After needing some fourth-quarter heroics to survive against Cheshire in the opener, Shelton looked more like the football team touted as the best the Southern Connecticut Conference has to offer against Xavier.
Jack Carr scored three times in the opening half to help Shelton, the No. 5 team in the GameTimeCT/Register football poll, blitz Xavier 38-7 Thursday night at Ken Strong Stadium.
"As a team, we realized if we came out fast, they couldn't hang with us," Carr said. "We had a lot of stuff that needed to be corrected. We were very sloppy. We got a really good week of practice in."
Carr scored on two long runs and totaled 148 rushing yards in the opening half on just three carries. His first touchdown was the only score of the first quarter, a 32-yard catch from quarterback Jake Roberts (8 of 16, 174 yards first half, 66 rushing yards).
"It's nice to have him healthy," Shelton coach Jeff Roy said about Carr. "Any time he touches the ball, obviously, he can go the distance. Those breakaway runs are back-breakers for the other team."
While Shelton (2-0) was virtually flawless on offense, its defense was also impressive. Xavier had just seven yards of offense midway through the second quarter and 34 in the entire half. The Falcons (0-2) didn't pick up their first first down until there was 5:26 left before halftime.
"Defensively, two weeks in a row, our front seven played well. We got after it," Roy said. "We try to utilize our speed and aggressiveness. Our defense was tremendous in the first half."
Osiah Wiggins' interception and return to Shelton's 39 gave Xavier its best field position of the opening half. The team picked up one first down via a pass interference penalty, but the Gaels didn't yield another, snuffing out the drive at their own 19.
Then Carr finished off the half, and Xavier, with a 82-yard touchdown run with 33 seconds left in the half put the Gaels up 35-0.
"Coach said, 'We are not going to run out the clock. Score and get in the locker room,'" Carr said.
David Yakowicz scored Shelton's second touchdown, hauling in a 24-yard pass from Roberts early in the second quarter. Michai Lynch Barnes scored the third TD just 2 minutes later from 2 yards out.
Then Carr scored his second touchdown on a 60-yard run to put the Gaels up 28-0. And the rout was on.
Roy credited two days of practice this week at Insports Centers in Trumbull when it rained to help get the timing down on offense.
"We lost timing with limited practice. We rented (the facility) out two nights during the week.
"Our timing was better," Roy said.
Shelton coach Jeff Roy after the Gaels defeated Xavier. #cthsfb pic.twitter.com/k4AabYGqAy

— Joe Morelli (@nhrJoeMorelli) September 14, 2018
Xavier didn't score until the fourth quarter, a 2-yard run by Ryan Milner.
"Hopefully, our recipe this year is play good defense and run the ball, but you have to give them credit, they are ranked in the top 10 for a reason," Xavier coach Andy Guyon said about Shelton. "When they are healthy and firing on all cylinders, they're great and they showed it tonight."
This game was originally supposed to be played at Finn Stadium at Shelton High, but a complete renovation project on the stadium is still not completed, so the school had to find a different site for its first two home games.
The Gaels expect to return home for their actual first home game Sept. 28 against Guilford.
QUOTABLE
"Give them the credit, they played great, did what a top 10 team is supposed to do, they are going to be there at the end (in the Class LL state tournament), that's for sure."
— Xavier coach Andy Guyon said about fifth-ranked Shelton.
WINNING STREAK CONTINUES
Shelton has now won the last four regular-season games in this series, dating back to 2014 — also the same year Xavier upset Shelton 28-27 in overtime to win the Class LL Small Division championship. The Gaels had beaten the Falcons during that regular season.
Shelton 38, Xavier 7
Xavier 0 0 0 7 — 7
Shelton 7 28 3 0 — 38
SH: Jack Carr 32 pass from Jake Roberts (Nick Andrade kick)
SH: David Yakowicz 24 pass from Jake Roberts (Nick Andrade kick)
SH: Michai Lynch Barnes 2 run (Nick Andrade kick)
SH: Jack Carr 60 run (Nick Andrade kick)
SH: Jack Carr 82 run (Nick Andrade kick)
SH: Nick Andrade 33 field
Xavier: Ryan Miner 2 run (kick)
Xavier (0-1, 0-1)
Shelton (2-0, 2-0)