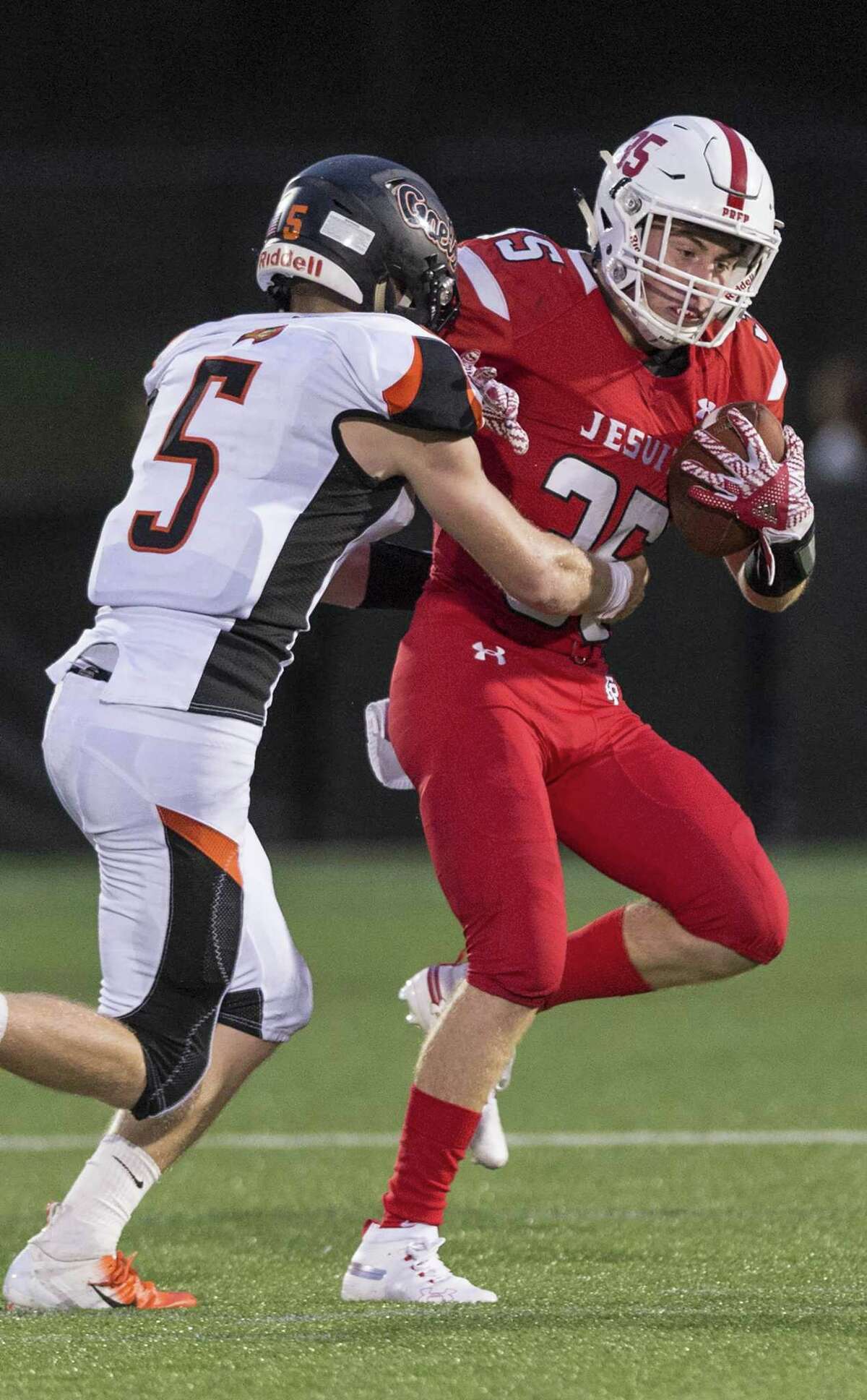 FAIRFIELD — One of the unwritten sports rules, especially in football, is play until you hear a whistle. And on a play when everyone on Fairfield Prep stopped, Shelton's David Yakowicz kept going.
Yakowicz picked up a loose ball on a punt and raced 54 yards to the end zone for the Gaels lone touchdown, a play that proved to be decisive in Shelton's 10-7 win over the Jesuits Friday night at Rafferty Stadium.
The play, a Prep punt from its own 29 with just under 10 minutes to play in the third quarter, hit the ground and bounced right into the grasp of Yakowicz, who ran down the sidelines as the Prep defenders could only stand and watch.
"We teach that, (assistant) coach (Mike) Barone does a great job teaching that," Shelton coach Jeff Roy said. "We tell the kids if they touch it, it's live and nothing bad can happen, so pick the thing up and take a shot."
Replays by GameTimeCT show Prep's Luke Hopkins hitting the ball forward with his arm before Yakowicz recovers it and heads toward the end zone.
"Let's just say I'm going to check into that play a little more closely," Prep coach Keith Hellstern said. "Because I wasn't quite happy with that play. As a coach, I've never seen that happen before."
The Yakowicz touchdown gave Shelton — ranked No. 5 in the GameTime CT football poll — a 10-0 lead, but Prep, which had been pretty much shut down by the Gaels defense in the first half, came to life when Doug Harrison exploded through the line and motored 60 yards for a Jesuits touchdown with 1:17 left in the third quarter. Murray McCarthy added the extra point to make it 10-7.
If you love defense, then this was a treat. If you like offense, you were totally bored. Prep had just 26 total yards (20 passing) at halftime while Shelton was only slightly better, totaling 96 yards (56 on the ground). Penalties — 16 of them, if you're counting at home — and punts, nine between the two teams, highlighted a very sloppy opening 30 minutes.
Thanks to a 50-yard kickoff return to start the game, Shelton started at the Prep 44. 10 plays and 31 yards later, Andrade connected on a 30-yard field goal to make it 3-0 Shelton with 7:59 to play.
That was it.
"My dad actually texted me before the game saying that in the first half, I was going to (stink)," Gaels quarterback Jake Roberts said with a smile. "And I did but in the second half we made some adjustments and came out fighting."
Roberts finished 7 of 18 for 63 yards and he also rushed for 59. The Gaels managed just 173 total yards against Prep's defense. The Jesuits totaled just 186 yards against the Gaels — 114 coming from Harrison.
"Our defense was unbelievable," Roberts said. "They've carried us so far this season. I give them all the credit."
After a nearly seven-minute drive by the Gaels that ran the clock from 9:21 to just 2:41 to play in the game, Prep got the ball back at its own 27 and on the first play, quarterback John Iaropoli found Finn Duran down the middle of the field for a 47-yard gain to the Shelton 26. Two Harrison runs moved the ball to the 19 but a dropped pass set up fourth down. But instead of fourth-and-3, Prep had fourth-and-8 after the play clock ran out, forcing a delay of game penalty with 1:17 left.
"I'll take the blame for that," Hellstern said. "We wanted to convert and get the first. Honestly, I missed the play clock. I would have burned our last time out."
Prep's last gasp fell incomplete as the Jesuits went into the end zone, looking for some final play magic that wasn't to be.
"Every year, this is such a great rivalry," Roy said. "Last year, it came down to the wire, this year, it comes down to the wire. It was a great high school football game. This is what high school football is all about."
SHELTON 10, FAIRFIELD PREP 7
SHELTON 3 0 7 0—10
FAIRFIELD PREP 0 0 7 0—7
Records: Fairfield Prep (2-1), Shelton (3-0)
S — Nick Andrade, 30-yard field goal
S — David Yakowicz, 54-yard punt return (Andrade kick)
P — Doug Harrison, 60-yard run (Murray McCarthy kick)