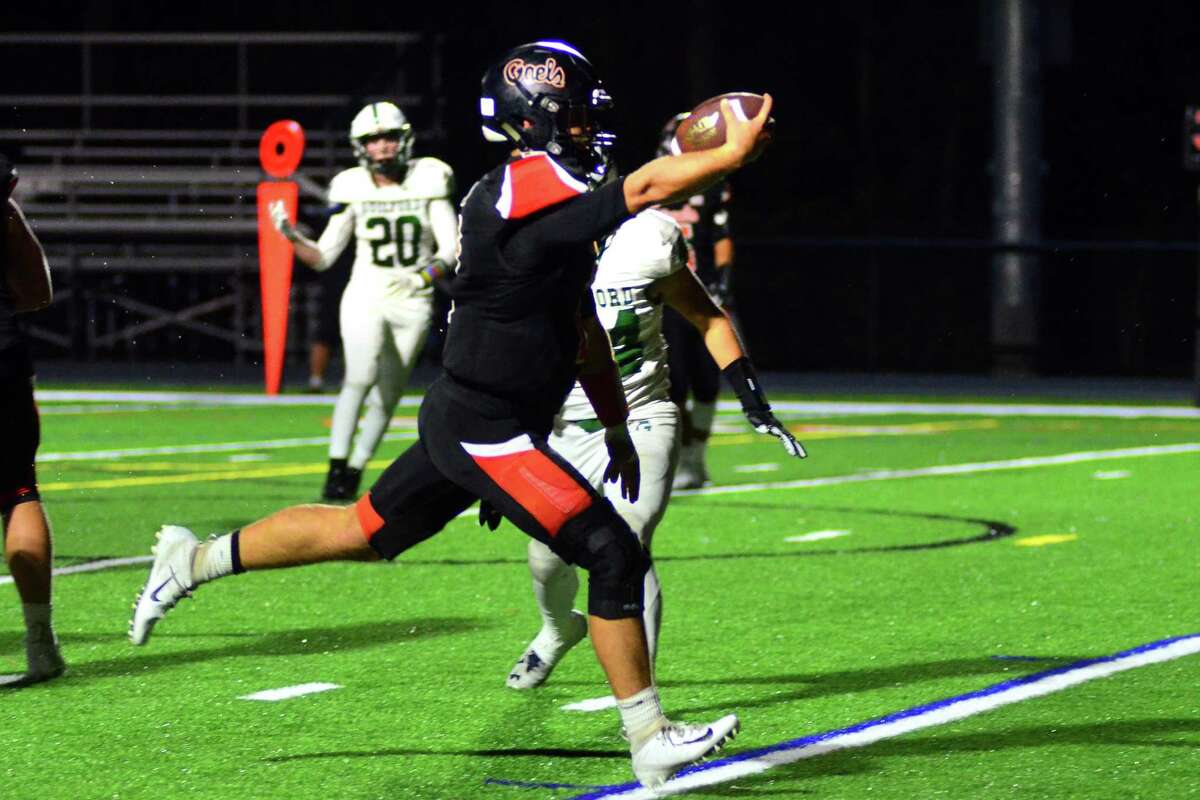 SHELTON — They arrived a few minutes before 7 o'clock, sprinting onto the new turf to the roar of the home crowd.
And for the next two hours, they proceeded to make life miserable for the visitors.
No. 5 Shelton christened refurbished Finn Stadium by pounding Guilford 49-7 on Friday night.
"We wanted to just come out and win and start the field off right," Gaels quarterback Jake Roberts said.
The Gaels, whose first two "home games" were at Xavier and West Haven, respectively, began their night with a flourish. They did all their scoring in the first half, ending seven of their first eight possessions with touchdowns to take a 42-point lead into the break.
Roberts (9-of-17, 82 yards passing) threw two touchdown passes to Paul Ferrigno, including a 10-yarder to cap a methodical opening drive. The senior also ran for 115 yards and two scores — gains of 21 and 8 yards — before taking the second half off.
Jeff Roy and Shelton certainly enjoyed their first game on the new Finn Stadium turf #cthsfb pic.twitter.com/78MQ4NYJy5

— Doug Bonjour (@DougBonjour) September 29, 2018
"It's tough when we just don't have the horses to play with that," Guilford coach Anthony Avallone said. "It makes it even more challenging. They're obviously a talented team. They're well-coached. They took it to us early and took us out early. There's not much you can do about that."
The performance represented a breakthrough for Shelton's offense, which had won its first three games of the season despite scoring an average of just 21.6 points. The Gaels (4-0) gashed Guilford's defense for 351 yards in the first half and had five different players reach the end zone.
"We challenged them this week, we challenged the kids in practice. We have to play better offensively," Shelton coach Jeff Roy said. "We weren't happy with our performance last week against Prep offensively [in a 10-7 win]. We challenged them. We had a good week of practice and things clicked tonight. We started clicking. We've got a lot of athletes and a lot of weapons, and we spread the ball around.
"When we can get our athletes going in space, we're pretty difficult to defend."
Roy's challenge was well-received. The Gaels overpowered Guilford (1-2) early and often, rushing for five touchdowns in the first half alone. They held leads of 21-0 after the first quarter and 49-7 at halftime.
"We've got to execute," Roy said. "We executed tonight."
PLAYER OF THE GAME
Jake Roberts, Shelton, QB: The senior delivered a night's worth of work in just two quarters. He passed for two touchdowns and ran for two more, finishing with 115 yards on the ground.
QB Jake Roberts on Shelton's offense breaking out #cthsfb pic.twitter.com/H2cUNKOMiS

— Doug Bonjour (@DougBonjour) September 29, 2018
QUOTABLE
"This one felt good. The bye week's going to feel great. We'll come back after the bye week, and it's another step on the ladder." — Roberts
DEFENSE DELIVERS
Outside of Charles Schioppo's 24-yard touchdown run in the second quarter — which ended Shelton's run of 35 unanswered points — the Gaels' defense played pretty much a perfect game. Swarming Guilford all night, the Gaels forced two turnovers that led to scores. Jake Falanga recovered a fumble and David Yakowicz had an interception.
SHELTON 49, GUILFORD 7
GUILFORD 0 7 0 0 — 7
SHELTON 21 28 0 0 — 49
S — Paul Ferrigno 10 pass Jake Roberts (Nick Andrade kick)
S — Georgio Ghazal 26 run (Andrade kick)
S — Ferrigno 24 pass Roberts (Andrade kick)
S — Jack Carr 4 run (Andrade kick)
S — Roberts 21 run (Andrade kick)
G — Charles Schioppo 24 run (Tyler Filley kick)
S — Michai Lynch Barnes 63 run (Andrade kick)
S — Roberts 8 run (Andrade kick)
Records: Guilford 1-2; Shelton 4-0