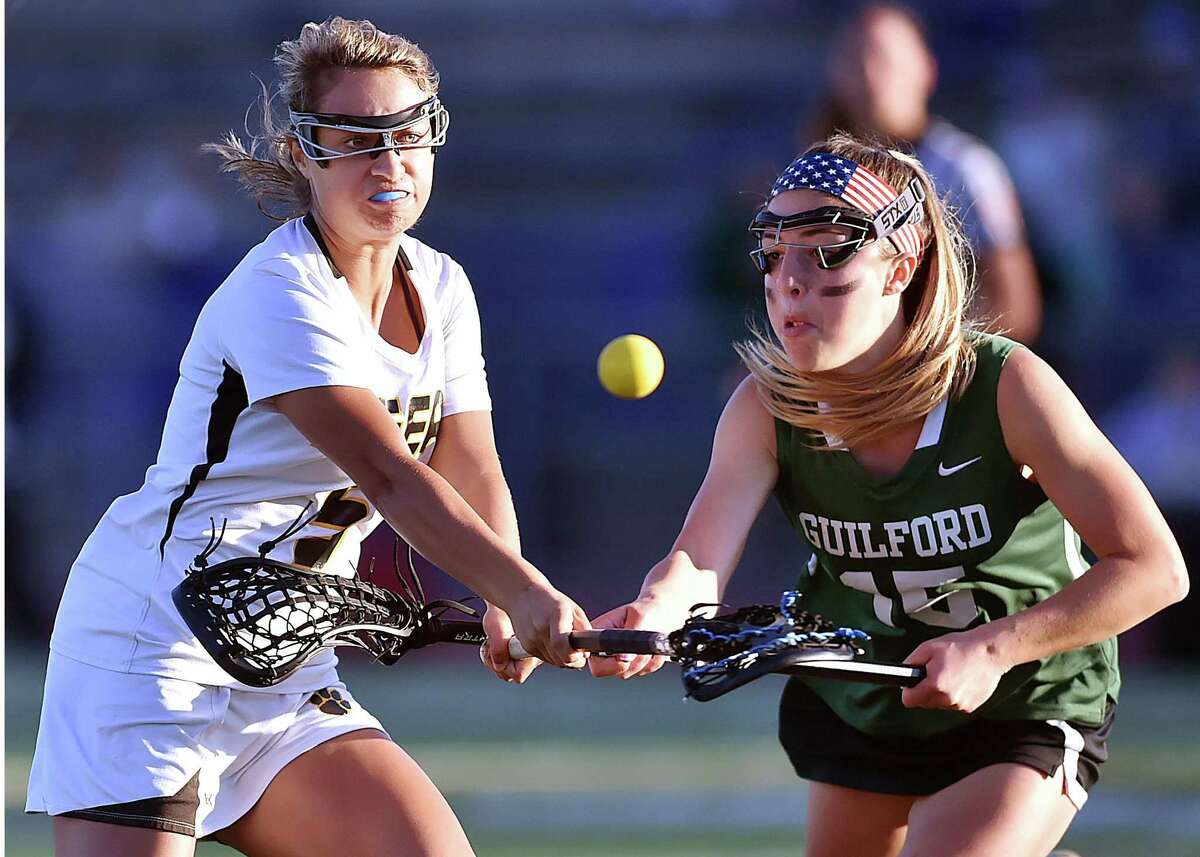 WEST HAVEN – Hand has never won a girls' lacrosse state championship.
The top-seeded Tigers will get a shot at that elusive trophy for the third time and the first since 2015 this weekend after beating arch rival Guilford, 16-8, in the CIAC Class M semifinals Tuesday night at Ken Strong Stadium.
Hand (19-2) will play defending champion and Southern Connecticut Conference brethen Branford Saturday in the Class M final at Jonathan Law in Milford at a time to be determined. Branford (2nd-seeded) needed overtime Thursday night to knock off Pomperaug, 12-11.
"This is everything," said Hand's Taylor Scully, who scored six goals, including five consecutive Tiger goals when they finally broke things open. "We want it so much this year. Even making it to the final is huge and we have a great chance to win it."
Hand coach Kevin Siedlecki said the Tigers have reached their goal of getting back to the Class M title game.
CIAC GIRLS LACROSSE TOURNAMENT SCOREOBARD
"We're in line with what we wanted to get done all season," Siedlecki said. "We had a very tough road to the championship. Guilford is a good team that we played two good games with already before tonight."
Hand never trailed, scoring the first goal of the game, but never was able to get more than two-goal lead in the first half.
After Catherine Larrow tied things at 5-5, Guilford's offense went cold for 16:42, not scoring a goal.
Meanwhile, Scully erupted with four unanswered goals and Chloe Silva added another as the Tigers grabbed a 10-5 edge with 16:37 to play.
"I knew it could be my last school game, so I needed to find the fire in me and kill it," Scully said.
Guilford tried to slow down the game at times to keep the score low, but with Hand winning most of the second half draws, the Tigers were able to play at a faster pace.
"We didn't want to get into a footrace with them," Epke said. "We struggled a little on the draw when they made some adjustments at halftime. We were trying to predict on the draw at the circle and were unable to get possession to play offense."
Guilford closed it to 10-7 three minutes later on a breakaway goal by Maddie Constantino, Hand scored six of the final seven goals of the night, three by Riley Kokoruda to put things away.
In that second half, Hand forced Guilford to take a long time moving the ball up the field by forechecking heavily at the defensive 30-yard line. It forced the Indians into several turnovers that turned into goals.
"They outhustled us for a lot of ground balls in the first half, but we outhustled them in the second half," Siedlecki said. "We shot very well once we got some open shots."
In the second half, Hand just wore the Indians down. Over the first 25 minutes, Guilford was able to get to a lot of ground balls to keep things close, but experience on the Tigers' side was the difference in the end.
"They are a full senior starting lineup a little hard for us to compete with," Epke said. "We battled with them for first half, especially, and gave them a good run."
Guilford finished 14-7 on the season.
"I am so proud of this group," Epke said. "We upset No. 4 and No. 5. To get to the semifinals with 1-2-3 and 13, we're proud of it."
HAND 16, GUILFORD 8
(at Strong Stadium, West Haven)
GUILFORD 5 3 – 8
HAND 7 9 – 16
Records: Hand, 19-2. Guilford, 14-7. Hand – Taylor Scully, 6 goals and 3 assists; Riley Kokoruda, 3 goals; Emma Sullivan, 1 goal and 1 assist; Dory Howard, 3 goals and 1 assist; Chloe Silva, 3 goals. Guilford – Nicolette Spotlow, 2 goals; Olivia Clarke, 1 goal; Maddie Constantino, 2 goals; Catherine Larrow, 3 goals and 2 assists. Shots: Hand, 27. Guilford, 18. Saves: Hand – Mackenzie Larson, 5. Guilford – Carson Halbower, 2.