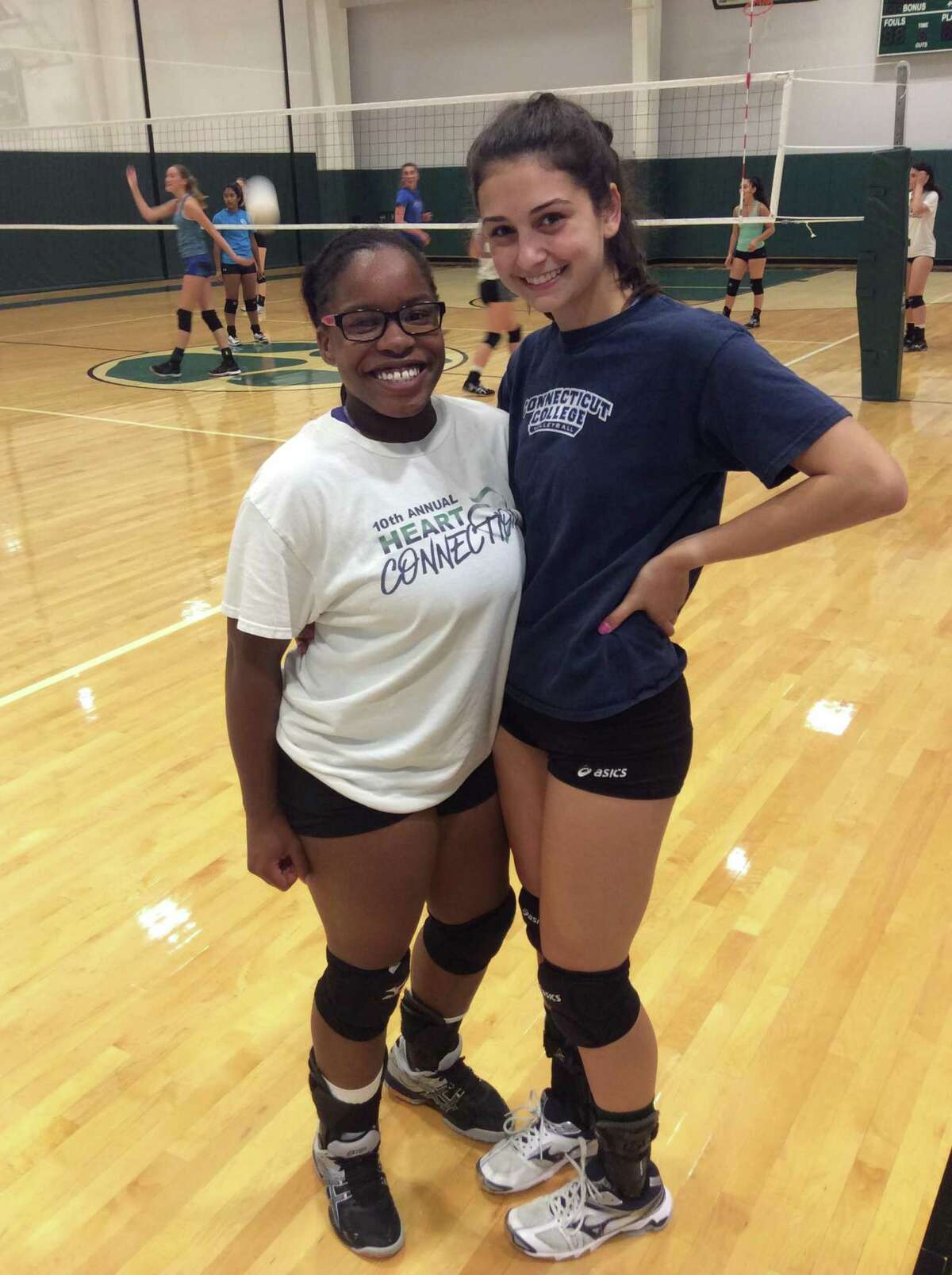 Rosters change each season, but the Sacred Heart Greenwich volleyball team has found a way to reach the same destination the past three years — the FAA Tournament final.
The 2017 season saw the Tigers top most of their conference foes on their way to advancing to the tournament's championship match, where they lost to King School for the third straight year. Graduating five standout players from last season's squad, Sacred Heart might experience some rough moments early on, but it's shown a penchant for peaking at exactly the right time.
"We're a very young team, but we have a lot of potential," said Sacred Heart coach Beth Wilson-Jordan, whose roster includes only 10 players. "We did great in our first scrimmage against Newton Country Day School, our first real scrimmage as a varsity team."
Sacred Heart gave perennial powerhouse King all it could handle in its regular-season meeting, dropping a 3-2 decision. In the FAA Tournament's title match, two games were tight, as King notched a 25-12, 27-25, 26-24 victory. Outsider hitter Ellie McKenney and Laura Holland captained the Tigers' successful 2017 team.
This fall, senior setter/outside hitter Natalia Pazos and senior libero/defensive specialist CMeijah Donaldson are the captains.
"We lost five seniors and we have some girls who didn't get a ton of time last year, so it's going to take some work to get them confident on the court and build that team chemistry on the court," said Pazos, who registered a lot of assists and digs last season. "But I am really confident, they are all very talented with a lot of potential. They have a lot of skills and they are going to keep working on them."
The Tigers' offense has rounded into form as the preseason has progressed.
"We're working on our passing and getting the ball up to our setter (Pazos), who is amazing," Donaldson said. "If we get the ball to her, we can do anything. I was generally surprised with how well we did in our scrimmage against Newton. We were communicating a lot, which is a key aspect of the game."
Sacred Heart, which scrimmaged rival Greenwich Academy on Tuesday, opens its season Thursday at FAA opponent Greens Farms Academy at 4:30 p.m.
AT THE HELM: Wilson-Jordan begins her sixth season as the program's varsity coach. Prior to taking over the varsity team, she served as the school's junior varsity coach for two seasons. Amy Greer returns to the staff as an assistant coach.
WHO'S GONE?: McKenney, a powerful hitter and force all over the court, graduated, along with Holland, who provided a strong presence at the net. Also departing were seniors Magdalena Dutkowska (middle hitter) and Sofia Piriz (setter).
WHO'S BACK?: Pazos is primed for another productive season as a setter. She should also see some time as a hitter on the right side.
"I really like being a setter, because I like having control of the offense and being able to touch the ball every play," Pazos said.
The Tigers should be solid at libero with Donaldson at the position. Junior Kellie Ulmer, who turned in a strong sophomore season, returns at outside hitter, along with sophomore middle hitter/opposite Olivia Lockwood, junior setter/defensive specialist Salome Alfaro and sophomore defensive specialist/libero/outside hitter Morgan Wilkens.
"The team chemistry is good, we have a good bunch of kids and they seem to work well together," Wilson-Jordan said.
WATCH OUT FOR: Joining the squad this season are sophomore Annabelle Hartch (middle hitter/opposite hitter), sophomore Stephanie Guza (defensive specialist), freshman Lucy Catalano (middle hitter) and sophomore Eva Canellakis (outside hitter), all of whom could see valuable playing time on a 10-player roster.
CAPTAIN'S COMMENTS: "Our goal for the season is to make it to the FAA finals again," Pazos said. "I have been on the varsity team for four years and the past three years, that's where we have gotten, but we never won it. This year, we hope to take it."
"Everyone has their own skills and assets they bring to the team," Donaldson said. "If we keep working on those skills we can get so far."
dfierro@greenwichtime.com