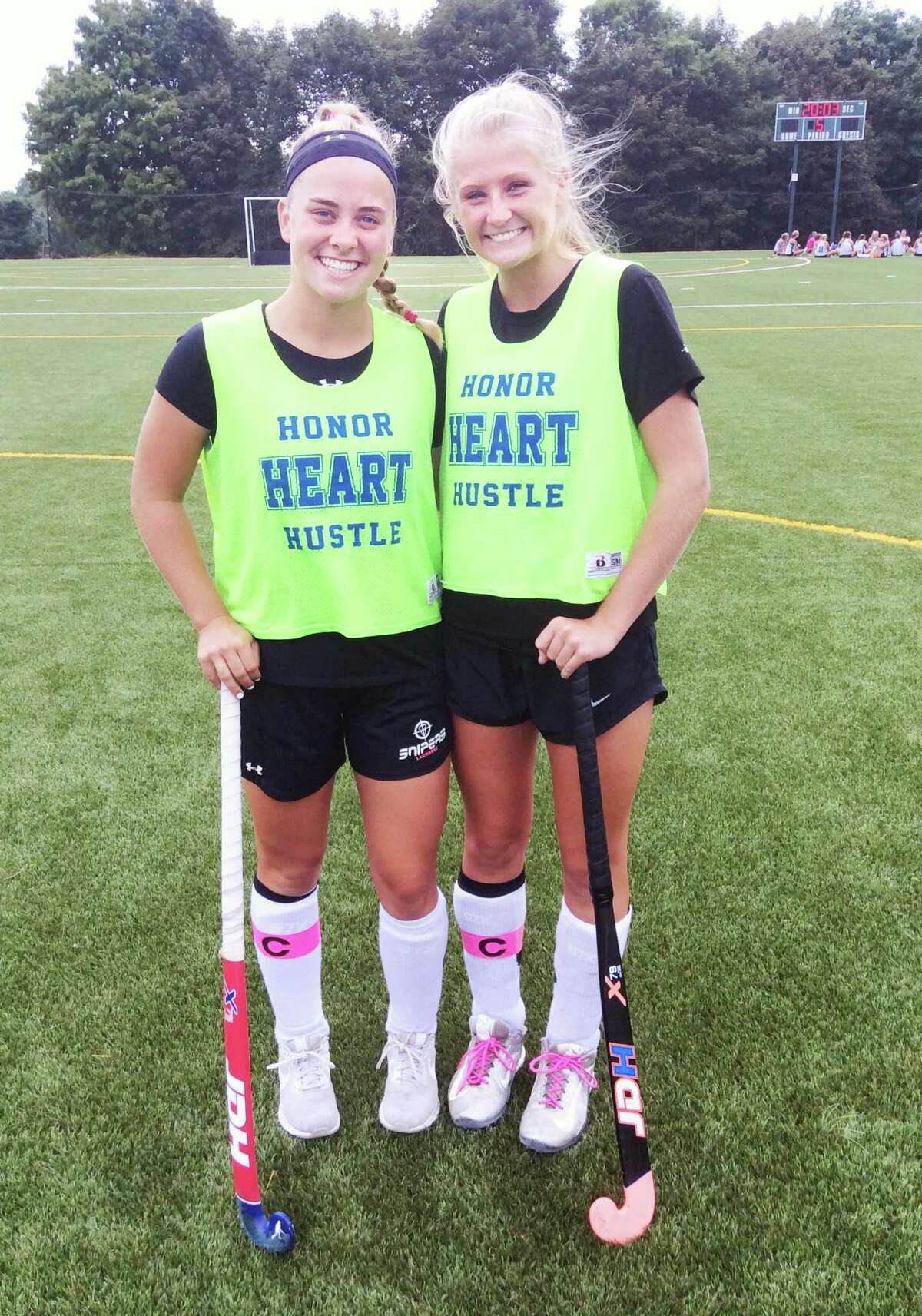 Last season, the Sacred Heart Greenwich field hockey team made program history by winning its first FAA Tournament title.
This season, the Tigers sure wouldn't mind if history repeated itself.
Returning an impressive nucleus of players from last season's title-winning squad, Sacred Heart has the potential to claim another championship and make a deeper run in the NEPSAC Class A Tournament.
"We are excited for the season to begin," Sacred Heart senior forward/co-captain Ryan Smith said. "We want the same energy the day our season ended last year, to continue this year."
Smith's goal with 4:05 remaining in overtime gave the Tigers a dramatic 3-2 win over rival Greenwich Academy in the championship game of the 2017 FAA Tournament — a historic triumph for the team.
Following its memorable victory, seventh-seeded Sacred Heart was defeated by second-seeded Phillips Andover Academy in the quarterfinal-round of the NEPSAC Tournament — a competition the Tigers hope to make their mark in this fall.
"Last year, we fell short to Phillips Andover Academy in our first appearance in the New England tournament," Smith said. "This year, we are going to set our eyes beyond the FAA Tournament."
With Smith and senior Ellie Manriquez returning to pace the Tigers' forward line, senior co-captain Hilary Hoover is primed for another successful season at her stopper position.
"We're really unique in the sense that we have a lot of depth going up and down the field," said Hoover, whose position usually has her playing between the midfielders and the defenders. "We have a really sound defense that's able to work really consistently together, but we also have a really fast midfield that's able to transition the ball to our steady offense. Our team does a good job of working together and transferring the ball up the field."
Said Sacred Heart coach Alex Gheorghe: "This is the fourth year in a row that some of these players are competing with each other on the same team, so they are used to working together. We have almost every single player back. There is a little pressure on us to get the title back, but we're excited."
The Tigers open their season on Sept. 12 against host Hackley School.
AT THE HELM: Sacred Heart is coached by both Gheorghe and Sarah Hill. Gheorghe is in his fifth season with the program, while Hill is beginning her 36th field hockey season at the school.
The 2017 season saw the Tigers register a record of 17-3 and win their first FAA Tournament title. Sacred Heart began last season with eight straight victories and posted nine shutouts in their 20 games.
"Winning the FAA title last year was amazing and the way it was won as well — overtime in an away match," Hill said. "All those factors played into the excitement of the win. This year, we want to make it further in the New England Tournament and hopefully, secure one of the top spots in the tournament."
WHO'S GONE?: Julia Herzig, who flourished in her first season as the team's starting goalie, graduated. Herzig was solid in goal all the season, as the nine shutouts indicate. Also graduating were captains Olivia Monahan and Charlotte Sheehan.
WHO'S BACK?: Sophomore Beth Yeager is starting her third season on the varsity squad and is one of the premier midfielders in the region. She assisted on Smith's game-winner in the FAA final and has helped ignite the Tigers offensively the past two seasons.
"She is a force at midfield and dominates on both offense and defense," Hill said of Yeager. "She's great at distributing the ball and reading the play."
Olivia Batal, a senior, returns at midfield, as does junior Sydney Gallop (defensive midfielder) and freshman Caroline Nemec. Gallop scored the team's first goal against Greenwich Academy in last season's FAA final.
"She is experienced at the midfield position and she's uses good passing combinations," Hill said of Batal.
On defense, MaryGrace Farrell (junior), Hoover and junior Morgan Smith are back.
"We had a really young team last year, but our defense was one of our strong points," Hoover said. "MaryGrace Farrell played played center defense and was able to help our other defenders stop the ball. We also had a strong goalie."
Offensively, the Tigers possess a potent scoring combination in Manriquez and Smith, both of whom are in their fourth season on the team.
"They are masters at ball-handling skills," Hill said. "Ellie has speed, passion and is very eager to score. Ryan is also a playmaker and she has great leadership skills as does Hilary."
STRENGTHS: "We put a lot of time in on the fundamentals," Gheorghe said. "We focus on the fundamentals, so our players have strong skills."
The Tigers should receive balanced scoring and are experienced on defense.
"With Morgan, MaryGrace and Sydney at defense, the three of them have consistently foiled opponents down all sides of the field," Hill said.
NEWCOMERS: Goalie Olivia Caponiti (eighth grader), junior defender Sophia Curto, junior defender Megan Farrell, sophomore forward Peyton Lauricella, Grace Nemec (defender) and midfielder Kate Nemec (eighth grader) each join the team.
SISTER ACT: Ryan and Morgan Smith, Caroline and Kate Nemec and MaryGrace/Megan Farrell give the Tigers three sets of sisters.
"It brings an excellent family dynamic to the team chemistry and to the team's performance," Hill said. "You see the chemistry on the field."
CAPTAIN'S COMMENT: "Last year was special, since we were a young team and a small team and we were considered underdogs," Ryan Smith said. "Last year was a building year, but we were able to win it. So we want to carry last year's success and confidence into this year."
Said Hoover: "We are a closely bonded team and we want to make sure we are using that to our advantage."