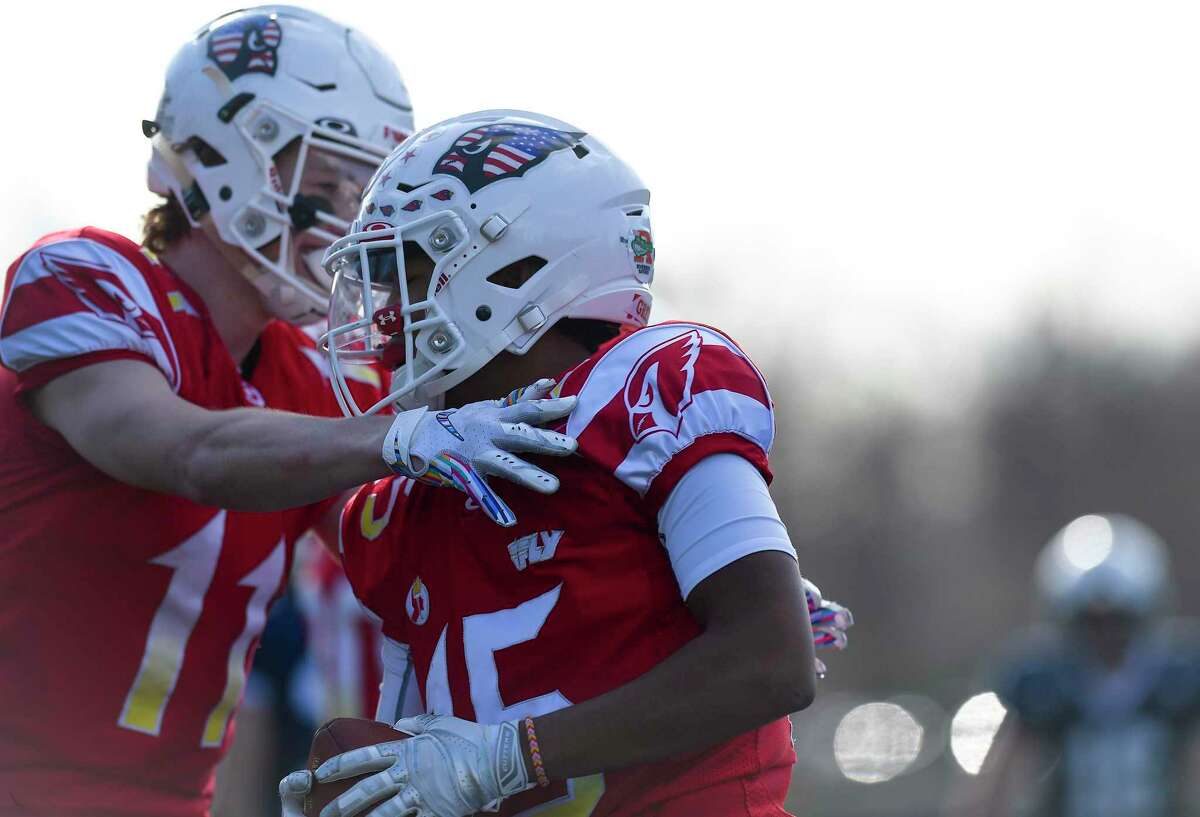 WESTPORT — Greenwich junior quarterback James Rinello entered the Cardinals' game against Thanksgiving football rival Staples with 28 touchdown passes and a mere three interceptions to his ledger this season, and he improved upon those already impressive numbers on Thursday.
Rinello threw for 231 yards with four touchdowns and no interceptions for Greenwich, which concluded its regular season in style, before it faces one of its biggest rivals in an elimination game.
Receiving three touchdown receptions from junior wide receiver AJ Barber and another strong defensive effort, the Cardinals built a 24-point halftime lead on their way to registering a convincing 38-14 win over host Staples.
With the win, Greenwich ended its regular season with a record of 9-1 and will play Darien in the quarterfinal-round of the Class LL Tournament on Tuesday on the road, unofficially as the No. 6 seed at No. 3 Darien.
The rankings/points for each team are unofficial until the state's football committee meets on Friday morning.
Greenwich's Eddy Iuteri was a force on the defensive line in the team's 38-14 win vs. Staples #cthsfb pic.twitter.com/aO0gXdUN1y

— Greenwich Time Spts (@GreenwichSports) November 28, 2019
Darien was ranked No. 1 in Class LL heading into its Thanksgiving Day matchup against New Canaan. The Blue Wave, however, dropped a 20-0 decision to the Rams and dipped to No. 3.
"Right now, we are just happy with the win by any means necessary and we are excited to be back in the playoffs," said GHS coach Anthony Morello, who has guided the defending Class LL champion Cardinals into the postseason in his first season at the helm. "The talent in this town is exceptional, so there is no reason why Greenwich football shouldn't be in the playoffs every year. The kids have bought into our program."
As for playing Darien, which Greenwich lost to, 27-21, last month, Morello said: "Myself, the players and coaches couldn't be happier, or more excited to see Darien again. Although we cannot erase the loss, we are fortunate to have a chance to avenge it. People remember what you do in December and we are looking forward to the challenge."
The Wreckers, who received 218 passing yards passing from Jake Thaw, who also ran for a touchdown, finished their season at 2-8, losing their final six games.
Greenwich quarterback James Rinello threw four touchdown passes in the Cardinals' 38-14 win vs. Staples #cthsfb pic.twitter.com/KmpbtxKCWZ

— Greenwich Time Spts (@GreenwichSports) November 28, 2019
"We had a pretty good script and a good game plan," said Thaw, a senior, who also turned in an effective performance on defense. "We had some really good plays from our receivers, but this is how our season was. A lot of the pieces were there, but we couldn't finish."
On its first drive of the game, Greenwich drove from its 20-yard line to the Staples' 5, then settled for a 22-yard field goal from senior Ben Howarth, making it 3-0, early in the opening quarter.
Completing passes to AJ Konstanty, Miles Scarfo and George Engels, Thaw drove the Wreckers to Greenwich's 40-yard line. The drive stalled, however, when Cardinals junior lineman James Schmidt recovered a fumble. On the ensuing possession, Rinello scrambled to his right and connected with Barber for a 22-yard scoring strike, putting the Cards on top 10-0 with 18 seconds to go in the first quarter.
"We were flowing well on offense," said Barber, who recorded seven receptions for 127 yards. "Our run game, our pass game was in sync."
The Rinello-Barber connection has caused plenty of problems for the opposition all season.
"We worked all offseason together and because of that, we've had a good connection, which we also had our freshman and sophomore year," Barber said.
AJ Barber caught three touchdown passes in Greenwich's 38-14 win vs. Staples, one of which was 4-yard catch in the third quarter #cthsfb pic.twitter.com/QhWe5fChb8

— Greenwich Time Spts (@GreenwichSports) November 28, 2019
A 19-yard pass from Thaw to sophomore Nick Armentano gave Staples the ball near midfield on its next possession, but senior Stephen Sergio and Schmidt combined on a sack on third down, forcing another Staples punt.
Junior Hunter Clark capped a 50-yard Greenwich march, running through the right side for a 30-yard score, putting the home team in a 17-0 hole at the 7:25 mark of the second quarter. Clark, the Cards' leading rusher, gained 90 yards for the game.
"Staples played us tough, but we moved the ball and got the running game going," Morello said. "That was a point of emphasis for us and we did that today."
Senior linebacker Evan Weigold set up Greenwich's next touchdown, intercepting a Thaw pass at the Wreckers' 31-yard line. Six plays later, Rinello found Barber on a quick, 4-yard slant for a score, extending Greenwich's advantage to 24-0 with 4:25 to go in the second quarter.
"We did a pretty good job today," Rinello said. "We left 14 points on the board, so there are definitely things we need to work on. Overall, we can't be too disappointed with how we played."
Barber's third touchdown reception came at the 10:45 mark of the third quarter. He caught a short pass from Rinello near the right sideline and broke loose for a 47-yard score.
"I was telling James to throw me one snap route and I will take to to the house for a touchdown and he did," Barber said.
Staples' second-half touchdowns came on a 30-yard run by Shaw and a 17-yard reception from Armentano off a Shaw pass.
"I'm really proud of our the team, we kept fighting until the end against a good football team," Shaw said. "This season was the best opportunity I've ever had and it was one of the toughest things we had to go through. But we learned a lot."
Added Wreckers assistant coach Garret Lederman: "There was some adversity involved in our season. We had a lot of young kids playing and hopefully, they'll come back next year more experienced and stronger."
Greenwich senior defensive lineman Eddy Iuteri registered two sacks and was a consistent presence in the Wreckers' backfield. … Sergio forced a Wreckers' fumble, while junior linebacker Vincent Ceci and junior lineman Kyle Jampole each had sacks for the Cards. … Junior Kobe Comizio had a 21-yard touchdown reception for GHS in the third quarter. … Senior Ben Howard recovered a fumble for Staples.
PLAYERS OF THE GAME