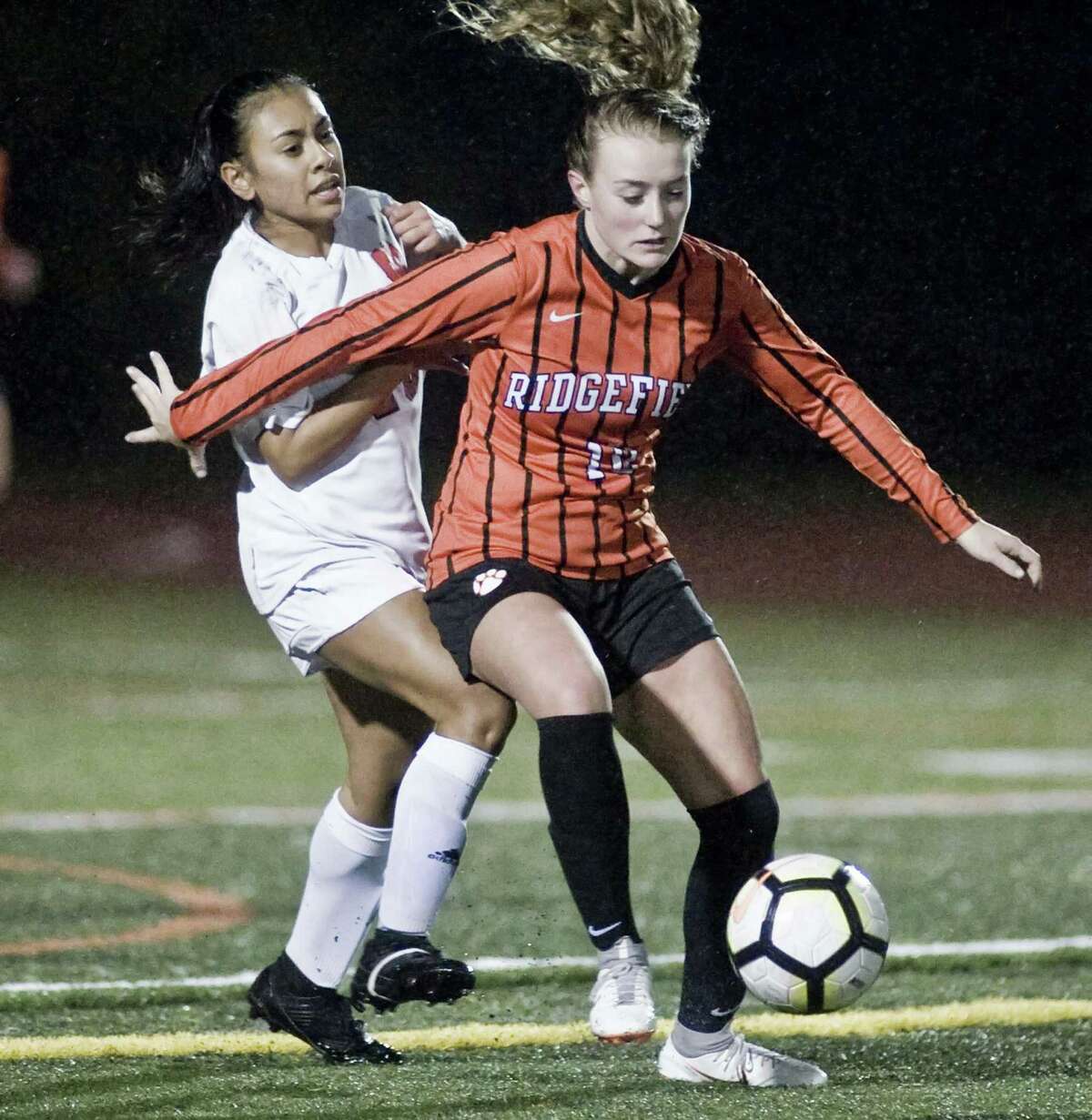 RIDGEFIELD—The right foot of Faith Arnold has delivered a number of quality goals in her short time with the Ridgefield girls soccer team. The sophomore added another highlight play to the end of season reel in the frigid rain Monday night.
Arnold curled in a corner kick into the net for a second straight season, this time as part of a 4-0 win over Manchester in the first round of the Class LL tournament. No. 7 Ridgefield will host No. 10 South Windsor in the round of 16 Wednesday.
"She's a good player, there's no question," Ridgefield coach Iain Golding said. "Obviously to score from a corner kick like she did last year; it's the same as we keep saying it, if you put the ball in dangerous areas good things happen."
Tigers finally break through, corner kick curled in with 16 min left by Faith Arnold #ctgsoc pic.twitter.com/qHd35obvps

— Ryan Lacey (@RyanLacey11) November 5, 2018
The Tigers dominated proceedings yet still only led 1-0 when Arnold doubled the advantage with 16 minutes remaining. She did the same thing to beat Enfield in last season's state quarterfinals. Ridgefield had 13 corners in the second half.
"We had so many opportunities I just kind of kicked it in there," Arnold said. "Honestly, it's by chance, it goes in sometimes. I honestly always try to aim for that, sometimes it goes in."
Caitlin Slaminko gave Ridgefield a 1-0 in the opening 15 minutes after the Tigers hit each post on consecutive shot attempts in the early stages. The ball rarely left the Indians half throughout as the FCIAC champions tried to finish the contest.
Tigers almost make it 2-0 to start second half #ctgsoc pic.twitter.com/fVm4uJqsaJ

— Ryan Lacey (@RyanLacey11) November 5, 2018
Arnold's strike led to two more goals as Taska Reik and Megan Klosowski got on the scoresheet, while Kelly Chittenden got the shutout in goal.
PRIMED AGAIN
If there's any team that knows what it takes to make a deep run in a tournament it's Ridgefield. Winners of three of the last four FCIAC titles, the Tigers have made the last three Class LL finals.
The next step to making it four will come against the 12-3-2 Bobcats, who routed Hamden in the first round.
"It's all down to the hard work of the girls," Golding said. "It's the work they put in the offseason and how we start the season that allows us to be successful. There's a lot of pieces that work out and obviously in soccer there's a lot of luck as well. For us we work hard and take what we can and try to grind out results."
QUOTABLE
"Obviously our defense has always been strong and now our offense has gotten a lot more confident," Arnold said. "And we're holding the ball a lot more."