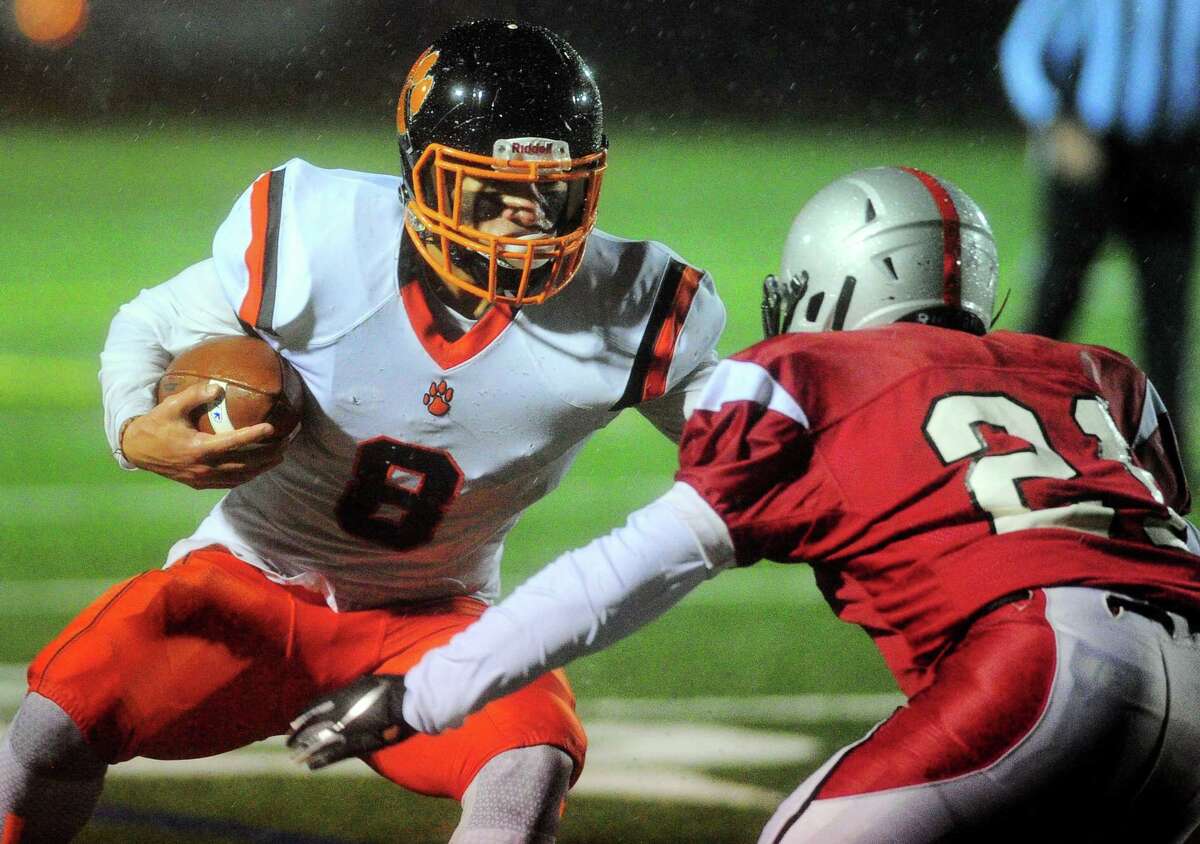 FAIRFIELD — Horrible, rainy conditions are not exactly conducive to a productive passing game. Yeah, try telling that to Ridgefield coach Kevin Callahan or his quarterback Owen Matthews.
"We came in (to Friday's game at Fairfield Warde) wanting to run more," Callahan said, referring to the rain. But Matthews threw for 245 yards and three touchdowns in Ridgefield's 29-0 victory. "Matthews usually gets a good grip on the ball even in the rain so we were able to throw it."
The Tigers (5-4) under Callahan love to spread it out and throw the ball, and they threw it twice as many times as Warde Friday. And it worked, albeit imperfectly. While Matthews had a good grip on one end, the receivers on the other end did drop several passes. Overall, Matthews was 13 for 27.
"We practice throwing a wet ball," Callahan said. "Owen can really get on top of the ball and we have confidence in him throwing in these conditions."
While Ridgefield, which rushed for a net of 14 yards on 23 attempts, refused to get away from their normal pass-first attack, Warde played it by the book, going the more conventional route, and understandably so. Mustangs quarterback Joey Gulbin passed just 13 times, about half his norm, and completed four for 53 yards and one costly interception. Warde coach Duncan DellaVolpe's game plan was to keep the ball in tailback Joe Gjinaj's hands and the senior had a solid night with 90 rushing yards on 23 carries.
But the scoreboard told the story, even though this was a scoreless game with five minutes remaining in the third quarter.
"It's hard to criticize anyone in conditions like this," said Callahan, who gave his team a rousing post-game pep talk in a downpour. "Every score felt like two scores in a game like this."
Warde (4-5), meanwhile, stuck to the run and was able to hang in until disaster struck in the third quarter. It was nearly eight minutes into the third quarter before anyone put points on the board. And then in under two minutes, Ridgefield had a 14-point lead.
First it was Matthews to Dan Moroney on a short, nine-yard pass in which Moroney showed great second effort to get into the end zone. Then, after Warde fumbled the ensuing kickoff, Matthews hooked up on a 30-yard scoring play to Gianni Gorham on a 4th-and-26, and just like that it was 14-0 Ridgefield.
"Getting that second touchdown was big," Callahan said, knowing that the two score-lead at that point seemed more like four.
In the fourth quarter, after getting a touchdown called back on a penalty, the Tigers made it 17-0 on Sebastian Gasparo's 23-yard field goal.
Then things really fell apart for the Mustangs. On the first play on their next possession, Gulbin's short pass was intercepted by Jackson Mitchell and returned 45 yards for a touchdown.
Finally, with just over three minutes remaining in the fourth quarter, Matthews tossed a 53-yard touchdown to Gorham (two receptions for 83 yards) to close out the scoring.
DellaVolpe was unavailable for comment after the game.
RIDGEFIELD 29, WARDE 0
RIDGEFIELD 0 0 14 15 — 29
WARDE 0 0 0 0 — 0
R — Dan Moroney, 9 pass from Owen Matthews (kick failed)
R — Gianni Gorham, 30 pass from Matthews (Evan Wein pass from Matthews)
R — Sebastian Gasparo, 23 field goal
R — Jackson Mitchell, 45 interception return (kick failed)
R — Gorham, 53 pass from Matthews (kick faild)
Records: R 5-4, W 4-5