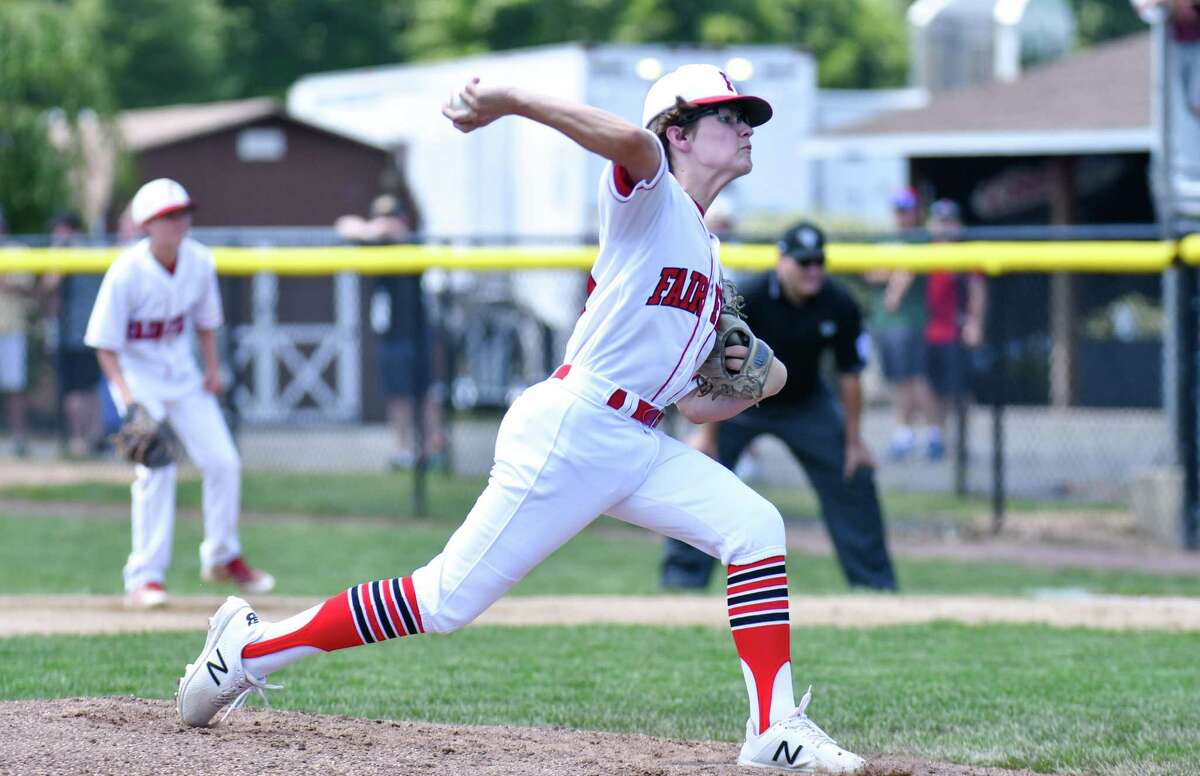 BRISTOL – It got ugly early and just got worse from there.
Fairfield American's dreams of a return trip to Williamsport, Pa., and the Little League World Series hit a serious pot hole after Coventry, Rhode Island's Tommy Turner threw a four-inning, perfect game en route to a 10-0 mercy rule victory over the Connecticut state champions Sunday afternoon at Breen Field at the A. Bartlett Giamatti Little League Leadership Training Center.
Fairfield American, now 13-2 in the postseason, will play in the loser's bracket at 1 p.m. on Tuesday with its playoff lives hanging in the balance.
"We'll be back. We'll be ready Tuesday," Fairfield American manager Jeff Gouley said. "We came out ready, obviously their pitcher, Turner did a great job, he shut us down throughout. Our pitchers were ready to go, fully rested, maybe a little nervous but I don't think so, I think it was just an off day, pitching-wise."
With full rest for both Pierce Cowles and Will Meyers, Gouley went with his gut and started Cowles, who came into the game with a 5-0 record and a 1.50 ERA. But Cowles didn't have it, hitting three batters, walking two others and throwing two wild pitches in surrendering four runs before being relieved by Charlie Yates with one out in the second.
"It was just a little gut (call), of scouting. I think Pierce really thrives (in the moment), not because Will doesn't thrive but I thought that … we did it in states, we started Pierce first and it paid off so you go with what got you here."
Like Cowles, Yates also struggled, allowing three hits and three runs, walking two and hitting a batter in just two-thirds of an inning.
"In that second inning, we started to open up a little bit, get better at bats … the second time through the lineup, we were hitting it sharp, back up the middle," Rhode Island manager Lou Simon said. "The patience that we showed, we preach, 'hit your pitch' we want to be aggressive but we want to swing at our pitches, not the pitcher's pitches. If it's in the zone, go after it but if it's not there, we like to be selective."
An RBI double from Dylan Mourao, a two-run single from Turner and an RBI from Kody Fretts, who was hit by a pitch, highlighted that six-run Coventry second inning that blew the game open.
Meanwhile, Turner was dominant. He struck out five and only allowed one ball to be hit out of the infield.
"I've never done anything like that but I'm glad I got to do it in a regional against a team like that, they were supposed to be one of the best teams in the region, so I'm glad," Turner said. "They were swinging at a lot of my strikes, they were putting the ball in play which kept my pitch count low."
"It was amazing, he came out and threw strikes early, he was able to dominate the count," Simon said. "With his velocity (ESPN radar had him throwing 72 miles an hour), his curve and the slider that he has, if he gets ahead in the count, that's a tough position for a hitter to be in."
An RBI from Jake Mather and a two-run double from Logan Lama made it 10-0 Rhode Island heading into the top of the fourth. And to add insult to injury, Cowles lined a shot off the fence in left for an apparent double to break up the perfect game but he missed first and was called out on the appeal.
"He did and he admitted it in the dugout," Gouley said. "That's going to happen. He's playing big time, he just missed it. It was an off day but when you're playing a team like us, you can't have those days."
COVENTRY, RHODE ISLAND 10, FAIRFIELD AMERICAN 0
FAIRFIELD AMERICAN 000 0X — 0 0 1
COVENTRY, R.I. 163 X — 10 6 0
Records: Fairfield American (13-2); Coventry, R.I. (9-0)
Batteries: FA – Pierce Cowles (L), Charlie Yates (2), Aidan Gouley (3), Robbie Donahue (3) and Timmy Domizio; RI – Tommy Turner (W) and Anthony Collucci