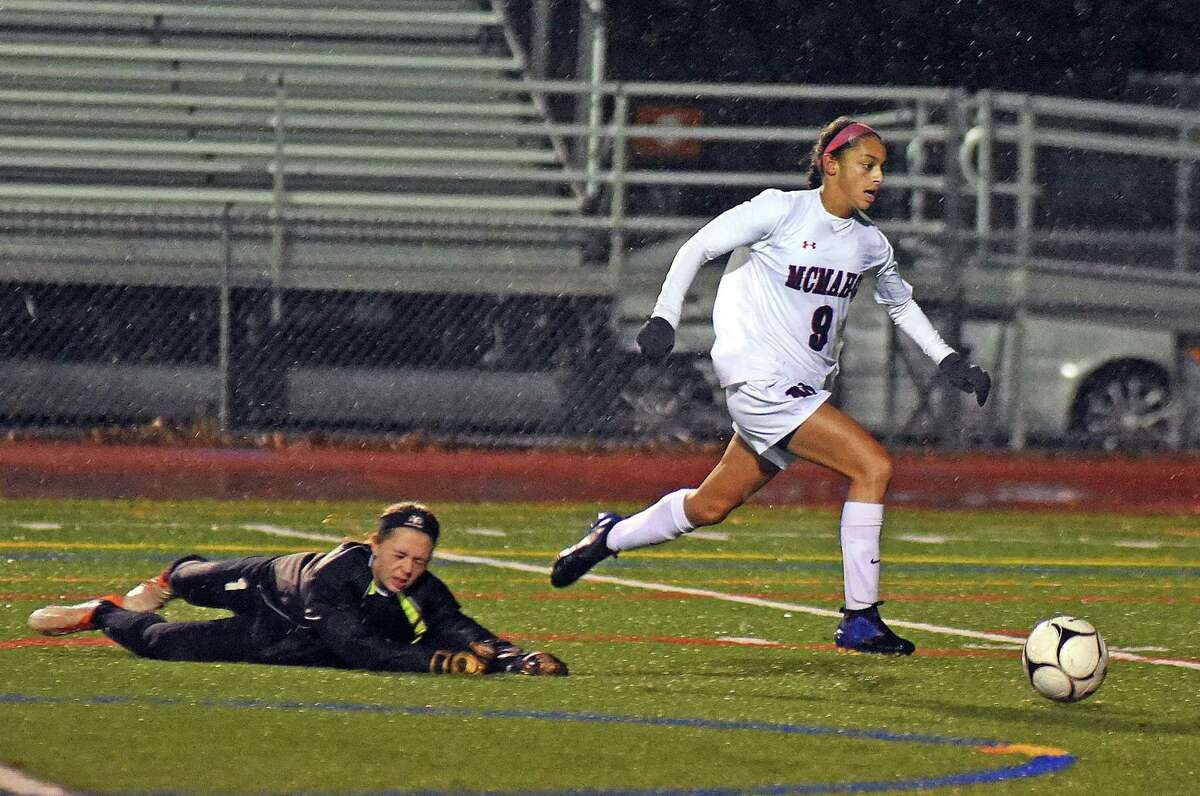 There were plenty of feel-good stories from last fall's girls soccer season.
Brien McMahon made their first FCIAC postseason appearance in a long time, Staples made the championship game in both the league and state tournaments, Wilton was once again competitive while finding some consistency out of its head coaching position and even Norwalk continued showing improvement from where the program was a half decade ago.
This fall, all the programs are hoping for more of the same.
BRIEN McMAHON
The Senators have been one of the league's feel-good stories for the past couple of seasons during their climb to becoming a more competitive program.
Third-year coach Angelo Tsingerliotis — who has led McMahon to 18 wins in two seasons — lost five starters from last year's squad, but hopes the talent he has coming back can carry the Senators even further.
"Personally, I believe we can repeat what we accomplished last year and even go further if we beat the teams we are supposed to beat," Tsingerliotis said. "Last year, we left a lot of points on the table, points that would have helped us get a higher seed. This year, I believe we are a top-eight team in the FCIAC."
Seniors Chloe Ortolano, a midfielder, and Sophia Tarasidis, a defender, will captain the team along with Peyton McNamara, one of the best players in the state.
Freshman Riley Guluck and sophomore Valentina Villa, who is moving up from the JV team, are also expected to make a splash.
Other seniors on the McMahon roster are Darlene Salguero, Cailey Martin and Charlotte Hussey. Hussey and Martin are listed as goalkeepers along with junior Kayla Cocchia.
Juniors include Tess Jordan, Caitlyn Hocker, Peyton Korzenik, and Jocelyn Lister.
"The main strong point of our team this year is going to be our attack," Tsingerliotis said. "I feel that we can be a high-powered offense that can score three to four goals a game. With our returning players and our new incomers, we have a lot of depth at the attacking positions."
NORWALK
The Bears have gotten better each year under fourth-year head coach Mike Surace, but you wouldn't know it from the team's record.
The year before Surace arrived, Norwalk went 1-13-2, scoring five goals while giving up 65.
Last year, the Bears went 3-13, but scored 17 goals while giving up 43.
"We are coming off our most successful year yet," Surace said. "This year, we may not have as much talent as last season, but we are a little deeper, so there will be a lot of competition for starting spots, which we're hoping will bring the best out in our girls. We want to continue our steady improvement, and we hope to build upon last season."
Five seniors graduated from last year's squad, including four starters, and one other player jumped to play academy soccer.
Five key seniors return to lead a very young team this season.
Four-year starters Brenda and Brianna Garcia will see action at center mid and outside back. Stephanie Escalante will be the starting center back while Sabrina Bailon is in her second year as starting goalie. Brianna Cruz is also expected to contribute on defense.
Junior Madyson Suda is one of the best-kept scoring secrets in the FCIAC and Surace is expecting a big year from her.
"I really think this will be a big year for Mady Suda," he said. " We're expecting a breakout year from her not only for her talent but as a leader of the team as well. She's already shown vast improvement in both these aspects."
Juniors Caroline Bonebrake and Sara Smeriglio are expected to start up top and on defense, while sophomore Ryan Camiglio is in her second year as a starter on the wing. Classmate Nicole Calderon is expected to start on defense.
Three of five freshmen could make a splash, too, including Cammy Monaco, Alysa Valenca and Amanda Lihv.
"Our goal is to work," Surace said. "We're not going to get any success without working for that. If we put the appropriate effort in, then we're hoping that translates into success."
STAPLES
Staples certainly had a year to remember in 2017, advancing to both the FCIAC and the Class LL championship game.
Both times, however, the Wreckers lost in the final.
Fifth-year head coach Barry Beattie would like nothing more than a repeat effort this fall.
"We are aiming to be one of the top teams in the FCIAC and hopefully make a strong run in states," Beattie said. "Their togetherness is going to be key."
Four starters graduated from last year's team, which means plenty of talent returns.
Seniors Alex and Catherine Sproules will both play the midfield while classmate Ashley Wright will be one of the strikers. They are captains along with junior Mia Gonzalez, who will help guard the back line.
Junior Reese Sutter is considered one of the top midfielders in the state while classmate Ava Siminovic will be a key on defense, as well.
Sophomore Autumn Smith is one of the younger players expected to help Staples' midfield, as well.
Freshman Gabby Gonzalez, Mia's little sister, is expected to step in as a starter on defense.
"Our goals are to deliver some championships but we understand the difficulties that play ahead for every team competing for the top prizes," Beattie said. "We will have to be at our best every game and work harder than we have in the past."
WILTON
After seven years of seeing the coaching carousel spin around, spitting out five different head coaches, Renato Topalli arrived to provide Wilton with some stability.
After two seasons, the Warriors have gone 25-15-2 and advanced to a Class LL semifinal.
The Warriors lost six starters from last year's team, but Topalli thinks his program is deep enough to withstand those losses and make a deep run into the postseason.
"We want to a make a run for the league title as well as the state tournament," Topalli said. "I wouldn't say we have any weaknesses, but it will be important for us to focus and how we respond when we win or lose a game. We'll take it one day at a time."
One big blow for the Warriors is that two of their four captains are out for the season with injuries.
Senior Isabella King and junior Sophie Sudano are sidelined, but fellow captains Lindsay Groves and Grace Rava return to lead the offense and defensive, respectively.
The Boston College-bound Groves is one of the top offensive threats in both the league and the state.
She'll get help up top from sophomores Lunny Connolly and Ashley Carbonier along with junior midfielders Olivia Viteralli and Olivia Borden.
Defenisvely, senior Delia Freilich, junior Olivia Gladstein and sophomores Maddie Wecker and Piper Chase all return to the varsity level, giving the Warriors a lot of experience.
Senior goalkeeper Kaitlyn Reif steps into the spotlight in that spot.
Topalli listed 13 "newcomers" to his varsity team, which means the Warriors are likely as deep as they are young.
JNash@hearstctmedia.com