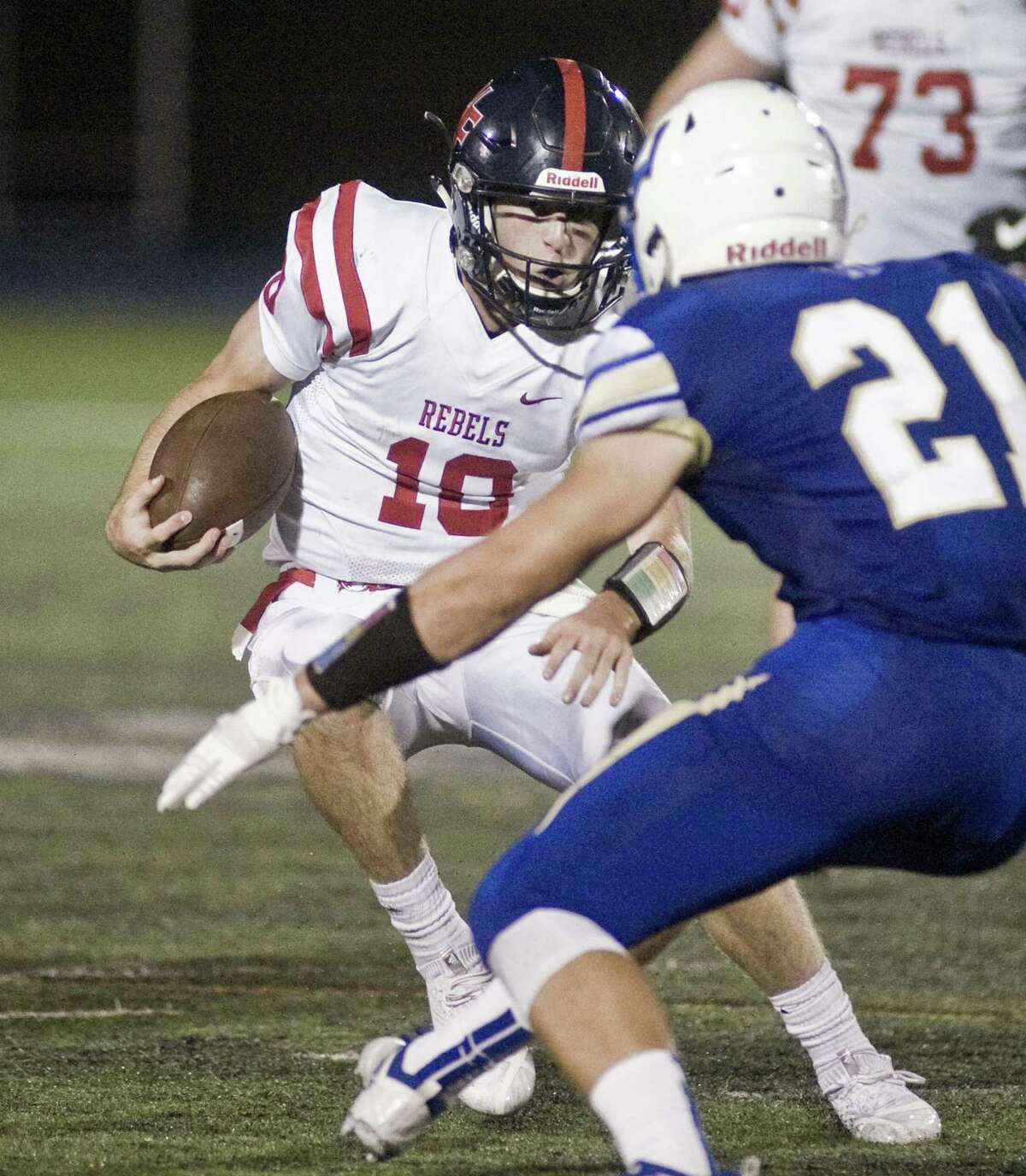 NEWTOWN — All facets of the game worked to near perfection for the Newtown football team Friday night.
It added up to a rout to open the SWC season.
The Nighthawks did little to alter their perception as conference favorites, blanking New Fairfield 35-0 in the first game for each squad. Senior quarterback Luke Melillo tossed a pair of touchdowns to win his first varsity start.
"I thought we came out and competed, you never know in the first game," Newtown coach Robert Pattison said. "The first game is always hard; I thought New Fairfield played hard and have a solid squad."
Ward catches a pass on fourth down, Newtown leads New Fairfield 7-0 mid first #cthsfb pic.twitter.com/qaV7hHpYqk

— Ryan Lacey (@RyanLacey11) September 7, 2018
The passing game opened up a 14-0 lead and the Dan Mason-led rushing attack finished it off. Riley Ward hauled in a pair of touchdown passes — the second came on a 17-yard screen play early in the second quarter — in the opening half while Mason scored twice from five yards out to put the contest out of reach.
"The offensive line did a great job giving me time and wide receivers ran great routes," Melillo said. "We knew (New Fairfield) was an aggressive team with blitzing so we knew we could try to hurt them with (screens)
The Rebels had a few opportunities to get on the scoreboard, driving into Newtown territory behind good starting field position. But yards were hard to come by against a tough Newtown defense that forced a pair of interceptions and had five sacks.
"I thought our defense bailed us out tonight," Pattison said. "We scored off a bunch of our turnovers. … We caused turnovers and sacked the quarterback; one of my biggest worries was (Rebels quarterback Will Enright) coming and scrambling because he's a great athlete."
Mason scores again 28-0 Newtown early in the fourth quarter #cthsfb pic.twitter.com/h8gfw0L4Gm

— Ryan Lacey (@RyanLacey11) September 8, 2018
Mason did most of his damage in the second half for the Nighthawks, finishing with 114 yards on 17 carries.
Jake Ledda had an interception and a 32-yard catch for New Fairfield, which nearly upset Newtown a year ago.
UP NEXT
The SWC will take a break after the opening round to play a crossover series with the SCC and ECC. New Fairfield draws a particularly tough Daniel Hand team while the Nighthawks will host Cheshire next week.
"We shouldn't be satisfied," Melillo said. "We have a big game with Cheshire next week; we have to get ready for that."
Ward has a second touchdown of the first half and Newtown leads 14-0 #cthsfb pic.twitter.com/exFWcS42OE

— Ryan Lacey (@RyanLacey11) September 7, 2018
PLAYER OF THE GAME
Riley Ward, Newtown: Hauled in seven passes for 65 yards and two scores, all in the first half.
QUOTABLE
"We definitely wanted to set the tone (for the season)," Melillo said. "We wanted to solidify the run game; pound the ball and open up with passes as well."