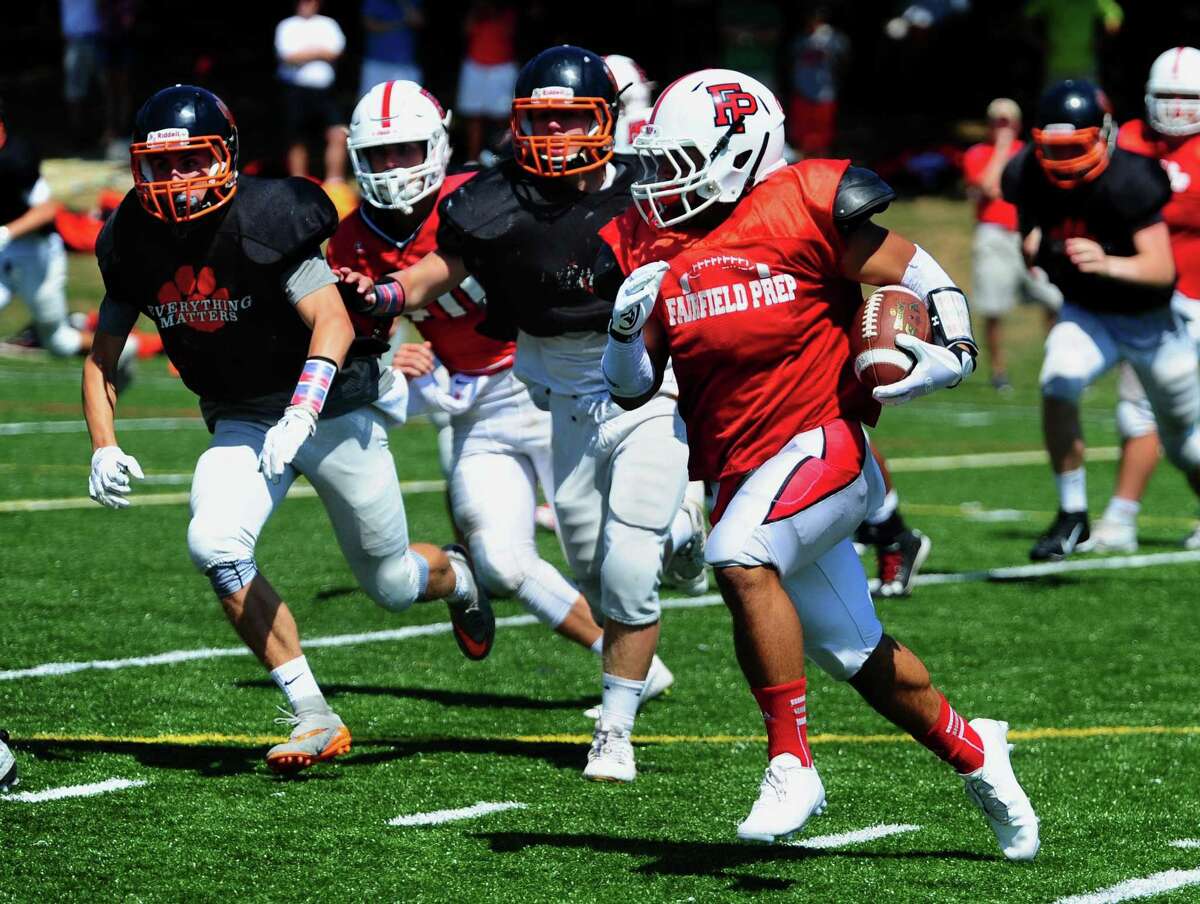 FAIRFIELD – On a scale of 1 to 10 on the "this stinks" scale, Doug Harrison rated it a 10.
"It stunk pretty bad," he said.
One week after rushing for 211 yards and a couple of touchdowns in the Fairfield Prep 2017 season opener against Notre Dame-West Haven, Harrison was doing the same thing to Amity in Week 2, posting 126 yards in the first three quarters. And while visions of a second straight 1,000-yard plus season danced in his head, the football gods had other ideas.
With eight minutes to play, Harrison blew out his left ACL. His season was over. He had surgery on October 16 and began the long, slow and painful process of rehabilitation.
"The first day, right after surgery, I started physical therapy," Harrison said. "Then, it was six or seven weeks before I could walk without crutches and then maybe three to four months before I could start jogging, so there was a lot of rehab."
And for Jesuits coach Keith Hellstern, his rating on the "this stinks" scale was pretty high as well.
"It was kind of a worst-case scenario because you never want to see anyone of your kids gets hurt," Hellstern said. "And when you consider that from the latter half of his sophomore season, he had done a lot of great things on the field … he had an impact on the field, guys rallied around him and he was bringing a lot of energy, so it was tough both for him physically and mentally … and for our guys as well."
Still, Harrison and Prep survived. Even with quarterback Will Lucas missing time with injury, the Jesuits went 8-2 and made the Class LL playoffs, losing to Greenwich.
"One thing I'll give last year's team credit was the fact that they were able to realize that it was going to take everyone pulling on the oars, so to speak, to get us where we needed to be," Hellstern said. "And we're going to have to have that mentality again this season, not because we don't have the talent but because it's the best way to achieve what you're looking to achieve."
For Harrison that "everyone pulling on the oars" mentality also helped with his rehab as his teammates, the Prep coaching staff and even a former player kept giving off positive vibes as he worked to get back into game shape.
"I had a lot of guys supporting me, making sure I wasn't doing anything too much," Harrison said. "I talked to Anthony (Mastroni) a couple of times (who also came back from knee surgery in his junior season). He was telling me when he went back out there for the first time how it all kind of comes right back (the football creativity) and it has so far."
He did rehab at least twice a week for over an hour and then had to do even more work at home.
"It (blanked)," he said.
What was worse was that he couldn't get to every Prep game to cheer his teammates on.
"It stunk" he said. "You want to play with the guys, you know what you can do and when you're just standing there, knowing you can't help your guys out, it (blanked)."
At the Jesuits first practice, Harrison was taking handoffs from quarterback John Iaropoli, making cuts and opening eyes.
"I wasn't expecting him to be back this fast, he's a lot smoother than I thought he'd be," Iaropoli said. "He's very smooth."
Harrison feels he's between 85 and 90 percent and understands that Hellstern is going to take his time in making sure that he's ready to go.
"Coach said that he was going to see what I can and can't do. We're going to talk to the doctors and we just don't wasn't to risk anything," Harrison said.
"He's not to the point where I'd say he's cleared 100 percent, he's running around … but he's been running and doing a lot of stuff that he has been cleared for," Hellstern said. "While he might not be cleared for contact. moving in a brace, knock on wood, he's looked better than I thought he would. I'm hoping that we can have Doug ready to play by game one."
Before the injury, Harrison had been talking with Boston College, Rutgers and UConn regarding a football future but for now, all that has been put on the back burner. Right now, the focus is having a big senior season at Prep. A very big senior season.
"I can't wait," he said. "I want to hit somebody. I'm excited."