WEEK 5: No. 2 Greenwich (3-0) at No. 7 New Canaan (3-1), Saturday, 7 p.m.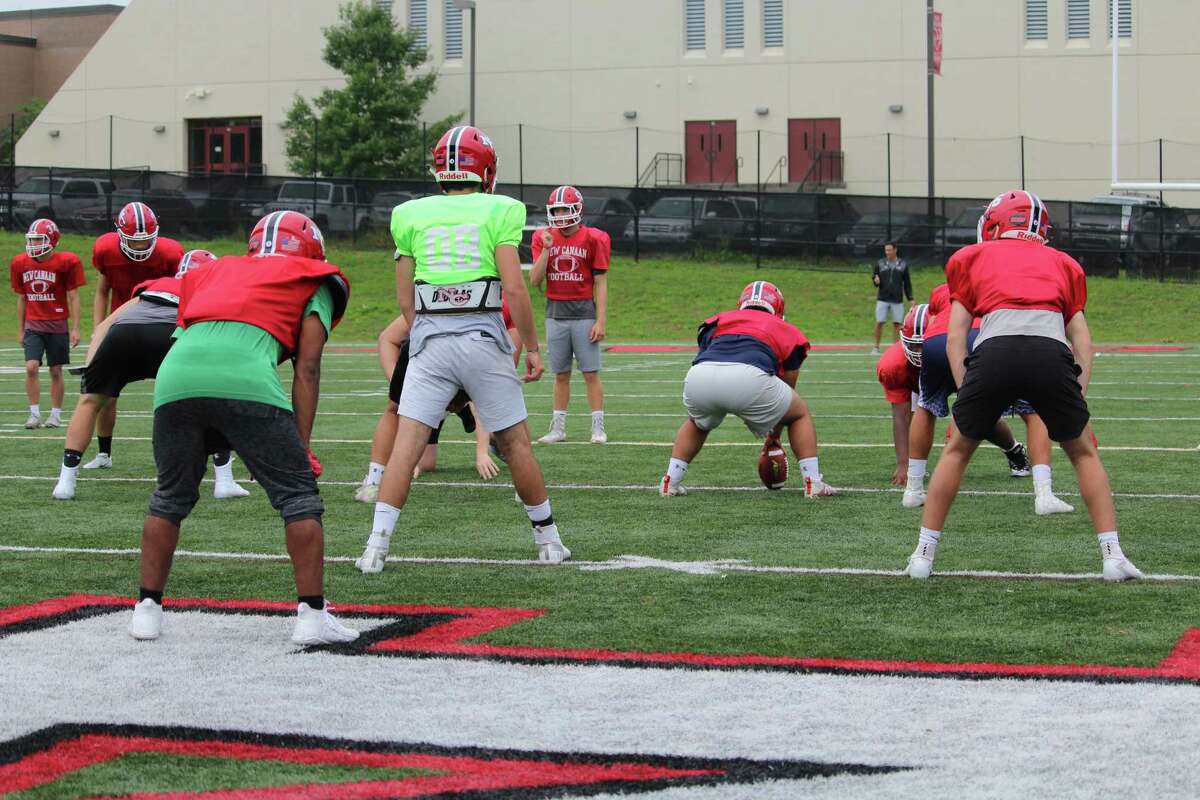 NEW CANAAN — Nobody is going to confuse the New Canaan offense with the triple-option rushing attack of Georgia Tech.
No, the Rams are a decidedly pass-first team, led by junior Notre-Dame commit Drew Pyne at quarterback and All-State receiver Quintin O'Connell.
However, the running back stable that was a glaring question mark heading into the season is finally starting to take shape.
"It's still a work in progress," said coach Lou Marinelli, whose GameTimeCT No. 7 Rams will host No. 2 Greenwich Saturday night at 7 in a critical game that will decide whether his team can contend for a Class LL title.
"We've had a couple of them hurt at different times so it's because of necessity of trying them out … now we have all three of them this week, so we'll see how it goes."
Heading into the year, senior bruiser J.R. Moore was the only known commodity. Going into Saturday, the Rams will rely on a three-headed monster of Moore, junior Drew Guida and sophomore Christian Sweeney.
After dropping the season opener 28-0 to No. 3 St. Joseph, where nothing went right offensively, the Rams have won three in a row, averaging close to 43 points per game along the way.
Still, it hasn't been all smooth sailing for the backs. Moore missed New Canaan's third game due to injury, and Guida sat out Saturday's contest with Westhill, opening the door for Sweeney's first start.
The sophomore, who is a converted quarterback and receiver, reached the end zone twice in New Canaan's 38-14 win over the Vikings. The second was a perfectly-executed wheel-route that he took 35-yards for the score.
"It helps a lot with the timing and with the routes," Sweeney said of knowing the offense from several different positions. "Being a receiver, I can take linebackers much easier than when I was going up against corners."
Now with all three healthy, the Rams can sync Sweeney's receiving prowess, Moore's downhill running and Guida's all-around game to pose yet another threat to opposing defenses.
"When they're in, you try to emphasize what they can do best and work with that," Marinelli said. "They all give you a different look, so you can't really get a beat on exactly what's going to happen."
Still, none of the three have real impressive numbers to this point.
Moore leads the team with 141 yards over three games, but New Canaan has relied mostly on the pass and even a little on O'Connell in short yardage situations.
That looks to change however, with the New Canaan staff trying to find new ways to exploit each player's strengths.
Which, in Moore's case, is literal strength.
"If there's someone in front of me, generally I'm not looking to go around them, I'm looking to go right through them," Moore said. "Every play I get the ball I look straight down, north, south. It's the mindset we have."
And, while it's a running back by committee, it's not so much a competition, as each of the trio longs for the success of one another.
"Whether it's working on our hands with the JUGS machine, doing footwork after practice, we're more united," said Guida, who is also a starting safety. "I talk to J.R. every day, we have a great relationship. We both know this team needs both of us and adding Sweeney, who's a great athlete, has made us more unified."
Of course, it helps to run behind two 300-plus pound Division I offensive tackles in Jack Stewart and Jack Conley.
"Obviously, you have to give credit to the offensive line first," Moore said. "We have both Jacks up there and they always give their all. They're the hardest working players on the team by far. Me and Guida and all the running backs all have a connection as a family, we really enjoy pushing each other to be our best and try to get that extra yard."
There's no doubt that Greenwich — and each of the Rams' opponents after — will be keying on pass first, and that's to be expected. All these three want to do is show that the New Canaan offense is more than a one-trick pony.
"It's just, show them what we can do," Guida said. "We're not just a pass-first team, we have more dimensions than just passing the ball."
Who will win No. 2 Greenwich at No. 7 New Canaan?
No. 2 Greenwich (3-0)

No. 7 New Canaan (3-1)
Total Response: 570 Votes
Loading ...