Week 8: Trumbull (3-3) at No. 1 Darien (6-0), Friday, 7 p.m.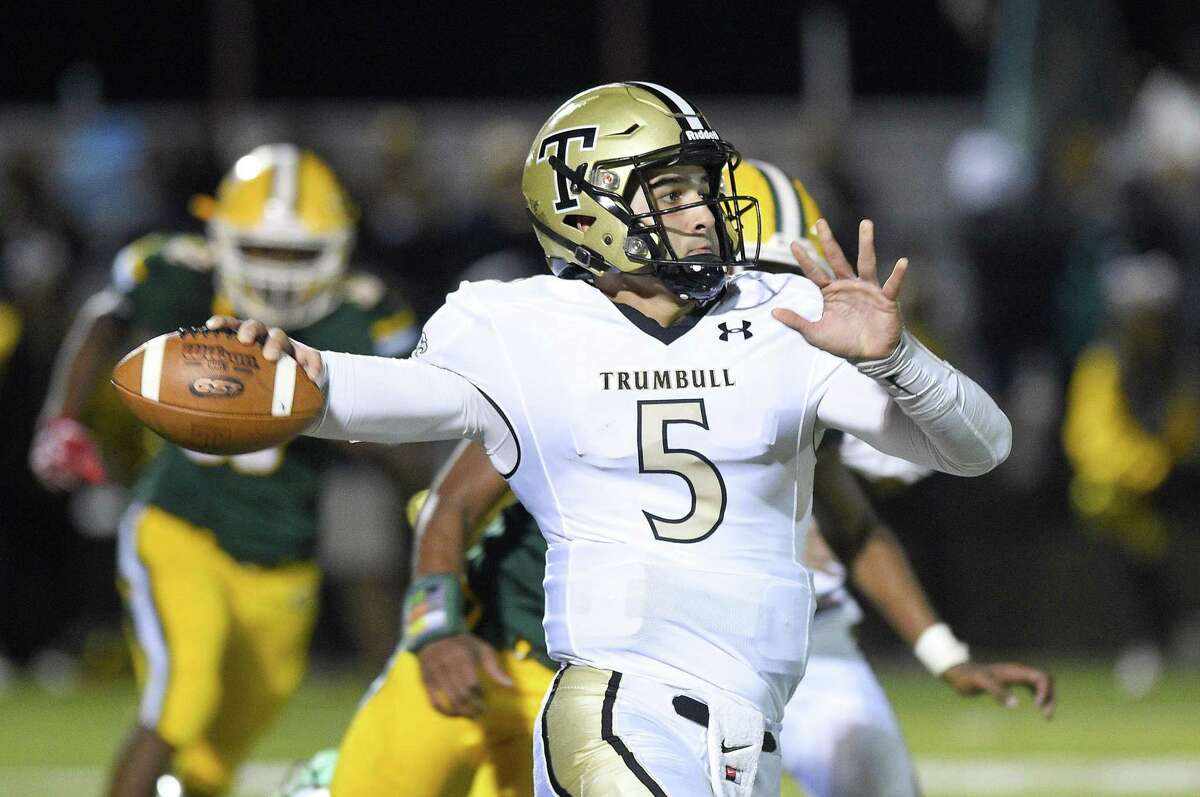 TRUMBULL — Colton Nicholas has embraced all the responsibilities that come with playing the most important position on the football field — quarterback.
This includes keeping his offensive linemen happy.
"One of the biggest things he does that not a lot of people notice is that he takes care of his offensive line, whether that'd be on the field or off the field," left guard Justin Schwartz said Tuesday. "There have been multiple times where he's gotten all the guys together. We'll go and get dinner and just hang out — just be a unit.
"That's one of the biggest things that's transformed this year, is that we've all become a lot closer."
These get-togethers have made an impression on not just the starting offensive line — left tackle Michael McHugh, Schwartz, center Nick Cioffi, right guard Wade Dayton, right tackle Coby Levison — but Trumbull's new coach as well.
"Here's what type of kid he is, he's not your typical high school kid that we see a lot of nowadays," Marce Petroccio said. "He's unselfish. He's a kid that — he's appreciative. He appreciates that offensive line. He knows that he better take care of them. He enjoys going out with them. He really does. He's that kind of kid, which makes them want to play harder for him."
When Petroccio left Staples after 25 seasons for Trumbull, he knew that he would need to find leaders. He was taking over a program — his alma mater, in fact — that had lost its way. The Eagles were a mess both on and off the field last season, going just 3-7 and losing multiple players to suspensions.
Nicholas, who had a year of starting experience under his belt, was one of the players Petroccio counted on to help right the ship.
"He worked so hard in the offseason," Petroccio said. "The 7-on-7s, the lifting, the running, he just kind of leads by example. Just in that area alone, he's helped the program tremendously."
Nicholas, a 6-foot-3, 225-pound senior, has also helped the Eagles with his playmaking abilities. He's been a steady presence on the field, passing for 1,105 yards, eight touchdowns and five interceptions. He's also run for seven scores, including one last week that found its way onto a few highlight reels.
With the Eagles looking to salt away a victory against Danbury, Nicholas attempted a quarterback sneak on third-and-inches. However, instead of merely getting 1 yard, Nicholas shoved aside a series of defenders and rumbled 59 yards for a fourth-quarter touchdown. The Eagles ended up winning 37-26 to even up their record at 3-3.
"It was hard to watch on film," he said. "You just see me pop out. … I always like to get as many yards as I can. I broke off the first pack and came up to another guy. I remember one of our receivers, Mileeq (Green), he jumped in there; he blocked a guy. A couple of our O-linemen jumped into the secondary and helped block. It was really a great team effort on that play."
Added Petroccio: "People bounce off him. He's big. He's the strongest guy on the team."
Since coming aboard in January, Petroccio has been determined to return Trumbull back to its place among the state's elite programs. He realizes, though, that it'll take time. Barring a late turnaround, the Eagles will miss the playoffs for the eighth straight season.
"Is this what we expected? Well, we'd like to have a better record," said Petroccio, whose team visits No. 1 Darien on Friday at 7 p.m. "The Norwalk game (21-17 loss on Oct. 5), we'd like to have that one back. We turned the ball over. We didn't play well. We had a lot of penalties. … We weren't happy with the way we played. We're not happy with that part of it."
Petroccio is, however, happy with what he calls "the process." He's pleased with how his players have bought into his message, especially Nicholas, who is relishing his role as a leader.
"I like the pressure (of playing quarterback)," he said. "Everything's got to go through you first. That's something I really enjoy doing."
Nicholas hopes to continue playing beyond this season. He said he's drawn interest from a few schools, including Central Connecticut State and Sacred Heart, but has yet receive any offers. Either way, Petroccio sees a bright future for his quarterback.
"I've only had him for one year," Petroccio said. "But if I ever could've gotten my hands on him three years ago, he'd be even more phenomenal than he is now. My point is, we're at the tip of the iceberg with this kid.
"This kid has tremendous upside."