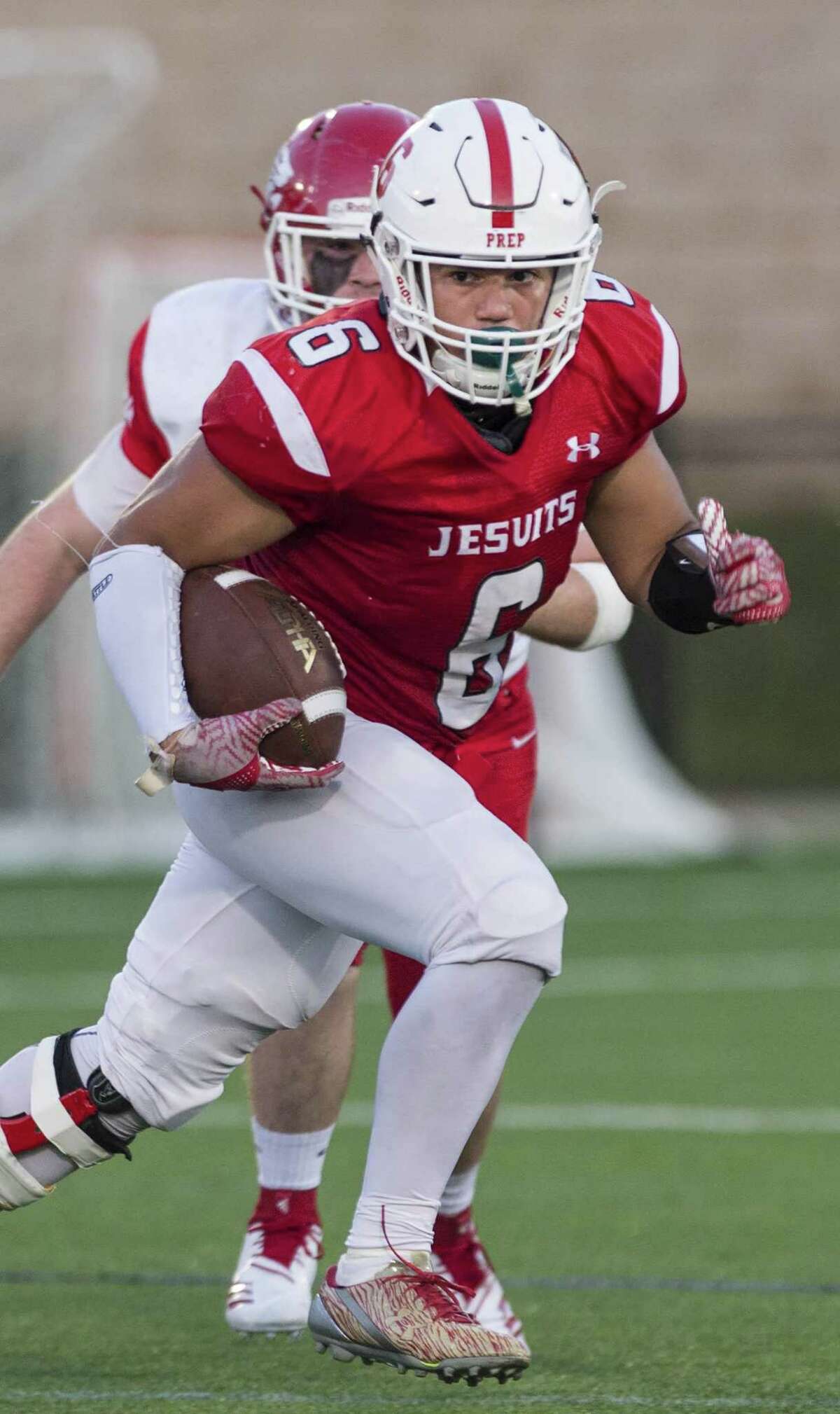 FAIRFIELD — Even though his team reached the Class LL state quarterfinals last season, Fairfield Prep head football coach Keith Hellstern is well aware that there are doubts about just how strong this year's team can be.
Hellstern, for one, believes this year's group can be as good, if not better. And after Friday night's solid 24-12 victory over Norwich Free Academy, there may be others feeling the same way.
"Prep is a great team," NFA coach Jason Bakoulis said after the game at Rafferty Stadium. "We played hard but they're strong again."
"Our ceiling is high," Hellstern added. "Give NFA credit, they made a long trip here and still played well. We need our execution to be better but we were able to run the ball and our passing game looked good, so I'm pleased."
The Jesuits (2-0), who opened with a 41-20 win over Notre Dame of West Haven, were able to stay in control of this contest thanks to a strong ground game led by Douglas Harrison and the short passing efficiency of quarterback John Iaropoli. If those two areas continue to click, and the defense plays this well (NFA had 18 yards rushing on 13 attempts), not to mention the zero turnovers, the 2018 season just might spill into December again.
Harrison's final carry of the game went for a 29-yard touchdown where he banged into three or four would-be tacklers. You won't see this 5-foot-8, 205-pound bruiser dancing untouched into the end zone too often this year.
That carry left Harrison with exactly 100 yards rushing on 22 attempts. He also scored Prep's first touchdown on a three-yard jaunt that opened the scoring in the first quarter.
"We wanted to run the ball and be physical and we did that," Hellstern said."
The Jesuits did more than that. Iaropoli finished with a decent stat line: 14 for 24 for 140 yards and a 21-yard scoring toss to Finn Duran in the last minute of the first half. But Iaropoli overcame a so-so start to go 10 for 13 in the second half and completed nine consecutive passes as the Jesuits were protecting a modest lead. The combo of his short passing abilities and Harrison's ball-carrying make the Jesuits a tough team to play from behind against.
"We were a little sloppy early but I believe we can be the best team in the state," Iaropoli said. "I stepped it up in the second half, but it sure helps having (Harrison) out there. He balances out our game."
NFA, coming off a 26-13 win over Xavier, has plenty of talent led by quarterback Elijah Parker, The Wildcats were within one score (14-6) until the first play of the fourth quarter (a 22-yard field goal by Prep's Murray McCarthy).
"We have the players and the heart and the work ethic, but now we have to put it together at the same time," Bakoulis said. "This was a great learning experience for us."
Parker finished 29 for 43 for 173 yards. The two Wildcat scores were on a five-yard Parker-to-Sean Preston pass in the second quarter and an 18-yard strike to Andrew Cote with 19 seconds remaining in the game.
Sam Roberto had four receptions for 21 yards for Prep.
Cote caught eight balls for 53 yards for NFA.
FAIRFIELD PREP 24, NFA 12
NFA 0 6 0 6 — 12
PREP 7 7 0 10 — 24
FP — Douglas Harrison, 3 run (Murray McCarthy kick)
NFA — Sean Preston, 5 pass from Elijah Parker (kick failed)
FP — Finn Duran, 21 pass from John Iaropoli (McCarthy kick)
FP — McCarthy, 22 field goal
FP — Harrison, 29 run (McCarthy kick)
NFA — Andrew Cole, 8 pass from Parker (run failed)