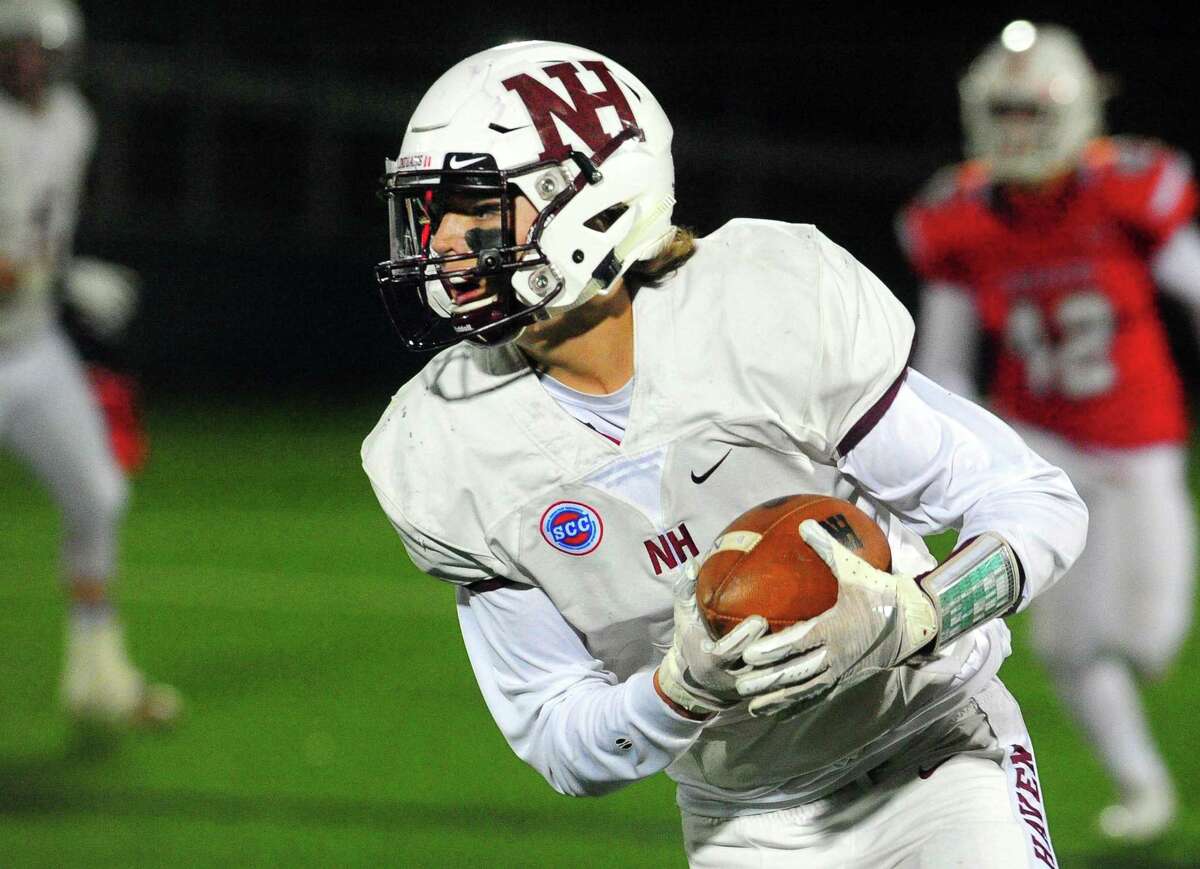 FAIRFIELD — Fairfield Prep and North Haven came into this SCC contest with identical records, and some other similar statistical phenomena. But there was one big difference between them and that was on display for all to see on Saturday.
North Haven relies on a strong running game.
Prep can do it all on offense.
And that balanced unit turned this showdown between a pair of state powers into a one-sided affair as Prep celebrated a 42-20 win.
"We did some good things tonight," Prep coach Keith Hellstern said. "We ran it and passed it well."
Doug Harrison, who is good at football, does Doug Harrison things and Fairfield Prep takes a 35-6 lead over North Haven early 4th #cthsfb
That should just about wrap this up pic.twitter.com/t440Sa1rnq

— Sean Patrick Bowley (@SPBowley) November 11, 2018
North Haven (7-2) completed three passes and one was in the final minute against the Jesuits' second team. Prep (8-1), led by running back Doug Harrison and quarterback John Iaropoli, had 452 total yards with Harrison rushing for 196 of Prep's 256 yards on the ground and Iaropoli completing 13 of 16 passes for 194 yards.
"We believe we can do anything on offense that we need to do," Harrison said.
Once Prep got up 21-6 at halftime, it was obvious the Indians were in trouble.
"We wanted to put them in position where they had to chase because that's not their game," Hellstern said, whose team needs to beat West Haven to earn a state playoff berth.
First play from scrimmage, JP Iaropoli hits — who else? — Fly Guy: Finn Duran for the 61-yard strike. 14-7 Prep #cthsfb pic.twitter.com/AlTdHemkVw

— Sean Patrick Bowley (@SPBowley) November 11, 2018
The Indians rushed for 252 yards on 32 attempts but had 70 yards passing (24 in the final minute).
"It's hard at this stage of the season to take a beating like this," NH coach Anthony Sagnella said. "They were operating at a different speed than us. We couldn't match their intensity."
An 81-yard drive that began early in the third quarter might have been the knockout blow. After stopping North Haven on its first possession of the second half, the Jesuits took nine plays to take a 28-6 lead with Harrison finishing it with a four-yard run.
Fairfield Prep goes right back down the field, Doug Harrison cashes in for a 28-6 Jesuit lead, 2:42 left 3rd.
Might be decisive #cthsfb pic.twitter.com/M7JQQFxWRD

— Sean Patrick Bowley (@SPBowley) November 11, 2018
About three minutes later, Harrison scored his 13th TD of the season on a 24-yard run.
"This was one of my better games," Harrison said. "I try to make sure that I have my big games when it's a big game."
Albert Hooks then went 46 yards for a score on an end-around for North Haven.
But Prep added one more score on an eight-yard run by TJ Walton late in the fourth quarter before NH quarterback Shamus Meehan ran five yards for a TD as time ran out.
JP Iaropoli short TD pass to Sam Roberto on Prep's first drive. McCarthy kick, 7-0 Jesuits over North Haven #cthsfb pic.twitter.com/McXqyGHqg5

— Sean Patrick Bowley (@SPBowley) November 11, 2018
It was a great start for Prep. The Jesuits went 65 yards on 11 plays on their first possession as Harrison rushed for 39 yards and Iaropoli completed all four of his passes, the last of which was an eight-yard scoring toss to Sam Roberto.
Max Augustine scored for North Haven in the second quarter before Iaropoli hooked up with Finn Duran for a 61-yard touchdown and a 14-6 Prep lead.
Prep fullback Zach Sheehan's one-yard dive in the final minute of the half made it 21-6.
NOTES: The teams had three common opponents this season and had amazingly similar results. North Haven beat Cheshire by 13 points, Prep beat Cheshire by 14. NH topped Xavier by 35, Prep by 34. And both lost to undefeated Shelton: North Haven by four and Prep by three.
Fairfield Prep 42, North Haven 20
NORTH HAVEN 0 6 0 14—20
FAIRFIELD PREP 7 14 7 14—42
FP — Sam Roberto, 8 pass from John Iaropoli (Murray McCarthy kick)
NH — Max Augustine, 6 run (kick failed)
FP — Finn Duran, 61 pass from Iaropoli (McCarthy kick)
FP — Zach Sheehan, 1 run (McCarthy kick)
FP — Doug Harrison, 4 run (McCarthy kick)
FP — Harrison, 24 run (McCarthy kick)
NH — Albert Hooks, 46 run (Devan Brockamer run)
FP — TJ Walton, 8 run (McCarthy kick)
NH — Shamus Meehan, 5 run (no point after attempted)
North Haven 7-2, Fairfield Prep 8-1