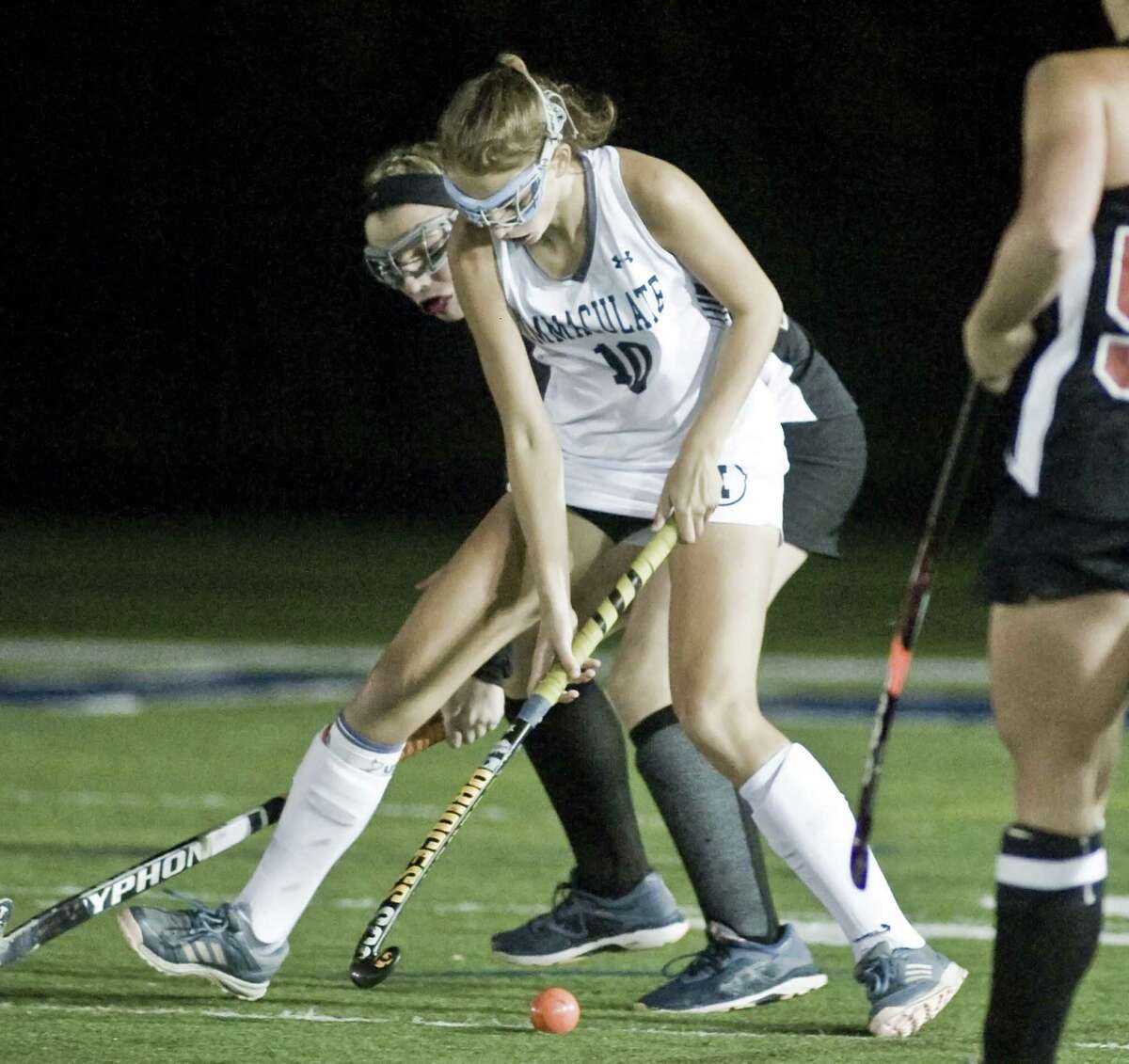 DANBURY — It was a rematch of last year's South-West Conference field hockey final, and might have even been a sneak preview of a possible playoff clash still to come.
Just like last year's championship match, Tuesday night's battle between reigning SWC champ Immaculate and runner-up Pomperaug was an intense battle. This time, however, it was Pomperaug's turn to celebrate.
Jillian Murray scored two goals, including the go-ahead goal with 1:27 remaining, to lift the Panthers to a 2-1 victory under the temporary lights at Immaculate.
"We've been looking forward to this all season, so it feels good to come out with a win," Murray said.
Of course, as two of the top teams heading into the eight-team SWC playoffs, there is a possibility that these two teams could meet again really soon, and with a lot more at stake. If so, get ready for another spirited battle. The SWC quarterfinals are scheduled for Oct. 25.
"Immaculate played a very tough game," Pomperaug coach Anne Strobel said. "It was a nice win because it was against such a powerhouse team. Every time we play Immaculate, it's always a great game."
Before the game, Immaculate honored its seniors: Mackenzy Garden, Erica Guydan, Kristen Cirone, Madison Halas, Stephanie Faria and Angela Vodola. They were all in the starting lineup for what was a tremendous effort by both teams.
"I'm so proud of the girls," Immaculate coach Shannon Horosky said. "They played a terrific game, and they fought so hard."
TURNING POINT
Immaculate (13-1-0-1, 8-1-0-1 SWC) scored first, less than seven minutes in, with Celia Preveza cashing on off assists from Madison Halas and Vodola after Emma Halas had stolen the ball in Pomperaug's end.
Pomperaug (11-1-2-0, 8-0-1-0 SWC) answered quickly, however, with Murray scoring off an assist from Leah Kowalasky less than seven minutes later
"We've had issues in the past where we've gotten flustered after we let one in, but it's really important that the team stays calm," Murray said. "I think we really pulled that out today, which we're really proud of."
Murray netted the go-ahead goal off an assist from Kaitlyn Burstiner following a corner stroke by Kelly Powers.
Pomperaug goalkeeper Catherine Windover preserved the win with two saves, while Lauren Oskam made three saves for Immaculate.
BIZARRE FINISH
Immaculate Athletic Director Tim Dunn confirmed after the game that Immaculate would protest the game with the officials board after the Mustangs played the final 1:27 of the game without either of their coaches on their sideline. Assistant coach Matt Ariniello was issued a red card and ejected for disputing a point with the officials following Pomperaug's second goal. Horosky was then told she had to leave the sideline as well.
"I've never heard of a sport where both coaches get thrown out of a game," Dunn said. "How do you finish the game when all your coaches are thrown out?"
rgregory@newstimes.com; Twitter @DanburySports
Pomperaug 2, Immaculate 1
| | | | | |
| --- | --- | --- | --- | --- |
| Pomperaug (11-1-2-0, 8-0-1-0 SWC) | 1 | 1 | — | 2 |
| Immaculate (13-1-0-1, 8-1-0-1 SWC) | 1 | 0 | — | 1 |
Goals: Immaculate: Celia Preveza (from Madison Halas and Angela Vodola), 6:33. Pomperaug: Jillian Murray (from Leah Kowalasky), 13:15. Pomperaug: Jillian Murray (from Kaitlyn Burstiner), 58:33. Shots: Pomperaug 5, Immaculate 4. Saves: Pomperaug: Catherine Windover 2; Immaculate: Lauren Oskam 3.