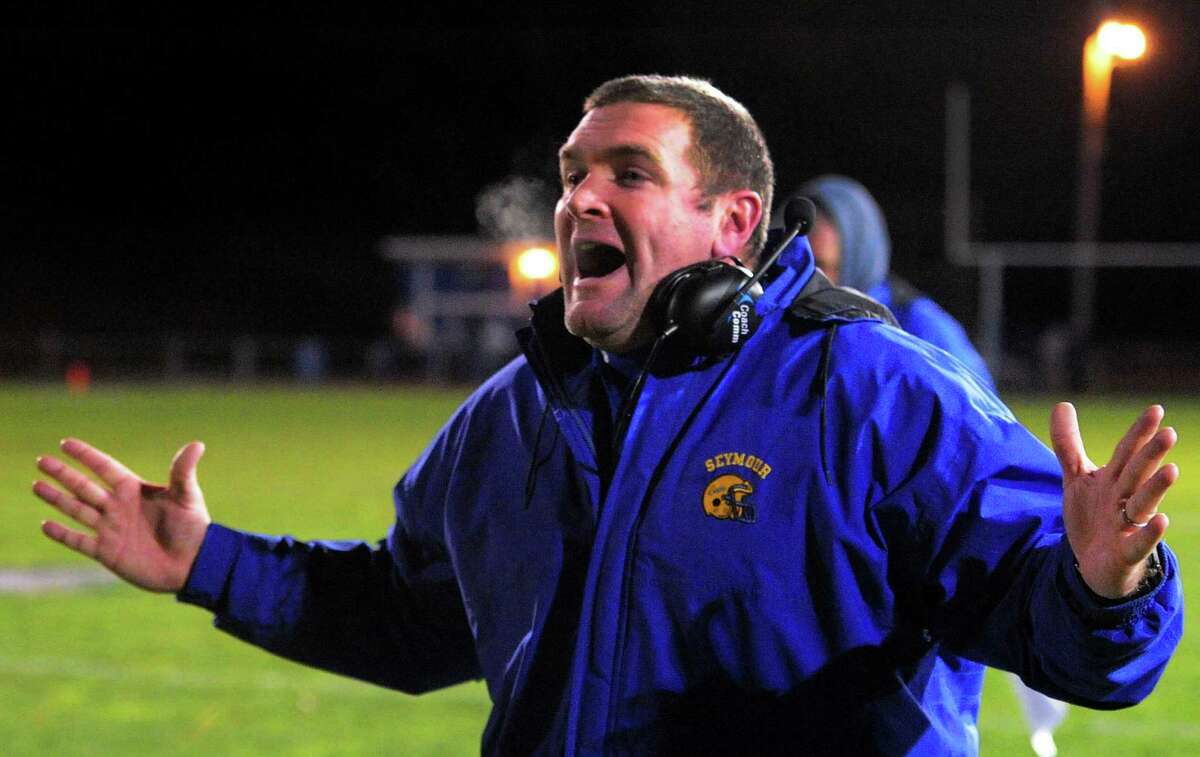 SEYMOUR — Police Chief Paul Satkowski revealed Wednesday the department first received a report of an incident at Seymour High School on May 22, one day before sources say head football coach Tom Lennon was escorted from the building.
"The second to last week of May we received a report and we started looking into that report," Satkowski said. "We've been investigating it since that time frame."
While Satkowski declined to disclose details of the investigation, including whom police have spoken with, high school students were seen entering the department for questioning Wednesday.
"I will confirm there is an active investigation," Satkowski said. "Other than that, I can't really give any details because it's an ongoing investigation and we want to obviously maintain the integrity of that investigation. We're being as thorough and as methodical as possible to bring that to a close."
Lennon, Seymour's head coach since 2009, has been on paid administrative leave since May, according to sources. Those sources have also said one assistant coach did not have his contract renewed and two others since resigned. The reasons why remain unclear.
Steve George, a former head coach at Newtown and a Seymour resident, was officially introduced Tuesday as Seymour's coach on an interim basis, only four days after he said he was first contacted about the job.
"Tom's a friend of mine," George, 43, said Tuesday. "I didn't have any idea (that the Seymour job was open). I was coaching at Newtown and I figured I was going to be an assistant again for Bobby (Pattison). It happened fast."
As of last week, many parents and players were still searching for clues as to why there was no staff in place with the start of practice only weeks away. Superintendent of Schools Michael Wilson alluded to those concerns Tuesday as he welcomed George's arrival.
"I think anytime that there's change there's going to be some confusion," Wilson said. "Our main thing we've said from the get-go is we're committed to having a football program, we're committing to having the students out there. We've had a training program in place, we've had the students working with a conditioning coach throughout the summer as they were allowed to do. Our athletic director (Tara Yusko) set that up.
"We then, knowing that football season was right around the corner, we needed to obviously — with the recent resignations and the personnel issue — make the change."
As for the police investigation, Satkowski said he'd like to "bring it to a conclusion sooner than later." However, he declined to offer a specific timetable.
"This isn't the only investigation as far as what our detectives do," he said. "This is one thing they're working on amongst other things. However, I kind of made this a priority to move this to the front burner, as it has been. I kind of want to try to get a conclusion on it sooner than later ourselves. … Sometimes you've got to get in touch with people and people are on vacation. This is a bad time of year too, people are on vacation. There's many variables."
dbonjour@ctpost.com; @DougBonjour