Week 7: No. 2 Greenwich (4-0) at Westhill (1-4), Saturday, 2 p.m.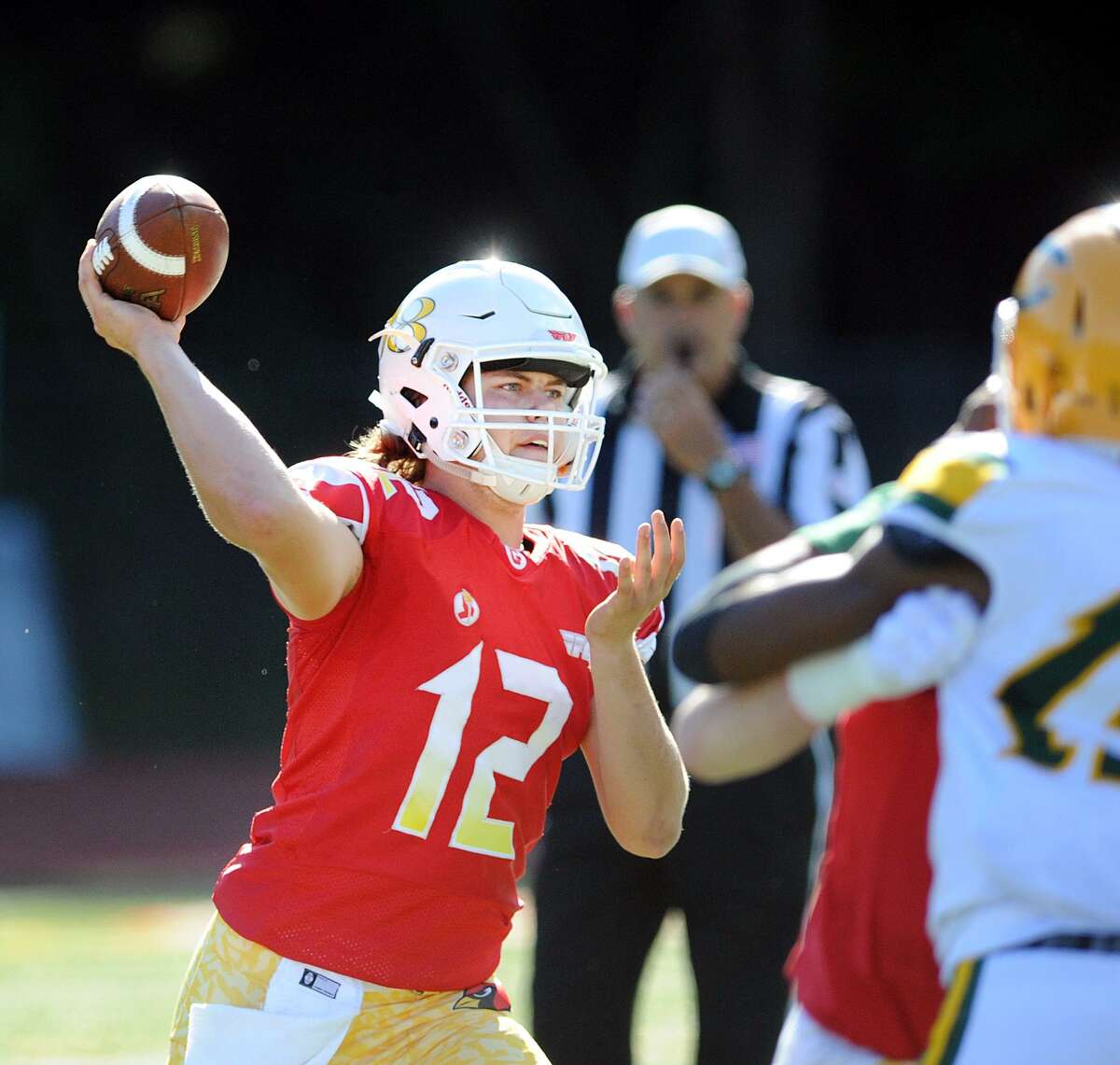 In a high profile football game between Greenwich and New Canaan before a large, Saturday night crowd, Gavin Muir's even-keeled demeanor didn't waver.
The Cardinals senior quarterback calmly and cooly helped lead the team to several quick touchdowns in their biggest game of the season to date. By the time that much-anticipated matchup ended two weeks ago, Greenwich (4-0) had a decisive 42-14 victory over the rival Rams with its quarterback performing his role in business-like manner.
"Gavin is kind of mellow," GHS coach John Marinelli said. "We always teach quarterbacks that you can never be too high or too low out there — be even-keeled. You should look the exact same way after a touchdown or interceptions. That's the way Gavin plays."
The 6-foot-3, 210-pound Muir has passed for 907 yards through four games, with 11 touchdowns and just one interception. In Greenwich's road win against New Canaan on Oct. 6,
Muir passed for 261 yards and connecting with his receivers/running backs for three touchdowns. Like each game so far this season, Muir diagnosed what the defense was doing and directed the Cardinals to the end zone.
"We won that game against New Canaan in the offseason because of all the time he (Muir) puts in on studying defenses," Marinelli said. "Gavin is always aware of stunts, linebacker blitzes — he knows everything about opposing defenses."
Marinelli said Muir's preparation and demeanor are significant factors to is performance on the field.
"Just stay focused on what we need to do when we face adversity," Marinelli said. "That's what Gavin does and it shows in his play. He understands the offense better than I do and he is devoted to mastering of his craft. He doesn't want to be outshined."
Patience is also one of Muir's attributes — especially this season for Greenwich, which visits FCIAC West Division foe Westhill on Saturday.
"Gavin is not just a quarterback who slings around the field to his receivers," Marinelli said. "He reminds me of Mike Collins (quarterback) when I was at New Canaan. He's calm, cool, collected and this year, especially, he's taking it one step at a time and taking what the defense is giving him. He has been a surgeon with the ball and the whole offense — the offensive line, running backs, receivers — feed off his leadership, energy and success.
Hopefully, we'll have nine more games left in our season, so Gavin can possibly walk away as the winningest quarterback Greenwich has ever had with most of the passing records — which he doesn't pay attention to."
BACK IN ACTION
Like the Cardinals and most teams, Westhill (1-4) is coming off a bye week. The Vikings earned their first win of the season when they posted a 32-12 win over Capital Achievement two weeks ago.
"You look at their record and it doesn't do them justice," Marinelli said of Westhill. "They are coming off a win and this is their Homecoming, so they are going to be excited. They have the youngest coach (Joe DeVellis) in the league and he has a great mind for the game."
Senior Tysen Comizio leads Greenwich's ground game with 340 yards through four games, while senior Stephen Bennett has caught 15 passes for 258 yards. Lance Large, a senior has 205 receiving yards on 14 catches.
Defensively, senior linebacker Jack Feda has registered a team-high 39 tackles for the Cardinals. On the defensive line, senior Mozi Bici has three sacks, while junior Eddy Iuteri has 3.5 sacks.