Week 4: Haddam-Killingworth at Cromwell/Portland, Saturday, Noon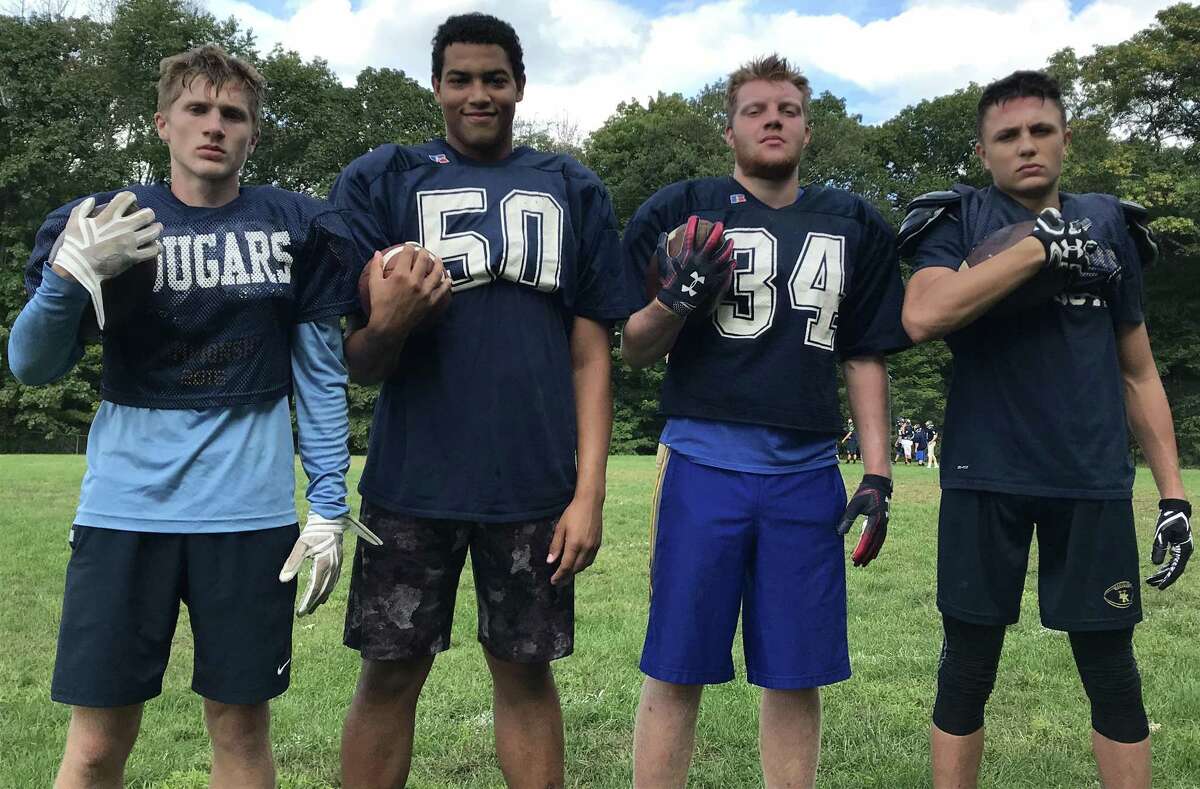 Cromwell/Portland's potent passing attack meets Haddam-Killingworth's tried-and-true ground game in an early-season clash of unbeaten Pequot-Sassacus teams.
There's also the possibility that the matchup of 3-0 squads at Cromwell's Pierson Park — rescheduled from Friday night to Noon on Saturday — will unfold as a defensive battle of wills.
Either way, the outcome will give the victor a leg up in the division, which the Panthers are trying to win outright after sharing last season's title with Valley Regional/Old Lyme.
"You think the offenses might have their way, or you never know, then maybe it turns out to be a 12-6 game," Cromwell coach Randell Bennett said with a laugh. "It's early in the season, but this is probably one of the bigger games we have to play all year."
H-K is off to its best start since Mike Baklik became head coach in 2014, and 10 seasons have passed since the Cougars' last 4-0 start. What the Cougars are refusing to do at this point, Baklik said, is rest on their early success.
"We're looking to go 1-0 every week and take things not only week-by-week, but day-by-day, even play-by-play," he said. "I think (the coaching staff) will learn if they've been listening to us."
While the Cougars (6-4 last season) have generally run a spread offense under Baklik, he said they began to excel in the double wing two seasons ago. The players who are product of that system are cashing in.
H-K has scored every one of its 14 touchdowns with the run, and the results are spread among seniors Tobey Callender (five), Dalton Brown (four) and Zach Kauffman (three) and junior Dalton Modehn (two). Callender is the biggest of the four at 6-foot-1 and 215 pounds and the supposed featured back, but the others are equally dangerous.
"Each of them has their own unique way of running with the ball, and that's for our opponents to figure out how they do it," Baklik said. "We have different people to attack a defense in different ways out of different spots in the backfield."
"Callender is the name we always hear, but (Modehn) is big and (Brown) has got some wiggle," said Bennett. "Every time they're going in motion, you hold your breath and hope those big holes don't open up front."
Baklik has been pleased with his team's play on offensive line, where Colton Lavoie, a three-year starter at center, and Thomas Perry, a sophomore guard who started the majority of games as a freshman, have been factors.
Meanwhile, H-K's defensive front has caught Bennett's attention.
"Their defensive line has some big boys. We've got to figure out what they're feeding them a few exits down Route 9, because we could sure use some," he said. "No. 75 (Aiden Maher, a 6-4, 225-pound defensive end and offensive) is a big kid. They have big bookends at defensive end (junior Trey Callender is the other), and we've been focusing on those kids all week. Up front they are much bigger than us."
Baklik likes his team's speed in the secondary, and it's likely the Cougars will be tested often Friday night. The Panthers average just shy of 40 points per game, and although quarterback Bryce Karstetter has put up gaudy passing numbers, the Panthers are really a balanced attack. They average 25 carries and 162 yards per game.
Still, Karstetter commands the most attention, and rightly so. In his third year as the starter, he has thrown for 816 yards and 10 touchdowns and completed 51 percent of his passes. He has two 300-yard games, and his favorite target is fellow senior Nick Wright, who has eight touchdown catches and games of 199, 163 and 208 yards. Of Karstetter's 43 completions, 21 have gone to Wright.
"Karstetter is the key to everything, and Nick is an amazing athlete," Bennett said. "He makes it easy for Bryce to put it up there, knowing he's always going to go get it, good ball or bad ball. Nick always finds a way to get it."
Said Baklik: "We have to make sure we don't give up any big plays. Cromwell is a talented group, well coached and always a contender for a playoff spot. One of our highlights last year was knocking off Old Saybrook and keeping them from getting into the playoffs. We support other Pequot teams in the (playoffs), but we do our part to disrupt and play them as tough as we can during the season."
Cromwell won its first six games last season, but at 8-1 heading into their season finale and a Class S playoff berth on the line, the Panthers lost to Rocky Hill. They are angling toward another run at the postseason, but first thing's first.
"We are definitely conscious of what H-K can do," Bennett said. "Their run game can take chunks of time off the clock if we can't get them off the field. We have to score, but we also want to keep the ball out of their hands a bit.
"Last year we had some success against H-K (a 43-7 win), but I don't feel it playing out like that this year. This is a different H-K team. Those old records, you can throw those out and just buckle up your chinstrap. We've been preaching all week that we need to be ready for this one."