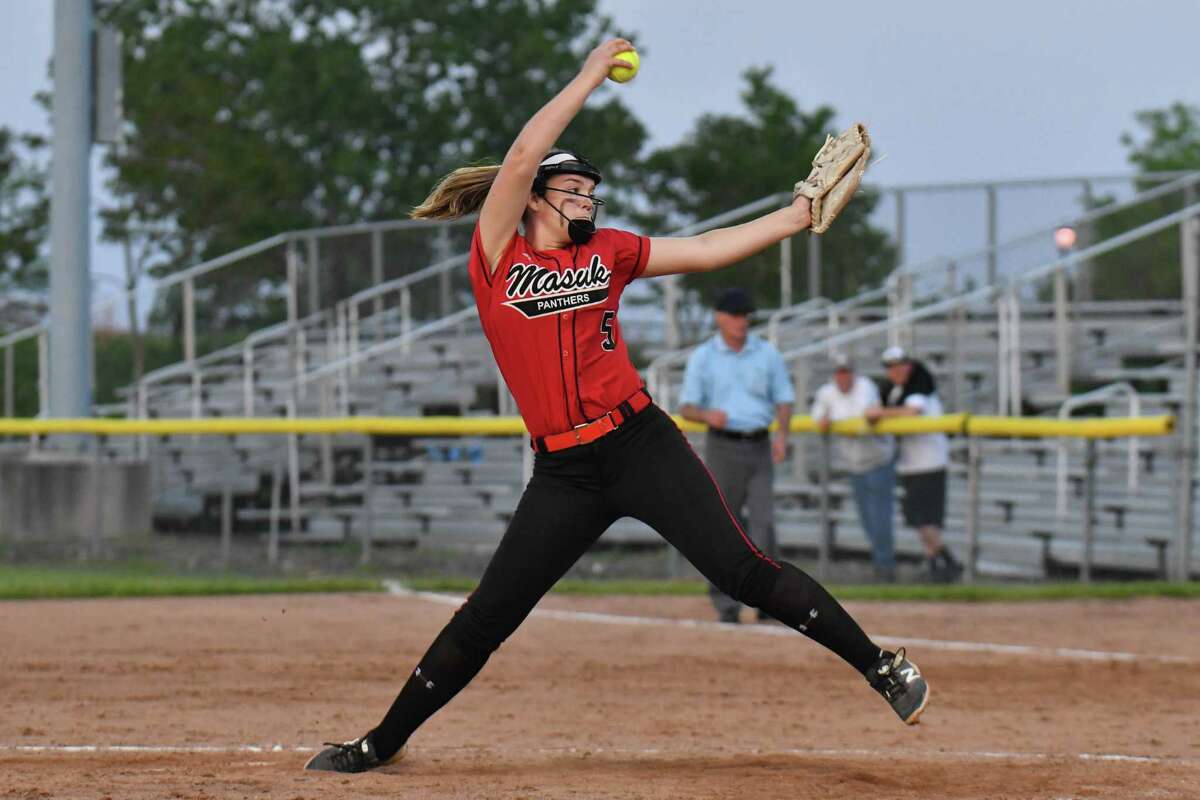 MONROE
It was one of the few times this season that Samantha Schiebe did not have an answer on the softball diamond.
"I don't know how to answer these," Schiebe, Masuk softball's star pitcher and hitter, responded with a laugh when asked Thursday about her MVP-worthy performance during the South-West Conference Tournament.
Schiebe carried Masuk to its second straight SWC title, pitching a five-hit shutout in a 6-0 victory over Newtown last Friday. She also homered that game, her fourth of the tournament.
"Pitchers are sometimes good hitters," Masuk coach Leigh Barone said. "I would say she gets the job done both offensively and defensively."Masuk coach Leigh Barone
That's putting it mildly.
Schiebe, a junior, has answered mostly every challenge, batting .338 with six home runs and pitching to a miniscule 0.64 ERA. She's shared time in the circle this season with sophomore Madison Procyk, who, believe it or not, has pitched to even better numbers (0.10 ERA).
Together, they've helped lead Masuk to a 24-0 record and a spot in Friday's state quarterfinals (4 p.m. in Monroe) against eighth-seeded Farmington. A second finals appearance in three seasons sits just two wins away.
CIAC SOFTBALL TOURNAMENT SCOREBOARD
"It's kind of crazy to think about, to be honest," senior catcher Erica Pullen said of Masuk's undefeated start, which has come with the No. 1 spot in the GameTimeCT/Register rankings. "You wish you would have an undefeated season. It's just hard to wrap my mind around the fact that we are.
"At the same time, we have two really good pitchers and are a really good team offensively. We have solid defense."
No one knows Schiebe better than Pullen. The two have played on the same team for 10 years, starting when they were in the Monroe Little League. The depth of their bond shows in the way they approach opposing hitters.
Barone, who is in her fourth season since taking over for Jacqui Sheftz, allows Pullen to call her own pitches. It's a responsibility that most coaches — in not only softball, but also baseball — tend not to put on catchers at the high school level.
"It's very unique," Barone said. "A lot of coaches call pitches, but I'm confident in my catcher to call pitches. I'm very confident in her. She hasn't called it wrong yet."
Added Procyk: "She's the brains behind pitching. She knows what to throw."
Barone's confidence is supported by the fact that both Schiebe and Procyk have looked unhittable at times. Schiebe has struck out 121 of the 325 batters she's faced this season while Procyk has struck out 107 of the 228 she's faced. They've combined to pitch 19 shutouts, the most recent coming in a 5-0 victory over Sacred Heart Academy in the second round of states.
While their numbers are so similar, the style in which they pitch is slightly different.
"We have different pitches that work better," Procyk said. "Sam has a really good rise ball. She has a really good curve, too. I work off-speed. I like curveballs, too. We just use different pitches differently. It works for a lot of different teams."
Both Schiebe and Procyk have trained outside of high school with Jennifer Hapanowicz of USA Elite Training. Coincidentally, Hapanowicz has also worked extensively in the past with Masuk legends Rachele Fico and Tatum Buckley.
In case you're not familiar, here's some background on those last two names: Between 2006-09 at Masuk, Fico threw a national-record 26 perfect games, 47 no-hitters and 95 shutouts. Her successor, Buckley, went 46-3 over her final two seasons and was twice named the Gatorade State Player of the Year. They combined to win three of the school's four state championships.
"Rachele Fico, she was an amazing pitcher. Tatum Buckley, she was really good," Schiebe said. "There's a lot of big shoes to fill."
Both Schiebe and Procyk can do just that by leading the Panthers back to the state finals. It was Schiebe who was in the circle for the Panthers' 2-0 loss to Fitch in the 2016 Class L final.
"It's not just her [Schiebe] carrying the team," Barone said. "It's everybody carrying the team. I think that takes a little bit of the pressure off her."