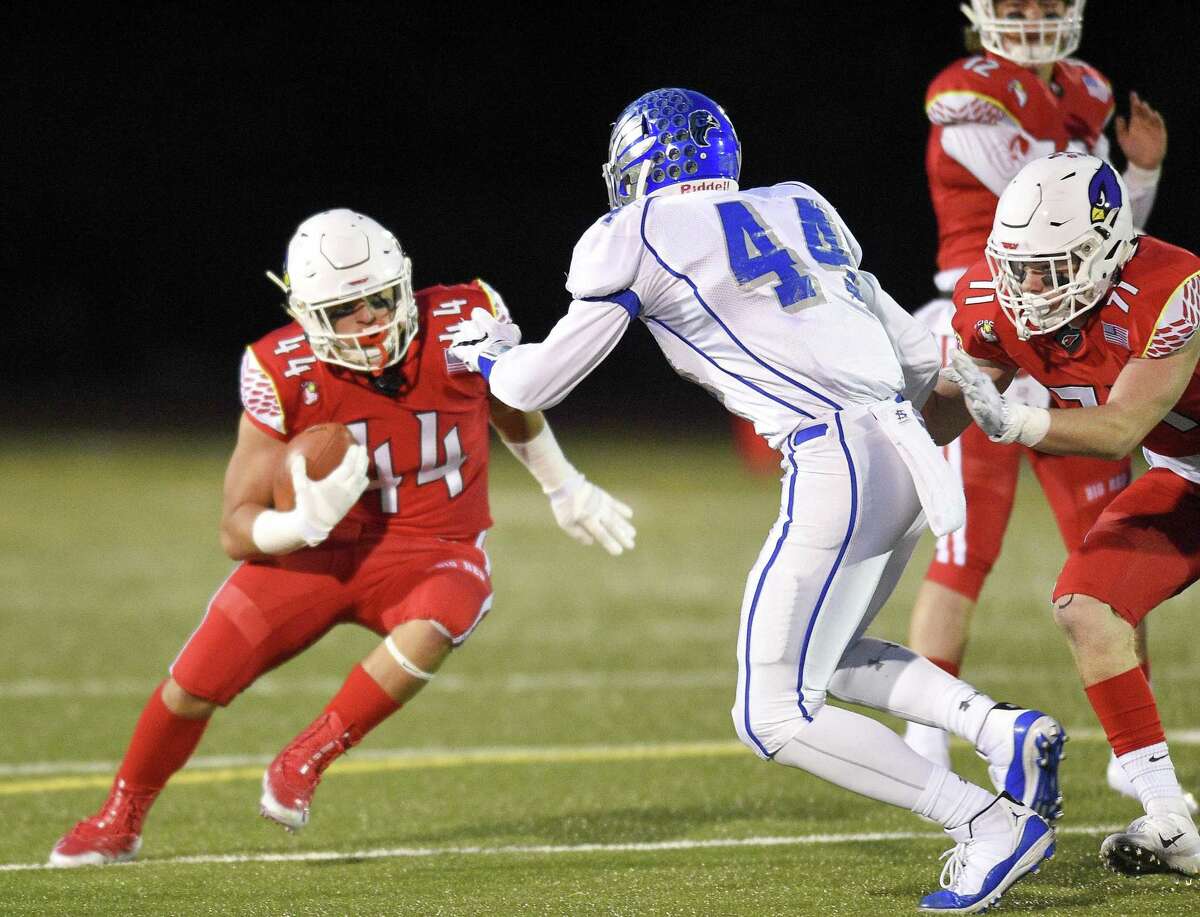 Greenwich's offense has enjoyed a smooth ride in each of its games, with its offensive unit cruising past each defense it has faced.
And the offensive line has helped keep the Cardinals on cruise control.
The players up front, who except for their coaches and peers, usually receive little recognition, have paved the way for the team's running backs and kept quarterback Gavin Muir upright in the pocket.
As a result, Greenwich brings a 6-0 record into its road game against FCIAC rival Ridgefield Friday at 7 p.m. The Cardinals have eclipsed the 50-point mark in four of their six victories.
"Our offensive line has been rock solid," GHS coach John Marinelli said. "They are as steady as them come. The offensive line is a position that gets overlooked. It's the second hardest position mentally and physically, it's the toughest."
Senior Jack McBreairty (6-foot-3, 235) has successfully filled the role at center — a position Kyle Woodring, a 2018 graduate, excelled at in previous seasons.
"We moved him to the center position from guard after Kyle graduated because we felt it was perfect for him," Marinelli said of McBreairty. "He is always engaged, he does a good job mentally and he puts our guys in the right spots. We ask our linemen to do a lot and they like it. The enjoy the mental aspect of the game. When you have four guys returning on the line with experience, you know they are going to be a strong unit."
Muir's blind side, the left side, has been well protected with senior Nolan Connerty (6-5, 225) at left tackle.
"Nolan Connerty at left tackle has been a cornerstone for our offensive line," Marinelli said. "He's having a terrific senior year. Gavin doesn't have to worry about his blind side."
Callum Abernathy, a junior (6-5, 256), lines up at right tackle.
"The two of them at the tackle positions fortify the edges," Marinelli said. "We do things in the running game that tackles typically don't have to do."
Senior Jacob Belmont (6-3, 246) and senior Tyler Dietrich (6-2, 190) have each found their niche at left and right guard, respectively.
"They have both done a great job, have shown strong technique and they are always in the right spot," Marinelli said of his two guards. "We are not that overpowering in terms of weight, but these guys are strong, they like going to the weight room and it shows."
"We're not trying to have the biggest linemen, you are either born with size, or you're not. You can add a little size, strength or agility, but we're not asking them to be 280 pounds. We want them to be who they are and work on the attributes they have. They all really enjoy what they are doing and it's fun to watch them in practice."
HITTING THE ROAD
Friday's matchup against Ridgefield marks the first of three consecutive road games for the Cardinals. After facing the Tigers, they will visit Danbury, then travel to Xavier.
"Tiger Hollow in Ridgefield is a daunting place to play, they always play well up there and always play tough," Marinelli said. "It's one of the toughest places to play in the FCIAC and their coach (Kevin Callahan) does a great job with their program. Their offense is potent and their defense is energetic."
Ridgefield's offense is led by senior quarterback Owen Matthews (1,496 passing yards, 12 touchdowns, three interceptions) and receivers Jackson Mitchell (23 receptions, 279 yards, two touchdowns) and Gianni Gorham (23 receptions, 246 yards, four touchdowns).
The Tigers sport a record of 4-3, with their losses coming against Darien, Staples and St. Joseph.
"They have lost to three really good teams and have beaten the teams they should have beaten," Marinelli said. "It's going to be a tough game, we're going to have our hands full."
CARDINALS' LEADERS
Muir has passed for 1,198 yards with 15 touchdowns and three interceptions, while senior running back Tysen Comizio has 440 yards rushing with 10 touchdowns.
Seniors Stephen Bennett (20 receptions, 343 yards) and Lance Large (16 receptions, 233 yards) lead the Cards' receiving corps.
dfierro
@greenwichtime.com