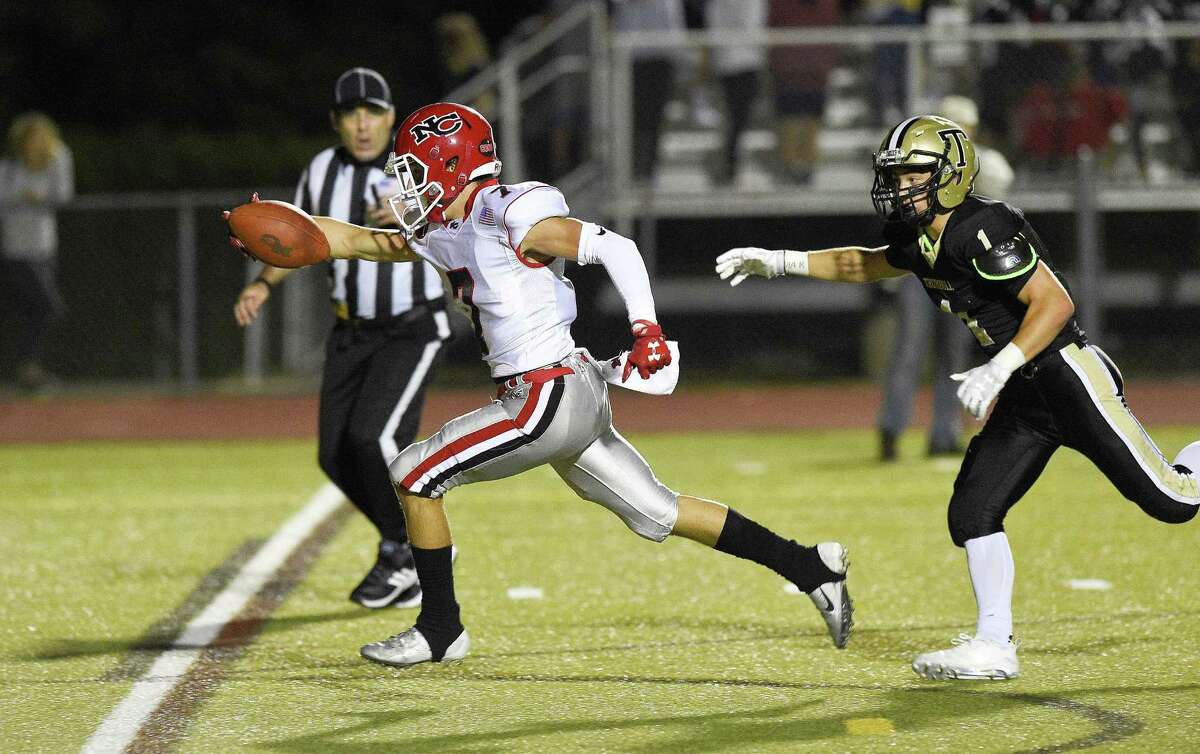 TRUMBULL — Friday was the New Canaan football team's second trip north to the town of Trumbull in the first three weeks of the season.
This one went a little better than the first.
The GametimeCT seventh-ranked Rams dominated Trumbull 48-7, two weeks after falling to now No. 1 St. Joseph 28-0 in the season opener.
"I still am baffled by what happened the first week, I think St. Joe's is a good team," New Canaan coach Lou Marinelli said. "The kids in Trumbull, new coach, new program, I thought those kids played really hard and they're on the right track. We have a few kids like (Quintin O'Connell) that take over and (Drew Pyne) and I think it was really a team effort."
Pyne (20-of-22, 388 yards, five touchdowns) hit O'Connell on the first drive of the game with a 20-yard fade, and O'Connell added the second score on the ground from seven yards out.
Trumbull (1-2, 1-2 FCIAC) made it 13-7 midway through the second when Colton Nicholas hit Chris Briganti from six yards out, but New Canaan responded right away as Pyne connected with O'Connell on a perfectly executed 68-yard post pattern.
"You always want to see how your kids are going to respond and I thought we responded really well to that," Marinelli said. "We gave them a couple of penalty yards there, but it was good for us, because all of the sudden we had to respond and I thought the kids did and the defense played excellent."
The final 5:13 of the half was the Rams show. After O'Connell's score, Drew Guida intercepted a pass at the Trumbull 32-yard line before Zach LaPolice took a shovel pass 30 yards for a score.
The next drive resulted in another New Canaan (2-1, 2-1 FCIAC) pick. This time it was Chris Canet diving for a tipped ball at his own 41.
The ensuing drive ended with an O'Connell making a one-handed, 18-yard touchdown catch to make it 34-7 Rams at the half.
"It's 13-7, we got momentum, we're excited, and as quick as we got the momentum is as quick as they took it away," Trumbull coach Marce Petroccio said. "They're a very, very good football team. They're very strong, they're big, they're physical."
O'Connell added his fifth touchdown, this time on a 1-yard run, to come within a score of the New Canaan single-game record on the first possession of the third.
With O'Connell out of the game, Pyne tacked on his fifth TD midway through the third on an 11-yard strike to Stephen Wronski before the rest of the Ram starters were pulled.
PLAYER OF THE GAME
O'Connell, New Canaan. The senior superstar had nine catches for 175 yards and three touchdowns, and added two more scores rushing in the win.
"I don't know, maybe it's the little extra bus ride, I can get a little more sleep," O'Connell laughed of his success on the Trumbull High turf. "My individual success was all because of the team, a lot of the guys can put up numbers when the line is blocking that well and guys are running good routes and Drew can throw the ball down the field."
WORLD'S BIGGEST PUNTER
New Canaan scored on its first seven drives, meaning it didn't have to punt until the fourth quarter. When it did, it was offensive tackle Jack Conley with the duties. The Boston College-bound 315-pound tackle launched a 63-yarder that was downed at the Trumbull 1-yard line.
STEP BY STEP
When Marce Petroccio took the Trumbull job, he knew getting the program to the upper echelon of the FCIAC would take time. Thus far, the Eagles have two lopsided losses against No. 2 Greenwich and No. 7 New Canaan, and a blowout win over Fairfield Ludlowe.
"I can still gauge how the process is going just by the fact of how they're playing," Petroccio said. "They care, they want to go out and do well. I get all of that. Our problem is, we take one step forward and we take two steps back."
NEW CANAAN 48, TRUMBULL 7
NEW CANAAN 13 21 14 0—48
TRUMBULL 0 7 0 0—7
Records: New Canaan 2-1, 2-1 FCIAC; Trumbull 1-2, 1-2.
NC—Quintin O'Connell 20 pass Drew Pyne (Nicholas Radman kick)
NC—O'Connell 7 run (PAT failed)
T—Chris Briganti 6 pass Colton Nicholas (Ryan Cranston kick)
NC—O'Connell 68 pass Pyne (Radman kick)
NC—Zach LaPolice 30 pass Pyne (Radman kick)
NC—O'Connell 18 pass Pyne (Radman kick)
NC—O'Connell 1 run (Radman kick)
NC—Stephen Wronski 11 pass Pyne (Radman kick)