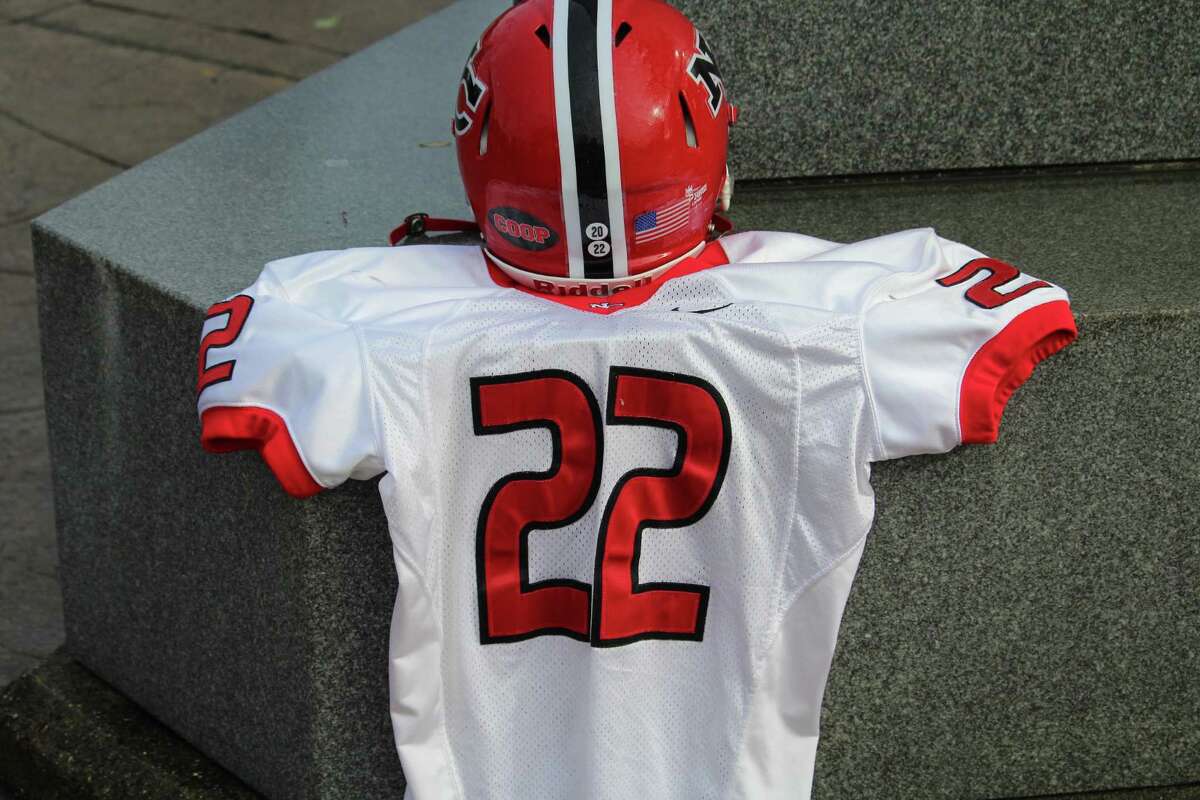 NEW CANAAN — Early in the first quarter of the New Canaan football team's opener at St. Joseph, a Ram safety wearing No. 22 intercepted a pass deep in his own territory.
Eyes quickly scanned the roster, searching for a name that wasn't there.
That's because the young man wearing the jersey was Quintin O'Connell, a senior captain for New Canaan.
O'Connell, who normally wears No. 20, donned 22 in honor of Jason Cooper, the New Canaan receivers coach who died July 7 of a heart attack at age 52.
Cooper was a Ram lifer, having played for Lou Marinelli in the 1980s and earning All-FCIAC and All-State honors in both football and lacrosse .
One of the better athletes to come through New Canaan, Cooper earned a scholarship to Duke University, where he played both sports, eventually ending up on the practice squads of the Dallas Cowboys and Miami Dolphins before starting a financial career in Chicago.
Eventually Cooper left the financial world and returned home to New Canaan, where he told Marinelli that he longed for the type of relationships established through football.
"He came back here and started coaching and the one thing I think he really loved to do is to come for practice," Marinelli said. "He was a substitute teacher for a while to be around the kids more and make a little money on the side, but he really enjoyed his relationships that he had with the kids."
Cooper's deep impact on the current crop or Rams inspired them to honor him throughout the season.
On the back-left corner of the Rams' helmets this season, a black football resides with the word "COOP" in red lettering in the center.
Still, it wasn't quite enough.
So, before the season kicked off Marinelli came up with the idea for O'Connell to wear Cooper's No. 22 in his memory.
O'Connell was flattered, but hesitant to accept the responsibility, citing his desire to honor Cooper without bringing attention to himself.
But, his teammates convinced him. As a senior captain and a three-year starter O'Connell would bring the type of class and effort to the jersey that Cooper would be proud of.
"Everyone had a different relationship with Coach Cooper," O'Connell said. "Him and I specifically since my freshman year have been close and always been in contact through the year even in the offseason. I missed a spring practice this year after the lacrosse season and he called me and didn't ask me to show up, but asked how I was personally. He cared for me and everyone else personally, and him and I had that connection. So Coach Marinelli thought that being a senior captain, if I wore the jersey on behalf of the team, he'd be on the field with us."
That phone call to O'Connell is just one example of what made Cooper so special and loved around the program.
"I think it hurts some a little bit more than others," Marinelli said. "It's different because he's not there and he was always the guy that would go to a kid that's having a hard day and give them a pat on the back and tell them, 'Hey look, it's going to be OK, you did this really well, so don't get down on yourself,' and he would do that behind the scenes and never make a big deal about it."
Marinelli has seen plenty of talented players and coaches come through the program in his 37 years, but Cooper's personality transcended all he accomplished on the field.
"There was nothing he couldn't handle," Marinelli said. "He was kind of like the Fonz in that you can never really rattle him. He was always very cool, very calm and if people were getting rattled around him he was a calming force and I think he was that force for a lot of our receivers too, and that's the thing that I think the kids miss."
What the future of the iconic jersey holds for 2018 is still a question mark.
O'Connell knows he'll once again wear it for the Rams' home-opener against Danbury on Friday night, and after that it will either become his for the year or rotate to a deserving player for each game.
"We don't really know for sure," O'Connell said. "When coach asked me if I want to wear No. 22, I said yes in a heartbeat. It's an honor and it's one of New Canaan's biggest legends. Someone we loved and that loved us and I asked the guys if they were sure they want me to wear it because I don't want it to be about me. They all said, 'No, you're just representing for the team,' and I said if that's what everyone wants to do, I would love to do that."
Now, there's work to be done on the field, but it's tough for a group used to having that larger-than-life figure patrolling the sidelines.
Even now, two months later, Marinelli still finds himself walking to the field with the intention of running something by Cooper, only to remember that he isn't there.
And for teenages with classes, athletics, relationships, friends and college already on their plate, it can be overwhelming to cope with a loss that hits so close to home.
In that regard, every little gesture helps. Even something as seemingly inconsequential as a jersey.
"It wasn't just the receivers, it's the entire team and the entire New Canaan football community," O'Connell said of Cooper's impact. "I know personally with my brother (Ryan, class of 2017) and all his friends, they all got together after they heard the news. Everyone has been there for each other, it's been a roller coaster — especially within the first couple weeks — because it's emotional with the season starting up, it really comes back full force again because the big man isn't on the sidelines where you know him to be.
"It's hard, but we just want to keep him in our hearts."