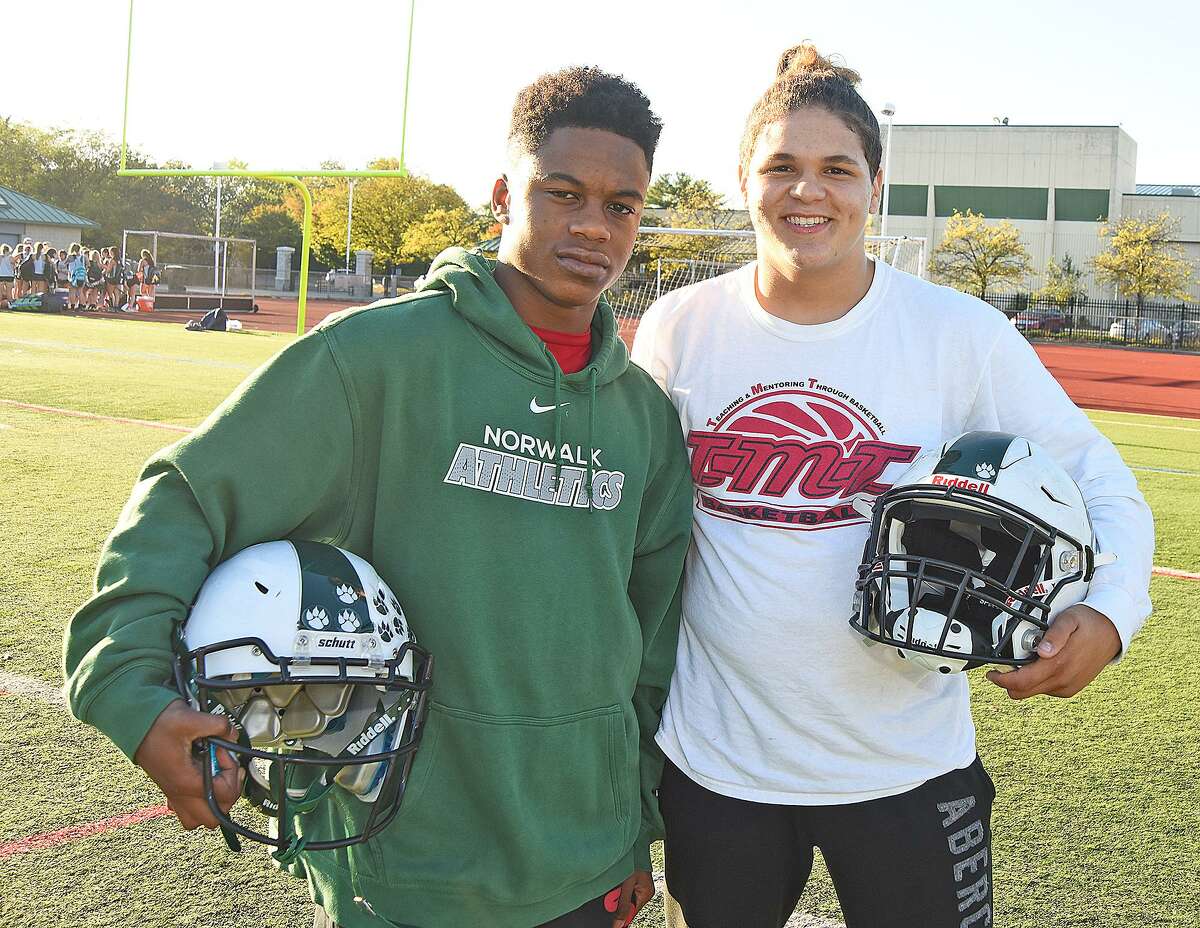 NORWALK — If Norwalk coach Sean Ireland is excited about the future, he has every right to be.
The Bears have a lot of talent hitting the gridiron this fall and, while it's young talent, a handful of players are already experienced at the varsity level — especially at the skill positions.
It's an equation that — if the players play up to their potential — could leave Norwalk as one of the bigger surprises in the FCIAC this fall.
"We're extremely young, but that being said we do have pieces coming back and they're important pieces coming back, too," Ireland said. "Even though we graduated a lot, we have a strong nucleus back and the young kids have been tremendous so far. We're very pleased with what we've been seeing."
If Ireland has anything to worry about this season, it's in the trenches, where only one starting offensive lineman returns.
"When you graduate four starters off your offensive line, you're always concerned," Ireland said. "Some of our kids do have some game experience, though."
The one lineman the Bears do return is perhaps one of the best younger two-way linemen in the league—6-foot-5, 250-pound junior Sam Papp.
While Norwalk has a recent history of producing many top linemen (DJ Morrell/Old Dominion and Buffalo Bills), Evan Adams (Syracuse University) and James Makszin (Rhode Island), Papp has a little bit of each previous player in him.
"He can be as good as he wants to be," Ireland said. "He's big, he's athletic, he's got the motor. He's got a little piece of all of them in him, so that's good."
When asked what the team's strength will be, Ireland said the Bears are "fast and athletic."
The weakness, he admitted, was "experience" — though his most talented returnees saw a lot of varsity action a year ago.
Kyle Gordon (136-for-235, 1743 yards, 17 TDs) returns for his second year as the starting quarterback. He also rushed for 456 yards and three scores.
Jakari Walker (88 carries, 691 yards, 6 TDs) is back and was Norwalk's leading ball carrier a year ago.
"I think he's going to be the best back in the league," Ireland predicted.
Who will catch the ball? While that's a concern, Norwalk features a bevy of talented and fast wideouts who are looking to step up and replace Jalen Elliott and AJ Hall, two of the top receivers Norwalk has produced in the 21st century.
Early candidates include senior captain Jaki Elliott, Khalil Eason — he had one catch a year ago, but was a starting DB as a freshman and had a team-high five picks — and AJ Robinson.
"We have a lot of spots to fill, but we can fill them," Elliott said. "We have enough players and talent to fill those spots. I think we'll be a good surprise. We have a lot of young players, but there's talent."
On defense, Norwalk is a year older after losing most of its starting group entering the 2017 season.
In the middle of it all will be a first-year starter named Joey Lusardo at middle linebacker, a player who has impressed Ireland a lot this preseason.
"He's our quarterback on defense," Ireland said. "He's not the biggest or fastest kid out there, but he knows what everybody is doing."
Papp and Izayah Valentine, who saw late-season starting time as a freshman, were monsters last season. Valentine finished fourth on the team in tackles despite playing just six of the 10 games.
If the Bears come together and the young players prove they're varsity-level, Norwalk could surprise a few teams.
"I think the sky is the limit with these kids," Ireland said. "As long as the bright lights don't get to them, we'll be OK. As long as we don't let the name on the other jersey get to us, we should be in every game. If we play the way we've been practicing, we're going to be in every game."
Norwalk opens the season Friday with a long road trip to East Lyme.
JNash@hearstctmedia.com