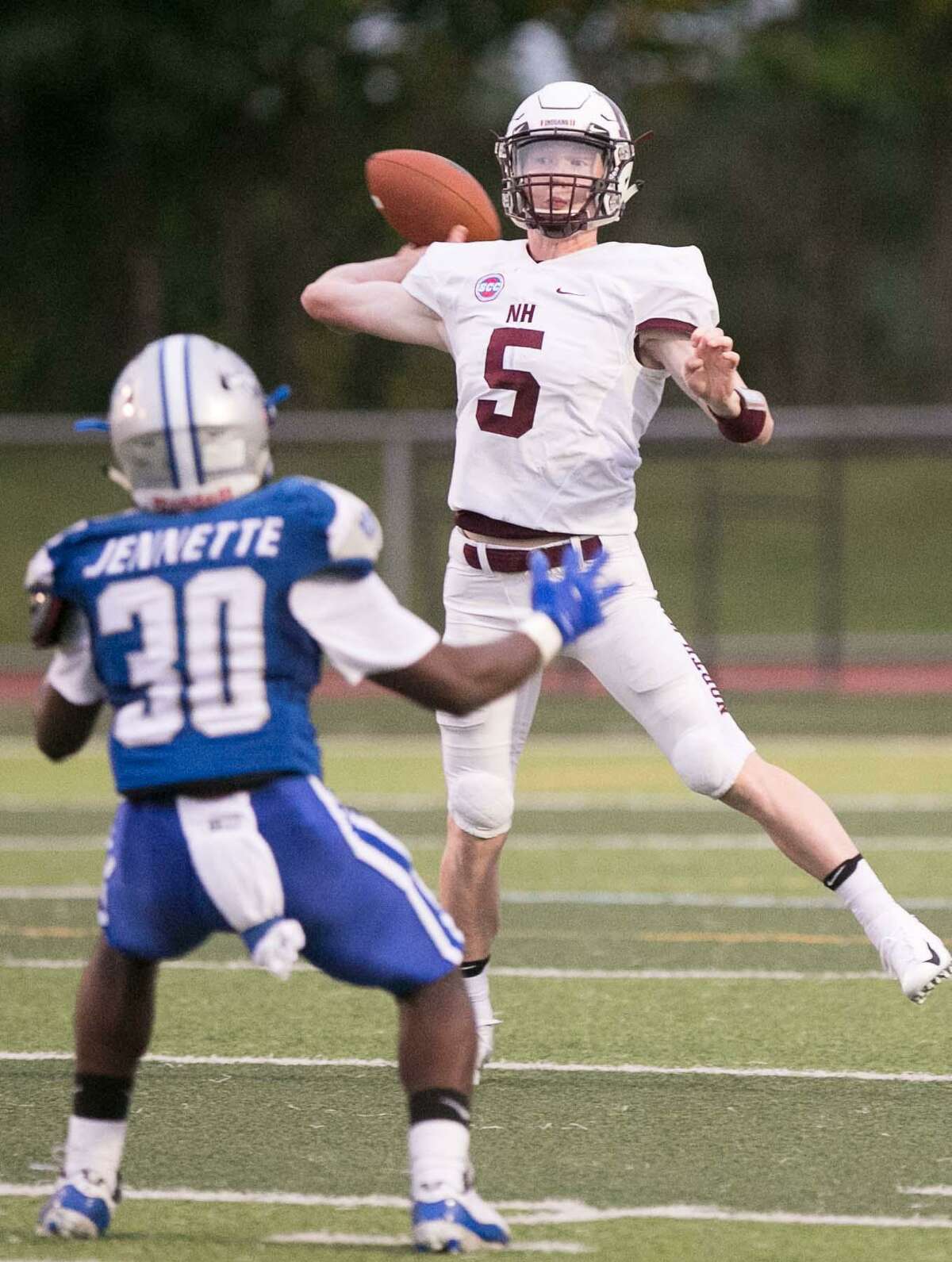 WEST HAVEN — Heading into Friday evening's Southern Connecticut Conference tilt, both the West Haven and North Haven football teams knew they would have to establish new identities with an abundance of stars graduated from both teams.
When all was said and done, the Indians had a few more big plays and one more defensive stand, topping the Westies 20-19 in a thriller at Ken Strong Stadium in West Haven.
Trailing by one point in the final minutes, West Haven converted a fourth down to get inside the North Haven two-yard line, but four plays produced just one yard, including a goal-line stand by the Indians to stop Jordan Berrios a foot short of the goal line with 3 minutes, six seconds left.
"Our defense was amazing," North Haven coach Tony Sagnella said. "We are a young team and we were forced to grow up quickly tonight. We knew West Haven was going to be a tough team and they were. I am extremely happy with the effort we put in and with how we came up big at the end. We had to be tough today and we were."
North Haven stops Westies on 1 foot line on 4th down w 3:06 left. Indians up by one #cthsfb pic.twitter.com/JoPT4yVQqO

— Mike Madera (@MikeMadera2) September 8, 2018
The Indians took a 20-19 lead with 9:32 remaining, capping a 13-play 80-yard drive with a 5-yard touchdown run by Nicholas Dodge. After failing on their first two conversions of the game, the Indians turned to Dodge again and his run put the Indians on top for good.
"West Haven came out fast with the blocked punt, but we were able to fight back," Dodge said. "We made the big plays when we had to."
For the Westies, it was a heartbreaking end to what was a solid comeback, holding a 19-12 lead into the fourth quarter.
"North Haven made all the big plays," West Haven coach Rich Boshea said. "Give them credit. When we needed to make big plays, we could not get them. They held us at the goal line. When we had to make the big plays, we could not do it. But, I am happy with how we hung tough. We were down and went the length of the field."
Nick Dodge third TD of game, this one from 5 yards out, and run on conversion gives NH 20-19 lead over WH with 9:32 left 4th #cthsfb pic.twitter.com/UpW7ogmll9

— Mike Madera (@MikeMadera2) September 8, 2018
Despite being outgained by 87 yards in the opening quarter and 28-3 in plays to start the contest, West Haven held a 19-12 lead at the half with a pounding ground game and efficient passing.
The Westies opened the scoring just 1:43 into the game when Malachi Wright blocked a North Haven punt from six yards out, and scooped up the loose ball in the endzone for a 7-0 lead.
The Indians, looking for their own set of stars, responded in emphatic fashion, marching 96 yards in 16 plays to get on the scoreboard.
North Haven stops West Haven drive in endzone with big interception. WH 19 NH 12 with 2:30 left in 3rd. #cthsfb pic.twitter.com/TfVAijME2g

— Mike Madera (@MikeMadera2) September 8, 2018
Dodge capped North Haven's second drive with a 4-yard run, but the the extra point failed and the Westies hung on to a 7-6 lead with 1:59 left in the first quarter.
The Westies were held to just five yards in their only first-quarter drive and punted to North Haven. The Indians then used nine plays, eight on the ground, and took a 12-7 lead when Dodge scored from one-yard out with 9:07 left in the first half.
The rest of the second quarter was all West Haven as the two teams reversed roles. West Haven outgained the Indians 126-7 for the remainder of the half, and more importantly, scored the final two touchdowns to take a seven-point lead at the half.
Jordan Berrios to Demerick Blackford 10 yard TD pass gives WH 19-12 lead over North Haven with 28 seconds left first half #cthsfb pic.twitter.com/dFRyDHrw1W

— Mike Madera (@MikeMadera2) September 8, 2018
West Haven marched 82 yards in 10 plays, with runs of 17 yards by Justin Medina, 16 yards by Juan Gutierrez, and 20 yards by Jordan Berrios, before Berrios plowed in from one yard out with 4:51 left in the half for a 13-12 West Haven lead.
After the Indians were held on three plays, West Haven took advantage of a short field, going 38 yards on seven plays. The drive saw the Westies convert a fourth down one play before Berrios hit Demerick Blackford with 28 seconds remaining in the half.
NORTH HAVEN 20, WEST HAVEN 19
NORTH HAVEN 6 6 0 8 — 20
WEST HAVEN 7 12 0 0 — 19
W – Malachi Wright 6 yard punt block (Isaac Morales kick) 10:17
N – Nicholas Dodge 4 run (Kick failed) 1:59
N – Nicholas Dodge 1 run (Run failed) 9:07
W – Jordan Berrios 1 run (Run failed) 4:51
W – Jordan Berrios to Demerick Blackford 13 pass (Kick failed) 0:28
N – Nicholas Dodge 5 run (Dodge run)
History made tonight in the #SCC as @NHHSFootball gets its first ever victory over the Blue Devils of West Haven! @NHIndiansAD @NorthHavenTribe @SCCcommissioner #cthsfb pic.twitter.com/g7aU9NbAej

— CT Sports Now (@CT_Sports_Now) September 8, 2018