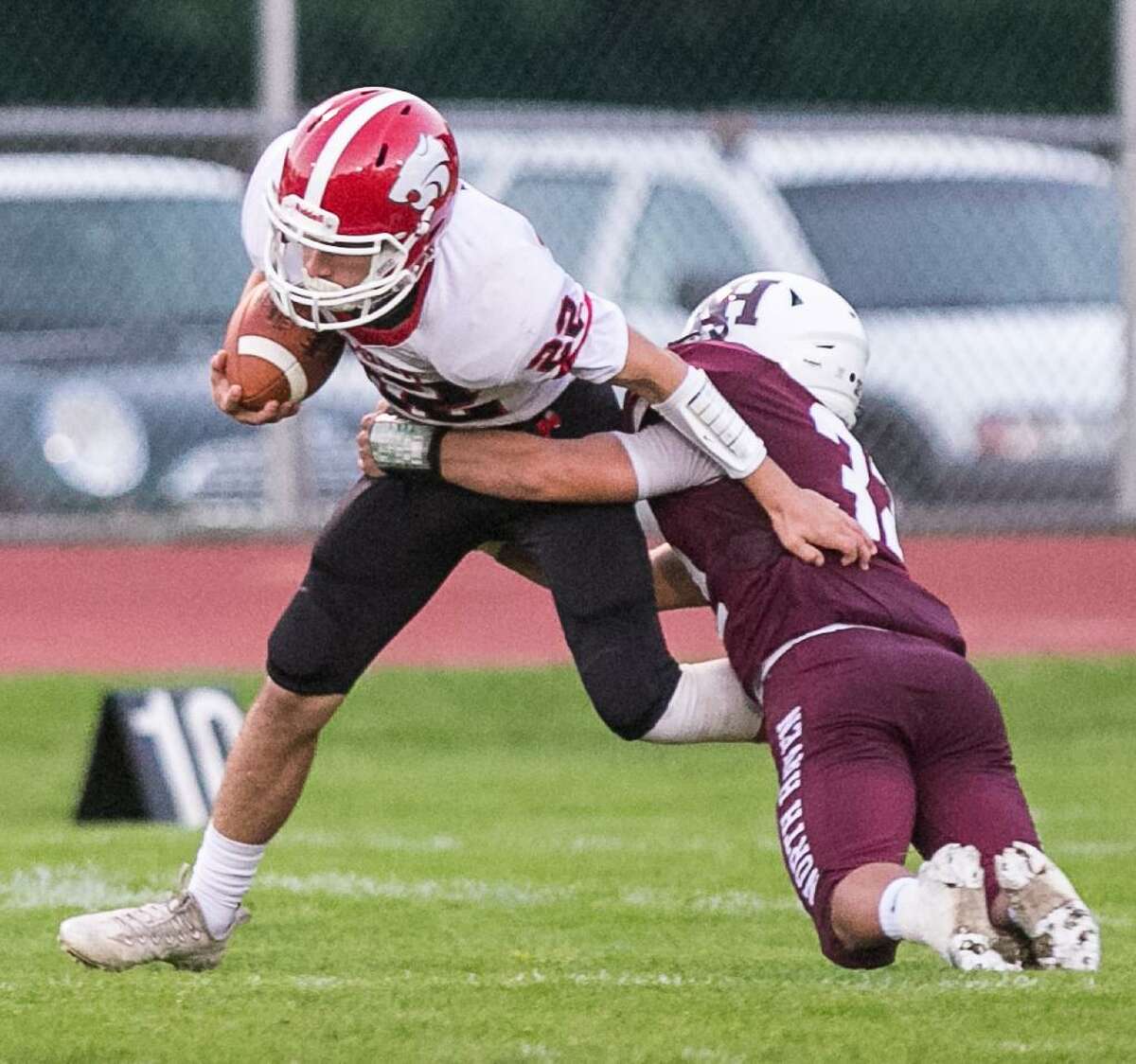 NORTH HAVEN – It's only two weeks into the season, but North Haven has made quite a statement.
Just a week after beating West Haven for the first time, the Indians took down another perennial state power by pounding Masuk 41-20 at Vanacore Field in a non-conference game played as part of the Connecticut Football Alliance.
"I don't know yet," said North Haven coach Tony Sagnella, whose team is receiving votes in the GametimeCT/New Haven Register Top 10 poll. 'We came into the season very inexperienced. We've had to go on the road and play West Haven and it was a real team victory and this week was, too. We're starting to get some confidence, but we haven't really found ourselves yet."
It was a night where the young Masuk team made plenty of mistakes in the first half. The Panthers were flagged for a trio of ineligible man downfield penalties, but that was the least of their worries as quarterback Kevin Luke was picked off twice for interceptions that went for returns for touchdowns.
"If we can take the lessons from this game and apply them every day, we'll take it," Masuk coach Joe Lato said. "There's a lot of things we can do and we're realizing it. We're only going to get better."
It took a while for North Haven to get going, but once the Indians did, they were impressive on both sides of the ball.
After being held to just 13 yards on its first possession, it took North Haven just two plays on its second possession of the night. Devan Brockamer (5 carries for 95 yards) took the direct snap and raced 49 yards to make it 7-0.
Just three plays later, the North Haven defense came up big when Masuk's Luke (16-for-29 passing for 153 yards) overthrew his receiver and Nick Dodge picked it off at his own 33-yard line. Dodge returned it up the middle for a touchdown and a 13-0 North Haven lead with 3:10 remaining in the first quarter.
The Indians poured it on in the second quarter when Brockamer scooted 50 yards for his second touchdown to make it 20-0.
"We're just trying to get better each and every week," Brockamer said. "Every week is a challenge with our schedule. We try to take the positives and the negatives and get ready for Cheshire. I'm very happy and excited."
The North Haven defense came up with another big play a minute later as Albert Hooks picked off Luke at the Panther 38 and returned it for a touchdown. Hooks added a 20-yard touchdown run with 3:27 left in the second quarter to make it 34-0 at half time.
"They had a couple big turnovers and they will flip a game faster than anything," Lato said. "We missed a couple things, but I'm not going to take anything away from North Haven."
North Haven added another score on its first possession if the second half to push the game to running time by the 35-point margin rule. On the play, Shamus Meehan threw his lone pass of the night, a 30-yard TD pass to Noah Perillie that made it 41-0 with 8:18 to play in the third quarter.
Masuk finally got on the board with 7:23 to play in the fourth quarter when Luke connected with Chris Tillotson for a 5-yard touchdown pass over the middle. The Panthers added another score three minutes later when Luke and Tillotson hooked up for a 7-yard touchdown pass.
Masuk's Lukas Shamus closed out the scoring with a 16-yard run and successful two-point conversion run in the final minute.
STAR OF THE GAME
Albert Hooks. North Haven senior scored on a 38-yard interception return and rushed for a 20-yard touchdown, both in the first half. Devan Brockamer, North Haven, touchdown runs of 49 and 50 yards.
QUOTABLE
"I'm pleased at the way this group is responding to the challenges. Like every coach will tell you, it all starts after the last game of the previous season when we say goodbye to the seniors." — Sagnella
North Haven 41, Masuk 20
Masuk 0 0 0 20 — 20
North Haven 13 21 7 0 — 41
North Haven: Devan Brockamer 49 run (Chase DiCarlo kick)
North Haven: Nicholas Dodge 33 interception return (kick failed)
North Haven: Devan Brockamer 50 run (Chase DiCarlo kick)
North Haven: Albert Hooks 38 interception return (Chase DiCarlo kick)
North Haven: Albert Hooks 20 run (Chase DiCarlo kick)
North Haven: Noah Perillie 30 pass from Shamus Meehan (Chase DiCarlo kick)
MA: Christopher Tillotson 5 pass from Kevin Luke (kick failed)
MA: Christopher Tillotson 7 pass from Kevin Luke (kick failed)
MA: Lukas Shamus 16 run (Lukas Shamus run)
Masuk (0-1) North Haven (2-0)