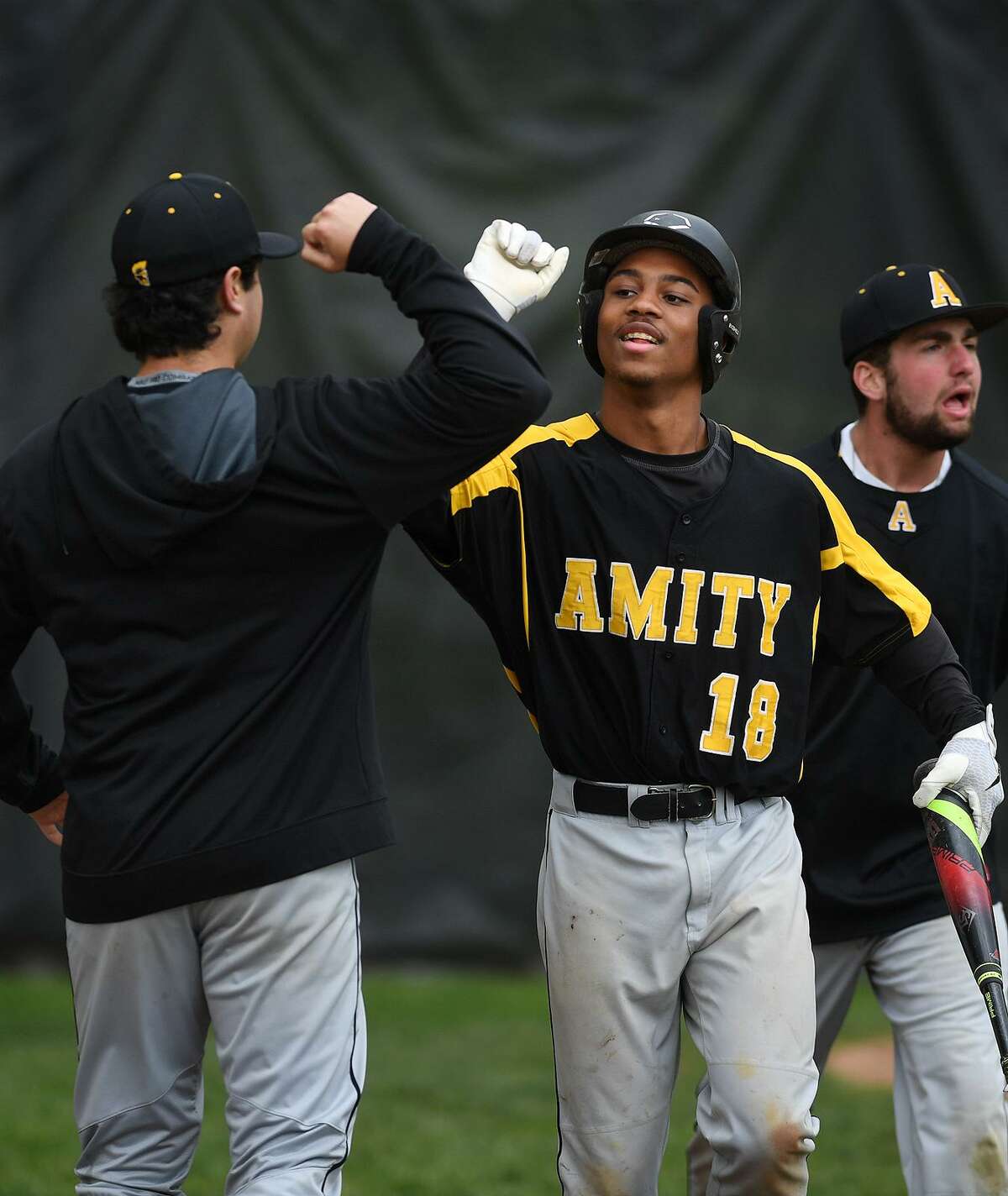 MADISON — The Amity bats were silent through the first three innings on a cold Tuesday afternoon, before a five-run rally in the fourth inning propelled the ninth-ranked Spartans to a a 6-3 victory over sixth-ranked Hand.
But it was a gutsy first inning pitching performance that might have been the biggest factor for Amity, which snapped a two-game losing streak to improve to 13-5.
Michael Shepa started for Amity. The Southern Connecticut State University commit did not have his best stuff, but was able use his repertoire to limit damage.
Hand got off to an early 1-0 lead in the first after three consecutive singles to start the game and an RBI single by pitcher Jake Crawford before Shepa stranded the bases loaded.
"He pitched out of the first inning which could have been really dangerous," Amity coach Sal Coppola said. "If Hand got two or three runs that inning it's a big difference."
Amity defeats Hand 6-3 with big performances from sophomore Jack Ranani, who was 3-3 with a RBI and junior Tanner Santos, who had a clutch 2-run single #ctbase @GameTimeCT pic.twitter.com/XzeTCsflsP

— Will Aldam (@AldamWill) May 15, 2019
Amity, which swept the season series from Hand and has already clinched the SCC Housatonic Division title, was led offensively by the bottom of its lineup, specifically its six through eight hitters. Combined, the three batters had six hits over eight at bats with a hit by pitch, accumulating five runs batted in and five runs scored.
Crawford looked dominant on the mound for Hand (14-5) through the first three innings, allowing just one hit and striking out three.
Control alluded Crawford in the fourth inning, however, as he walked the first two Amity hitters of the inning. A Jack Ranani single drove in the Spartan's first run, followed by a Tanner Santos two-run single.
Matteo Delsanto kept the momentum going as a pinch-hitter with Amity's third consecutive RBI single.
Crawford was replaced by Kevin Tracy, who allowed another RBI single to Cole Kuchachik before retiring the side. Amity led 5-1.
Shepa fired a shutdown inning in the bottom half of the fourth, despite a leadoff walk.
Tracy continued on the mound for the Tigers and worked a quick 1-2-3 inning, keeping the Tigers within four runs.
Hand rallied in the bottom half of the fifth as Shepa could not find the zone. After a hit batsmen and a walk, William Rotko entered in relief.
Both inherited runners would come around to score after a Anthony DePino single and a fielder's choice, thinning the lead to 5-3.
Amity answered right back with a leadoff single by Ranani, who came around to score on a tomahawked double by Jacob Crow.
"Ranani is just a tenth grader and he was 3-for-3," Coppola said. "He had some clutch hits and Santos, that was a big hit. Two runs scored on that hit up the middle, so they were clutch today for sure."
AMITY 6, HAND 3
AMITY 000 501 0 — 6 8 0
HAND 100 020 0 — 3 8 0
Batteries: Michael Shepa (W), William Rotka (4) and Jacob Crow; Jake Crawford (L), Kevin Tracy (3) and Kevin Girardi