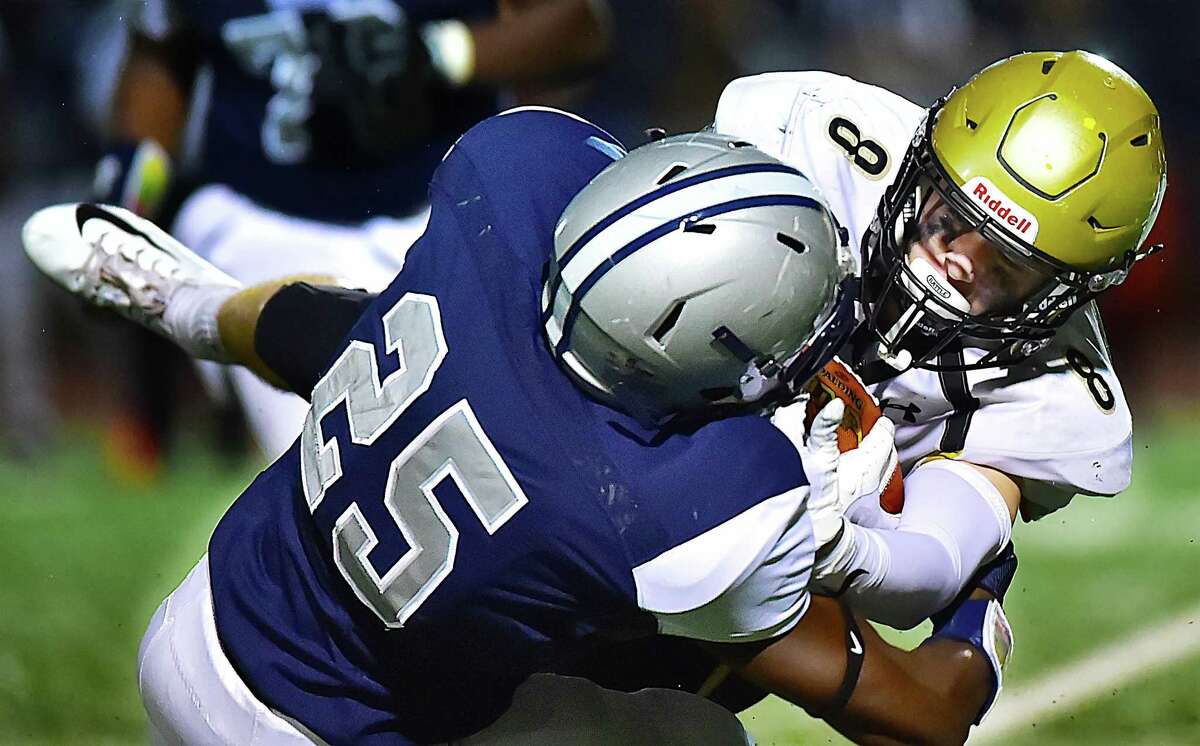 NEW HAVEN — The defending CIAC Class L champions certainly looked the part Friday night.
Hand, ranked No. 5 in the GameTimeCT.com state poll dominated Hillhouse 43-6 at Bowen Field in the season opener for both Southern Connecticut Conference Tier 2 teams.
"Our job was to come in, execute, not make a lot of mistakes and see what we can do," Hand coach Dave Mastroianni said. "Our kids validated themselves for all the work they did in the offseason."
The Tigers mixed up their offense perfectly in the opening half, scoring on its first four possessions. Phoenix Billings connected with Chris Bartosic for 28 and 48 yards sandwiching a 6-yard run by Colin McCabe.
"We came out hot and we wanted it more," McCabe said. "We wanted to make a statement in the first game of the season."
McCabe (6 carries for 49 yards) added a pair of touchdowns (3 and 4 yards) in the second quarter to make it three touchdowns in his starting debut in the backfield for Hand. He also sacked Hillhouse quarterback Sahim Hasan in the end zone in the second quarter for a safety as it was 37-0 at the half.
"He's new to the mix," Mastroianni said. "He works his behind off in the weight room and it shows. This is the first year he's played running back for us."
Hillhouse struggled on both sides of the ball in the first half. The Academics never reached the Hand side of the field and had trouble on the lines.
"We got outmuscled and didn't execute," Hillhouse coach Reggie Lytle said. "We have a lot of young guys playing high school football for the first time."
Hand tacked on another touchdown on a Jesse Lutz one-yard run in the third quarter.
Hillhouse finally got on the board with 2:51 to play in the game when Shamen Brown scooted into the end zone from two yards out.
The entire second half was played under running time by the CIAC 35-point rule.
"We have to go back and work harder," Lytle said. "That's probably the best team we'll play all year. We didn't block well and hold our blocks up front."
Quotable: Hand coach Dave Mastroianni: "Whenever you come down to Hillhouse and the game gets to what it was it's a shocker. It's a credit to our guys and their execution. We didn't make a lot of mistakes tonight."
Star of the Game: Colin McCabe, Hand. Rushed for three touchdowns (6, 4 and 3 yards in the first half and tackled Hillhouse quarterback Sahim Hasan in the end zone for a safety in the second quarter.
Hand 43, Hillhouse 6
Hand 21 16 6 0 — 43
Hillhouse 0 0 0 6 — 6
Daniel Hand: Chris Bartisoc 28 pass from Phoenix Billings (Chris Bader pass from Phoenix Billings)
Daniel Hand: Colin McCabe 6 run (pass failed)
Daniel Hand: Chris Bartosic 48 pass from Phoenix Billings (Isaiah McNeilly kick)
Daniel Hand: Colin McCabe 4 run (Isaiah McNeilly kick)
Daniel Hand: Colin McCabe safety
Daniel Hand: Colin McCabe 6 run (Isaiah McNeilly kick)
Daniel Hand: Jesse Lutz 1 run (run failed)
Hillhouse: Shameen Brown 2 run (run failed)
Daniel Hand (1-0, 1-0); Hillhouse (0-1, 0-1)