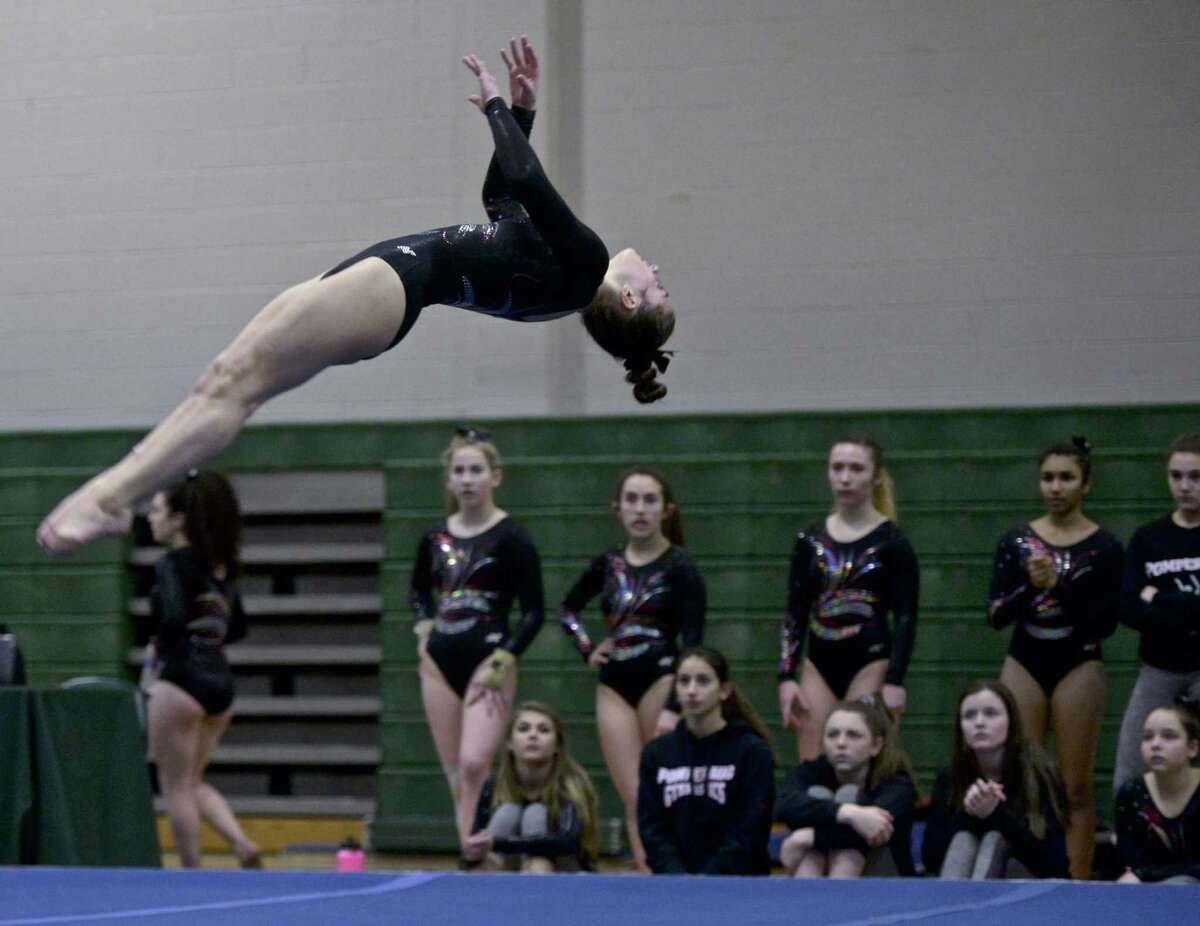 NEW MILFORD — The third time was the charm for the Newtown gymnastics team.
The Nighthawks had posted runner-up finishes the past two seasons at the South-West Conference girls gymnastics championship.
They decided enough was enough Thursday night at New Milford High School. Everyone put their best foot forward and Newtown took the championship plaque home.
Newtown posted a winning score of 132.900 points to hold off determined runner-up Oxford (130.800). Host New Milford (126.750) was third followed by Pomperaug (125.950) and Nonnewaug (123.350).
"After losing by a couple of tenths of a point last year. The girls were determined this season," Newtown coach Kim Kane said. "We had a great regular season and the girls wanted to fashion an exclamation point. The girls collectively worked so hard for this. I couldn't be happier for them."
Congratulations to coach Kane and your 2019 SWC gymnastics champions! #ctgym @NHS_TWEETS pic.twitter.com/tpKX7WBha7

— NHS Athletics (@nhsathletics) February 8, 2019
Leading the way for Newtown was Hannah Jojo. The junior captured the gold medal in vaulting (8.65), and uneven bars (9.0) on her way to taking the all-around title (34.75).
It all added up to a plaque for Jojo as Championship MVP.
"This is so exciting. Our No. 1 goal was to win the SWC Championship. We came so close last year. Winning the title is better. All our work paid off," Jojo said. "I feel I improved my skill sets. And I made much cleaner routines this year. The love from our team and the love of the sport carried me."
"Hannah was amazing," Kane said. "She fell off balance beam costing her 2/10s of a point. She added wrinkles to her routines in the other events to get that 2/10s back. That tells you the type of gymnast she is."
Oxford High freshman Anna Gramlich scored 8.8 to become the SWC champ on balance beam. Pomperaug High sophomore Alaina Karp won the floor exercise with a score of 9.2.
Karp was runnerup on all-around (34.65) while Gramlich was fourth (33.50).
Oxford made the team race close despite missing injured senior Emily Baktis. Nicole Bobbie and senior Taren Diaz had big nights to support Gramlich's efforts.
"The girls did so well. They worked so hard," Oxford coach Chelsie Eckman said. "Our group is small but mighty."
New Milford didn't get its third title in four years. But the Green Wave showed they are ready for the upcoming state championships.
"I'm very proud of the girls," New Milford coach Bethany Mihaly said. "Newtown and Oxford performed such clean routines. Our girls did their best and look forward to the states."
SWC CHAMPIONSHIP
At New Milford HS
Team Scores: 1, Newtown 132.9; 2, Oxford 130.8; 3, New Milford 126.750; 4, Pomperaug 125.950; 5, Nonnewaug 123.350; 6, Joel Barlow 83.3.
Vault: (Top 3 medalists): 1, Hannah Jojo (Newtown) 8.650 points; 2, (tie) Marisa Choi (Newtown), Alaina Karp (Pomperaug), Paige Brandt (Nonnewaug) 8.60; 3, Allyson Kenny (Newtown), 8.55.
Uneven Bars: 1, Hannah Jojo (Newtown) 9.0; 2, Thea Spinner (New Milford) 8.7; 3, Allyson Kenny (Newtown) 8.50.
Beam: 1, Anna Gramlich (Oxford) 8.80; 2, Anna Santerelli (New Milford) 8.6; 3, 3, Alaina Karp (Pomperaug) 8.45.
Floor Exercise: 1, Alaina Karp (Pomperaug) 9.2; 2, Taren Diaz (Oxford) 8.90; 3, Hannah Jojo (Newtown) 8.70.
All-Around: 1, Hannah Jojo (Newtown) 34.75 points; 2, Alaina Karp (Pomperaug) 34.65; 3, Allyson Kenny (Newtown) 33.85.
Championship MVP: Hannah Jojo, Newtown.