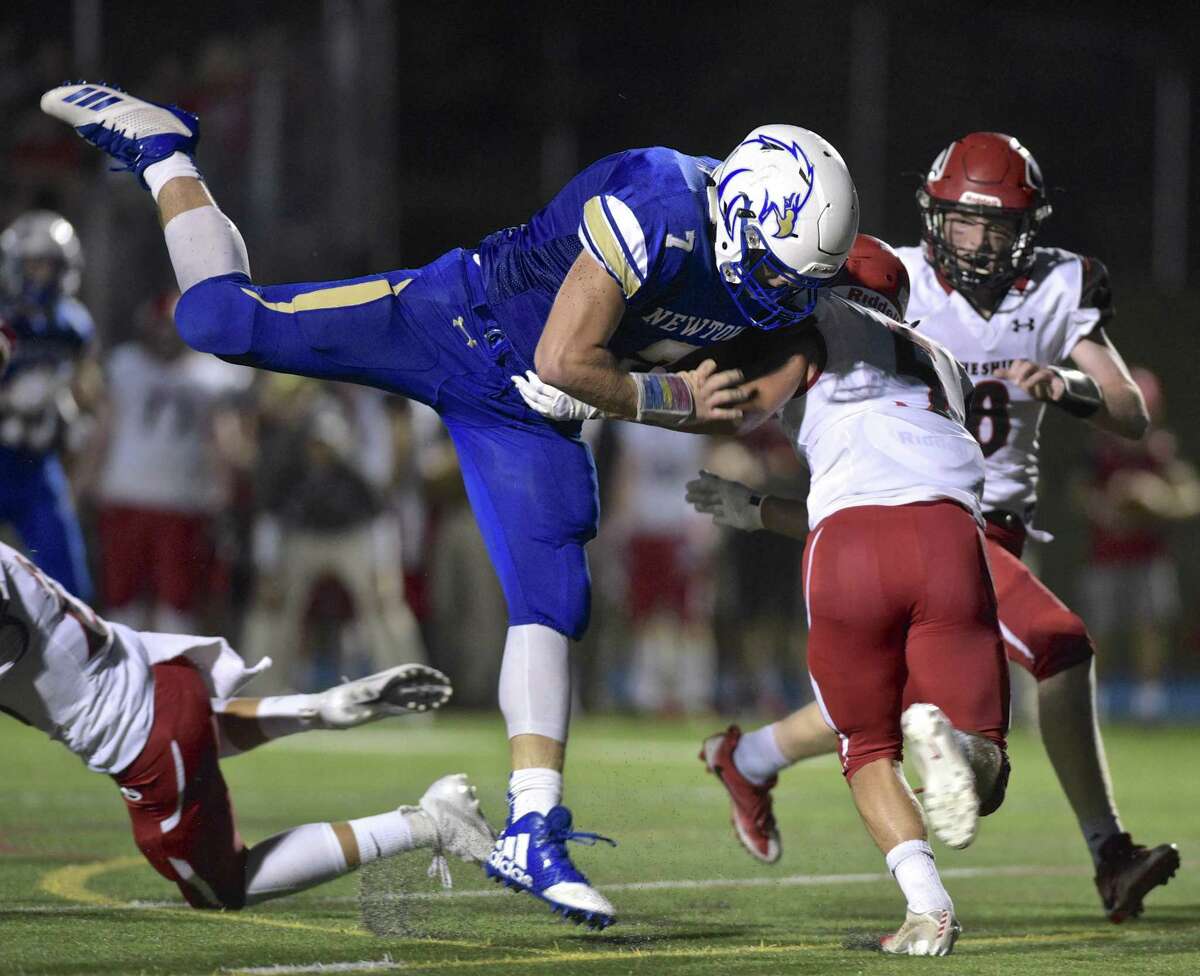 NEWTOWN — Dan Mason wanted to make a statement. Tired of his team getting beaten up each and every year by the SCC, Mason wanted to change the conversation and give Newtown some bragging rights.
"We're pretty much just tired of losing all these SCC games, out-of-conference games," Mason said. "We've been doing it every year. We haven't been able to get the win."
Newtown returned the favor Friday night, crushing Cheshire 47-7 in an SCC-SWC crossover game at Blue and Gold Stadium.
The Nighthawks (2-0) made it look easy, scoring touchdowns on six of their seven drives in the first half. They led 41-0 at halftime and 47-0 after three quarters.
"I don't know if everybody expected that, but that was the goal actually — end it early," said Mason, who rushed for 107 yards and three touchdowns on 10 carries in just one half. "We didn't really want to be up like 14-0 or 21-0 at half. We wanted to punch it out 40-0 right away. That's what we did."
It was an eye-opening outcome for Cheshire (0-2), which just a week earlier had taken a Top-5 team in Shelton down to the wire. The Rams allowed more touchdowns (six) than they had first downs (four) in the first half.
"I've got to watch the film," Cheshire coach Don Drust said. "Obviously, the scoreboard is what it is and they pushed us around."
Wide receiver Riley Ward capped Newtown's first two drives with touchdowns, scoring on a 17-yard run and a 67-yard pass from Luke Melillo. Melillo added an 85-yard touchdown pass to Tucker Garrity on the third play of the second quarter to put the Nighthawks up 21-0.
Another Mason TD, his 3rd (I think. Might've lost track already) #cthsfb pic.twitter.com/gw2O2ttaLv

— Doug Bonjour (@DougBonjour) September 14, 2018
"I'm proud of the effort," Newtown coach Bobby Pattison said. "I'm proud. I kind of challenged the guys, the offensive and defensive line, to win the line of scrimmage. And we won the line of scrimmage."
The Nighthawks, a popular pick to win the SWC this season, were simply bigger, stronger and faster than the Rams. They watched Mason power his way to touchdown runs of 4, 36 and 6 yards — all in the second quarter.
As far as Mason is concerned, the victory was sweet redemption for the Nighthawks after going 0-5 (0-3 in the playoffs) against the SCC over the last four seasons.
"Everybody's going to judge the SWC in these crossover games and how you do," Pattison said. "Obviously, I'm happy that we won. A lot of conferences have good teams, and you can't just look at, 'Oh, this team's from this conference so they must be good or they must be bad.' You've got to play your opponent."
Mason in from the 4. All Newtown tonight #cthsfb pic.twitter.com/lOUtu6GQfl

— Doug Bonjour (@DougBonjour) September 14, 2018
PLAYER OF THE GAME
Dan Mason, Newtown, RB: The 6-foot-1, 205-pound senior put it away for Newtown early, rushing for 107 yards and three touchdowns in the first half.
ON THE BOARD
With Newtown's starters on the bench, Cheshire scored with 6:47 remaining on a 1-yard quarterback keeper by Jason Shumilla. The touchdown prevented the Nighthawks — a 35-0 winner over New Fairfield in Week One — from notching their second shutout in as many weeks.
QUOTABLE
"I feel like we're not rated the right way, actually. I feel like we need some respect now." — Mason on Newtown's resounding win
NEWTOWN 47, CHESHIRE 7
CHESHIRE 0 0 0 7 — 7
NEWTOWN 14 27 6 0 — 47
N — Riley Ward 17 run (Devin O'Connell kick)
N — Ward 67 pass Luke Melillo (O'Connell kick)
N — Tucker Garrity 85 pass Melillo (O'Connell kick)
N — Dan Mason 4 run (O'Connell kick)
N — Mason 36 run (O'Connell kick)
N — Mason 6 run (Kick failed)
N — Miles Ricks 62 run (Kick failed)
C — Jason Shumilla 1 run (Jotham Casey kick)
Records: Cheshire 0-2;
Newtown 2-0