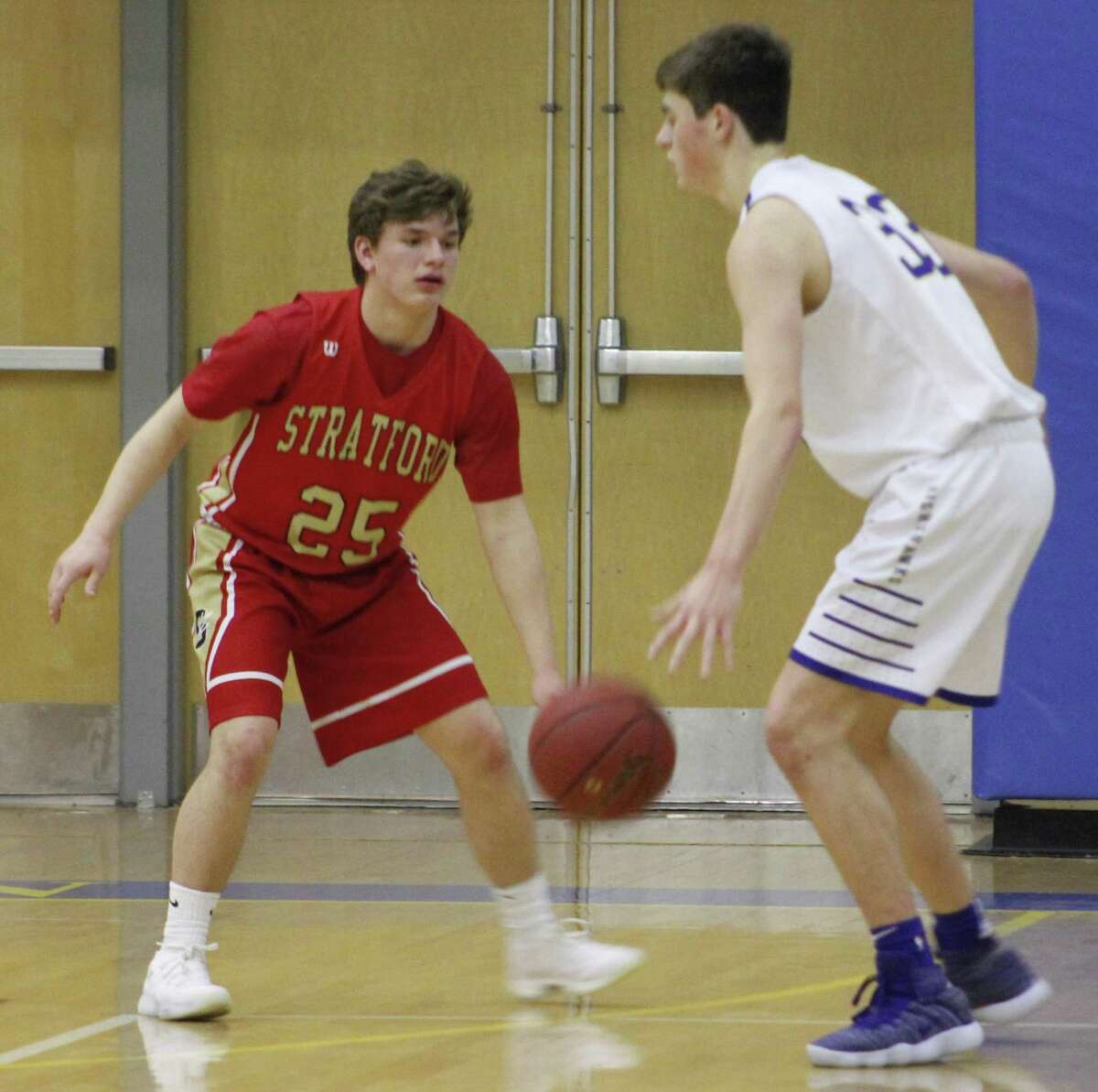 NEWTOWN — The Newtown boys basketball team needed to win its regular-season finale Tuesday night against playoff-bound Stratford to claim the eighth and final spot in the South-West Conference tournament.
Mission accomplished.
Todd Petersen scored a game-high 19 points to lead three Nighthawks in double figures in their 67-53 triumph over the visiting Red Devils. Newtown (11-9, 6-7 SWC) had already clinched a spot in the Division II state tournament. Riley Ward added 16 points, including nine in the fourth quarter, and Robert DiSibio scored 14.
"I've been with the program two years now, and I haven't been to states or SWCs yet, so I'm excited to see what it's like," said Petersen, a junior.
2018 SWC Boys Basketball Tournament bracket
The Nighthawks missed the postseason the last two seasons, finishing 7-13 last year and 5-15 two years ago.
"I really wanted this for these kids," Newtown coach Tim Tallcouch said. "The kids really wanted it, and they went out and got it. The kids had three days of practice, and they worked their rear ends off. They absorbed everything we tried to explain to them. They ran the game plan to perfection, offensively and defensively."
Stratford (11-9, 7-6 SWC) had already clinched its own spots in the SWC and Division III state tournaments. Sean Carroll scored 16 points and Mike August netted 15 for the Devils.
"We have to regroup and get ready for the postseason," Stratford coach Tim Swaller said. "We did not play well tonight. I thought they played a lot harder than we did. Defensively, we were not sound."
TURNING POINT(S)
Newtown's Max Bloomquist came off the bench for the first time late in the third quarter and hit back-to-back baseline jumpers, including one at the buzzer, to extend the Nighthawks' lead to 44-31 heading to the fourth quarter.
But Newtown wasn't quite out of the woods just yet.
Carroll scored 11 of his points in the fourth quarter as Stratford chipped away. A bucket by Carroll cut the Devils' deficit to a very manageable 52-44 with 4:47 remaining. Seconds later, on Newtown's ensuing trip up the floor, Ryan Escoda drained a huge 3-pointer from the wing in front of the Newtown bench. That sparked a 15-9 Newtown run to finish the game and Stratford never came closer than 10 points down the rest of the way.
The Nighthawks showed a lot of poise to not relinquish the lead down the stretch, even in the face of a spirited Devils rally.
"We have three seniors (Evan Eggleston, Nick Weiland and Escoda) who have the experience, and they led us through to not give that away," Petersen said.
PLAYOFF PRIMER
As the eighth seed, Newtown is set to visit undefeated Notre Dame of Fairfield in the quarterfinals Friday at 7 p.m. The perennial-power Lancers, the two-time defending SWC champs, beat Newtown by 33 points on Feb. 13.
"From my end, in the next two days, if they buy into what we talk about, you never know," Tallcouch said. "They're a very good team, but we're not too bad, either."
Stratford, meanwhile, appears to have secured the seventh seed in the SWC tournament, and Swaller said he anticipates a showdown with Immaculate in Danbury in the quarterfinals Friday. The Mustangs beat Stratford by 12 on Jan. 26.
"We'll regroup, find out what we're made of, and we'll go from there," Swaller said.
NEWTOWN 67, STRATFORD 53
STRATFORD (11-9, 7-6 SWC)
Jack Ryan 3 2-3 8; Mike August 7 1-4 15; Joe August 1 0-0 2; Sean Carroll 7 1-3 16; John Bike 2 1-2 6; Zack Fedak 0 0-0 0; Aaron Christy 1 2-2 4; Jaahdel Cyril 1 0-0 2; Antonio Sciarappa 0 0-0 0; Jamie Logan 0 0-0 0; Preston Williams 0 0-0 0; Mike D'Adia 0 0-0 0. Totals: 22 7-14 53.
NEWTOWN (11-9, 6-7 SWC)
Evan Eggleston 1 0-0 2; Nick Weiland 4 1-1 9; Robert DiSibio 5 3-4 14; Todd Petersen 8 3-3 19; Riley Ward 6 2-2 16; Shea Talbot 0 0-0 0; Ryan Escoda 1 0-0 3; Max Bloomquist 2 0-0 4; Jack Kuligowski 0 0-0 0; Preston Martinez 0 0-0 0; Jack Petersen 0 0-0 0. Totals: 27 9-10 67.
STRATFORD10 12 9 22 — 53
NEWTOWN13 20 11 23 — 67
3-pointers: S—Carroll, Bike; Nt—Ward 2, DiSibio, Escoda.