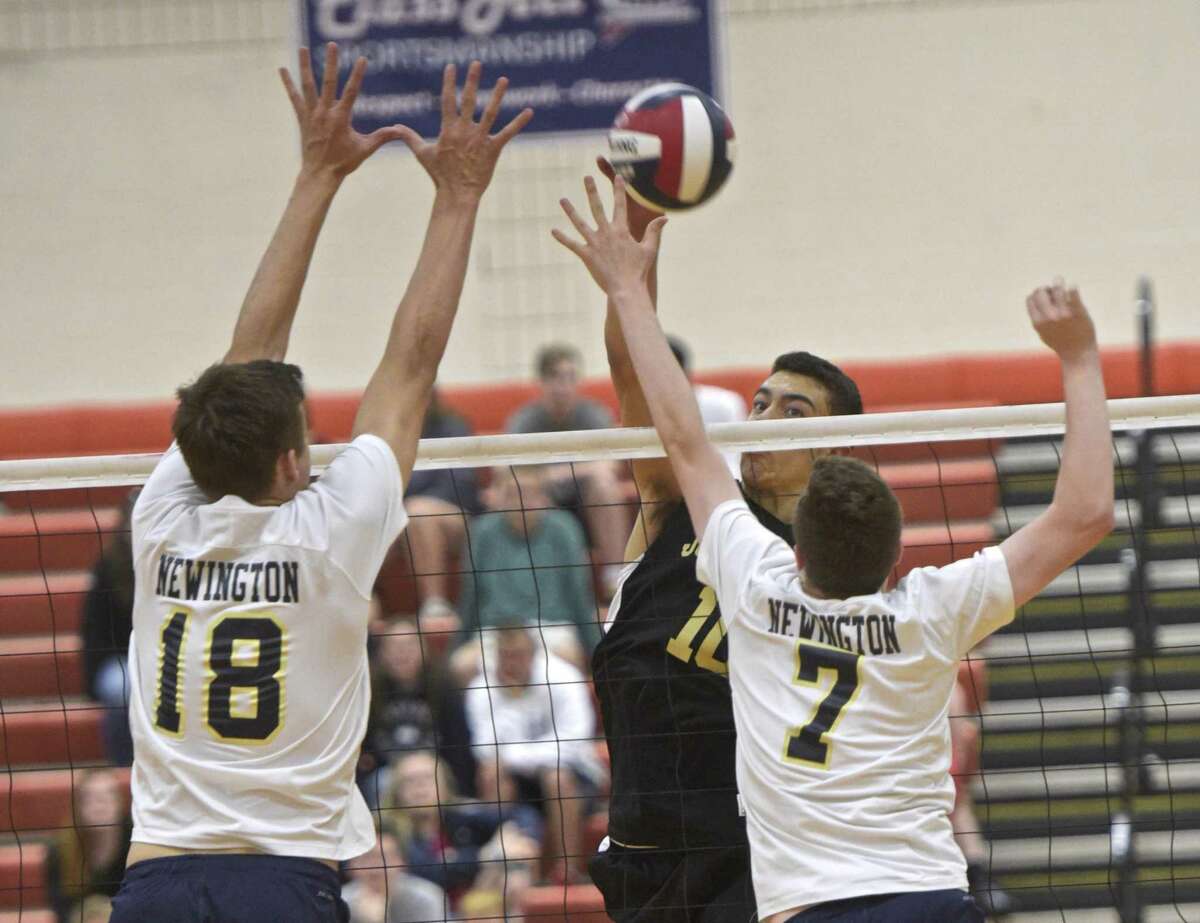 SHELTON — Clutching the Class M state boys volleyball runner-up plaque in one hand, Joel Barlow High School coach Chris Lovelett walked the length of his bench and clapped his heartbroken players on their backs with his other hand.
They sat with their heads down, their faces buried in their hands, and Lovelett implored them to stand up, stand tall and be proud. They had fought so hard and come so far, only to lose an epic 3-2 battle to Newington in the state final Thursday night.
While the outcome wasn't in Barlow's favor, Lovelett wouldn't let his Falcons hang their heads, not even for a second.
"We had talked a lot during this postseason about being committed, playing with fight, being disciplined no matter what the scenario, and we did that," Lovelett said. "When we were in a hole, when we were struggling and when we were down, we continued to fight and push. And I told the boys, that's your legacy. When they look back, they can hold their heads high and be proud of their effort today and their fight."
Across the Shelton High School gym, the Newington players, coaches and fans celebrated their second consecutive state championship and their fifth in the last seven years. And it didn't come easy, that's for sure. Barlow rallied to tie the match twice, at 1-1 and 2-2, before succumbing in the fifth and deciding game, 15-13.
The top-seeded Indians won Game 1 26-24 and Game 3 25-20. The third-seeded Falcons won Game 2 25-23 and Game 4 25-22. As is obvious from the scores, these were back-and-forth struggles. The atmosphere was electrified, and every point was hotly contested.
"We knew we were in for a battle," Newington coach Curt Burns said. "We've crossed paths quite a bit over the years. We knew we had to be ready for them."
Newington had gone the full five games five times during the regular season and won four of them.
"So many times this season, we had to go to five sets, and we won," said Newington junior Louis Egbuna. "We were used to this. We weren't stressed, and we weren't flustered."
TURNING POINT(S)
Newington trailed Game 1 23-18 before rallying to win it. Egbuna (23 kills, seven aces, seven digs) and Leonel Caceres (21 kills, seven digs, two blocks) each tallied a kill during that final sequence, and Mason Romano notched the winning kill.
"I thought the key was that first set," Burns said. "They could have gotten that one, but we really fought back to get that one and take a 1-0 lead. It was huge, because we did lose the second, and that made it a best-two-out-of-three, where we could have been down as much as 0-2, which would have been tough."
Barlow answered by winning Game 2, with Matthew Cruz scoring the final three Falcon points after the score was tied at 22. But back came Newington in Game 3, with Egbuna securing the final three points for the Indians in what was their widest margin of victory of the evening, a meer five points.
But Newington wasn't out of the woods just yet. No, not even close.
After falling behind 19-17 in Game 4, Barlow came back to win and force the winner-take-all Game 5. Cruz, Fenn Gurley and Thomas Lucido all scored big points down the stretch to keep the Falcons alive.
FINAL COUNTDOWN
How close was Game 5? The score was tied nine different times as the teams went punch-for-punch in their race to 15 points.
A big block by Romano put Newington up 5-3. A resounding kill by Cruz gave Barlow a 7-6 lead. Back and forth they battled. A kill by Caceres put the Indians up 14-13, and Daniel Cloutier (54 assists, five digs, three blocks) served up the winning point, which was scored on an unforced Barlow error.
NEWINGTON 3, BARLOW 2
Class M final
Records: Barlow 14-8; Newington 23-3. Game scores: Newington 26-24, 23-25, 25-20, 22-25, 15-13.