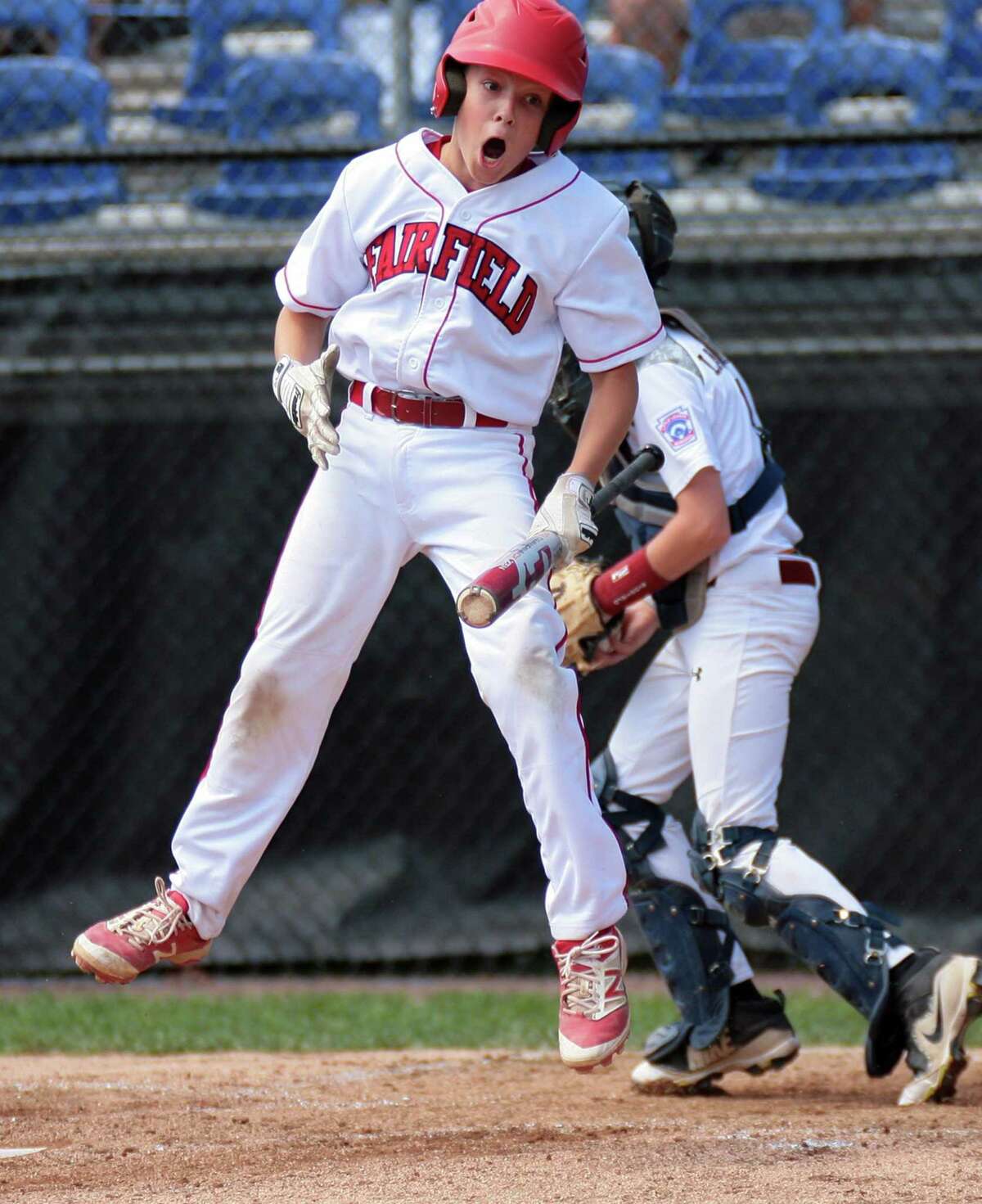 BRISTOL — It's all over.
Fairfield American's dream of making a return trip to the Little League World Series vanished behind the home run bat of New Hampshire's Ryan Strand and the pitching arm of Logan Simmons in a 9-3 loss in the loser's bracket of the New England Regional that eliminated Fairfield from the tournament Thursday afternoon at Breen Field at the A. Bartlett Giamatti Little League Leadership Training Center.
"I'm so proud of them," Fairfield American manager Jeff Gouley said. "We had a goal at the beginning of the year and it wasn't about this year, it was about the future, whether it be high school, playing other baseball … they were going to learn, they were going to have fun and just enjoy this run."
It was a season to remember for Fairfield, who won the District 2, Section 1 and State tournaments before coming up short in the Regional. As 10-year old all-stars, they were relegated to the Little Fellows tournament and the Sea Breeze tournament as 11-year olds before finding the post-season magic that these Fairfield American teams always seem to find.
"I don't want to say that it was unexpected because once we started playing, I could see that they had it in them," Gouley said of his team's postseason run. "I'm just super proud of them. They came together as a team and that was our main goal, to play really good baseball as a team and I thought they did that."
But against New Hampshire, Fairfield looked a little out of sorts. Six of the first seven batters struck out against Simmons — he struck out nine overall — and when Strand banged a leadoff home run in the bottom of the first — the highlight of a three-run inning, Fairfield found itself in a hole that it never was able to climb out of.
"I had a good game but thanks to my teammates for getting on base and I was able to drive them in," said Strand, who went 4-for-4 with two RBI and two runs scored. "We were looking to be patient and take what we could until we got our pitch."
"As a coach, you can't ask for anything better. That's awesome," New Hampshire manager Ryan Simmons said. "(Logan) goes out there and strikes out the side twice and then Ryan, a huge home run to get us going, that was awesome."
Fairfield answered in the top of the third as Robbie Donahue's huge two-out, two-run double plated Jude Gussen and Jon Morris (who had both walked) to cut the lead to 3-2 but American left the tying and go-ahead runs in scoring position and didn't threaten again.
"It's tough but we've had setbacks before and we've come back," Gouley said. "We came back and they re-rallied, they're a tough team, they played great defense and they obviously hit. The lefty (Simmons) threw really well, he was hitting his spots. They did their job."
With Charlie Yates and Pierce Cowles battling tired arms, Gouley went with Yates but he lasted just one-third of an inning. Cowles came in and fought for three and two-thirds before reaching his pitch limit.
"We went on feel and health, arm-wise," Gouley said. "They're 12 and 13, you ask them how their arm feels … so we got a 9.875 from Charlie and we got an 8.2 from Pierce, so I went with the 9.875. Look, I'm not going to screw around with a kid's arm. Pierce said if I needed him, he'd be ready, so that was a scenario, if Charlie wasn't as sharp then we would run with Pierce the rest of the way. That's what happened."
A New Hampshire run in the third and two more in the fourth opened the lead to 6-2 before an RBI single from Aidan Gouley in the fifth made it 6-3. Three NH runs in the fifth made it 9-3.
A single from Eli Balkan and a double from Cowles put runners at second and third in the top of the sixth but a fly ball to center ended the game.
"They're fighters, they're all fighters. A bunch of them have older brothers, so they know (all about fighting)," Gouley said. "They weren't going to give up, not until the last out. That's why I'm proud of them."
NEW HAMPSHIRE 9, FAIRFIELD AMERICAN 3
FAIRFIELD AMERICAN 002 010—3 8 0
NEW HAMPSHIRE 301 23X—9 10 1
Records: Fairfield American (14-3), New Hampshire (7-2). Batteries: FA – Charlie Yates (L), Pierce Cowles (1), Robbie Donahue (5) and Timmy Domizio; NH – Logan Simmons (W), Max Quelette (4) and Braeden Lambert