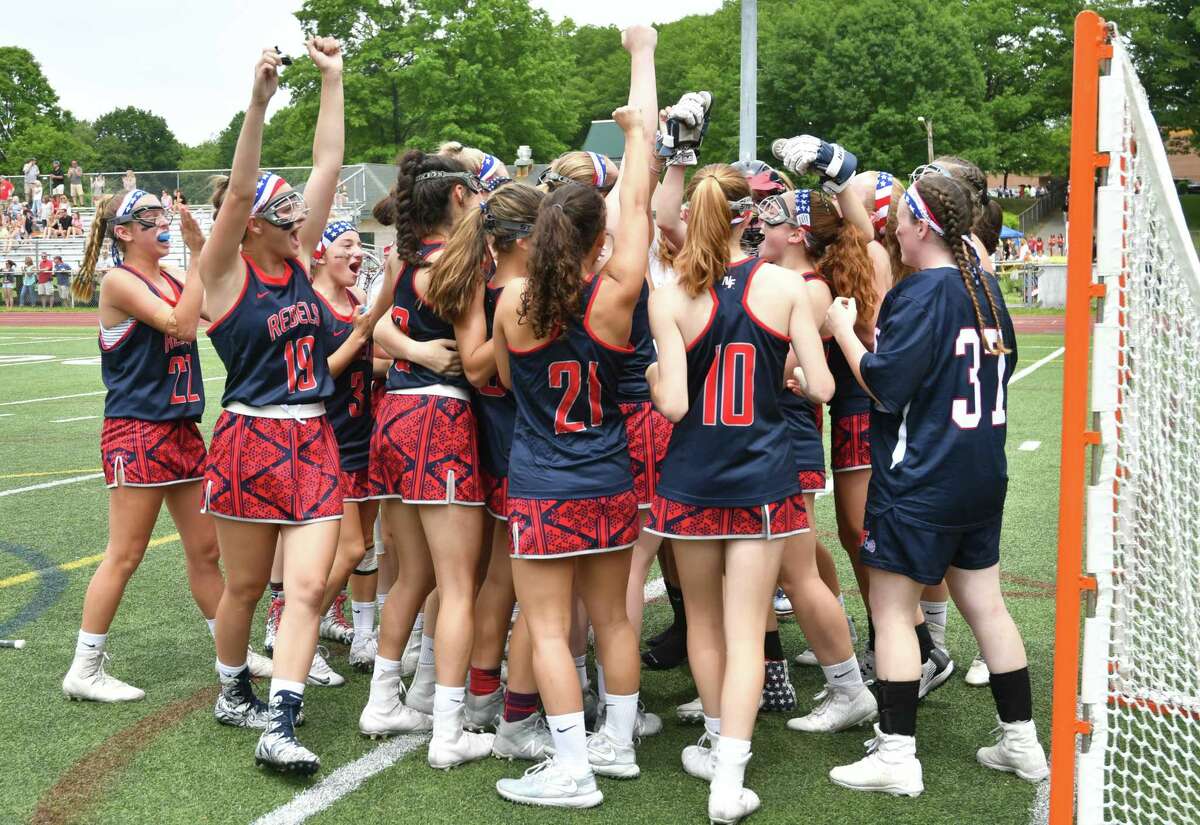 MILFORD — With less than minutes to go in the Class S state championship game on Saturday, the New Fairfield High School girls lacrosse team desperately needed a big defensive stand. The fate of the Rebels' season absolutely depended on it.
East Catholic had scored four straight goals to trim what had been a six-goal deficit down to a very manageable two. The Eagles had the momentum in their favor, and they were charging hard.
However, as it had done all afternoon — and all season, for that matter — the New Fairfield defense stood its ground valiantly to secure the Rebels' second consecutive state title with a 9-6 victory.
As East Catholic sniper Alexa Weber streaked toward the Rebel cage determined to make it a one-goal game, four New Fairfield defenders swarmed her and jarred the ball away. Out of the pack flashed New Fairfield's Sydney Colesworthy to snatch up the loose ball, and end what proved to be East Catholic's final threat. Moments later at the other end of the field, Colesworthy set up Nicole Berry for a much-needed insurance goal — and all of New Fairfield breathed a collective sigh of relief.
CIAC SPRING CHAMPIONSHIP SCOREBOARD
"We all worked so hard, and I knew this game was going to be intense because this was their first time here, and they wanted to win," New Fairfield goalie Rachel Mikolay said. "We knew we would have to come out aggressively because they were going to want this. We just wanted it more."
Berry and Dominique DeMarsico each scored three goals, with Berry adding two assists. Katelyn Sousa, Reagan Tenaglia and Colesworthy each scored a goal, with Colesworthy adding two assists and Sousa one. The fourth-seeded Rebels kept their composure despite losing two of their top players — Katelyn Nieves and Tenaglia — to injuries.
"East Catholic really put a charge on and kept us on our toes, and we really had to play as a team and minimize the mistakes at the end, and we were able to do that," said New Fairfield coach Karen Nell, whose Rebels won seven straight playoff games to win the South-West Conference and state titles after losing their regular-season finale to Newtown. "Everybody pulled together when they needed to. East Catholic had some strong players who could really pressure us, and our defense played really under control."
Goalie Rachel Mikolay — the MVP of last year's state championship game as a sophomore — made seven huge saves. She's grown accustomed to being the Rebels' last line of defense when the pressure is at its greatest.
"I used to be nerve-wracking, when I was starting off in the game, but now I'm just confident in myself, and I'm calm," she said. "I make sure that I'm talking a lot because if you don't have someone talking on defense, nothing productive is going to happen."
It was a tough way to finish what had been a strong season for third-seeded East Catholic — but the Eagles certainly went down fighting. Weber scored three goals, Macy Wilcox scored two and Cami Pasqualoni scored one. Goalie Kiely Callahan made seven saves.
"I am really proud of them," East Catholic coach Brian Wilcox said. "It's hard to see it end after the great run we had, but I'm really proud of them. We have a lot to be proud of, but it's hard to lose."
Both teams played tremendous defense. In fact, the game remained scoreless for the first 13 minutes.
TURNING POINT
The aforementioned defensive play by New Fairfield helped seal the win, but the Rebel attack certainly did its share. New Fairfield led 5-1 at halftime, but Weber got a goal back for East Catholic early in the second half to make it 5-2.
That could have sparked a rally, but DeMarsico scored two short-handed goals less than two minutes apart to make it 7-2 Rebels. Colesworthy scored off a pass from Berry with 16 minutes remaining to make it 8-2 Rebels. And that lead proved to be comfortable enough — thanks to the New Fairfield defense.
TITLE TOWN
Earlier Saturday at Brien McMahon High School in Norwalk, the New Fairfield boys lacrosse team defeated Daniel Hand in the Class M state championship. With their championship plaque in hand, the Rebel boys made the 20-minute drive up Interstate 95 to Milford to cheer for the girls. They arrived during the second half and shared in the post-game celebration with the girls team.
It was a fitting way to end what has been a memorable spring for the Rebels. Both teams won their respective South-West Conference and state titles. That's two teams, four titles, and one heck of a season.
"The teams have made the whole town incredibly proud," New Fairfield Athletic Director Mary Stolle said after gathering the boys and girls teams together for a group photo with their championship plaques. "It speaks to the quality of the lacrosse programs we have. I couldn't be happier for the coaches, the fans, the parents and those kids."
NEW FAIRFIELD 9, EAST CATHOLIC 6
NEW FAIRFIELD 5 4 — 9
EAST CATHOLIC 1 5 — 6
Records: New Fairfield 20-3; East Catholic 17-3. Scoring: NF—Nicole Berry 3 goals, 1 assist; Dominique DeMarsico 3g; Reagan Tenaglia 1g; Sydney Colesworthy 1g, 2a; Katelyn Sousa 1g, 1a. EC—Alexa Weber 3g, 1a; Macy Wilcox 2g; Cami Pasqualoni 1g. Goalies: NF—Rachel Mikolay (7 saves); EC—Kiely Callahan (7 saves). Shots: NF—26; EC—15.
We recently redesigned GameTimeCT.com and would appreciate your feedback to continue improving the site. This survey should only take 5 minutes and you could win a $50 Amazon gift card!
Thank you, from the GTCT Team
Survey Link: https://www.surveymonkey.com/r/NYDRF5H