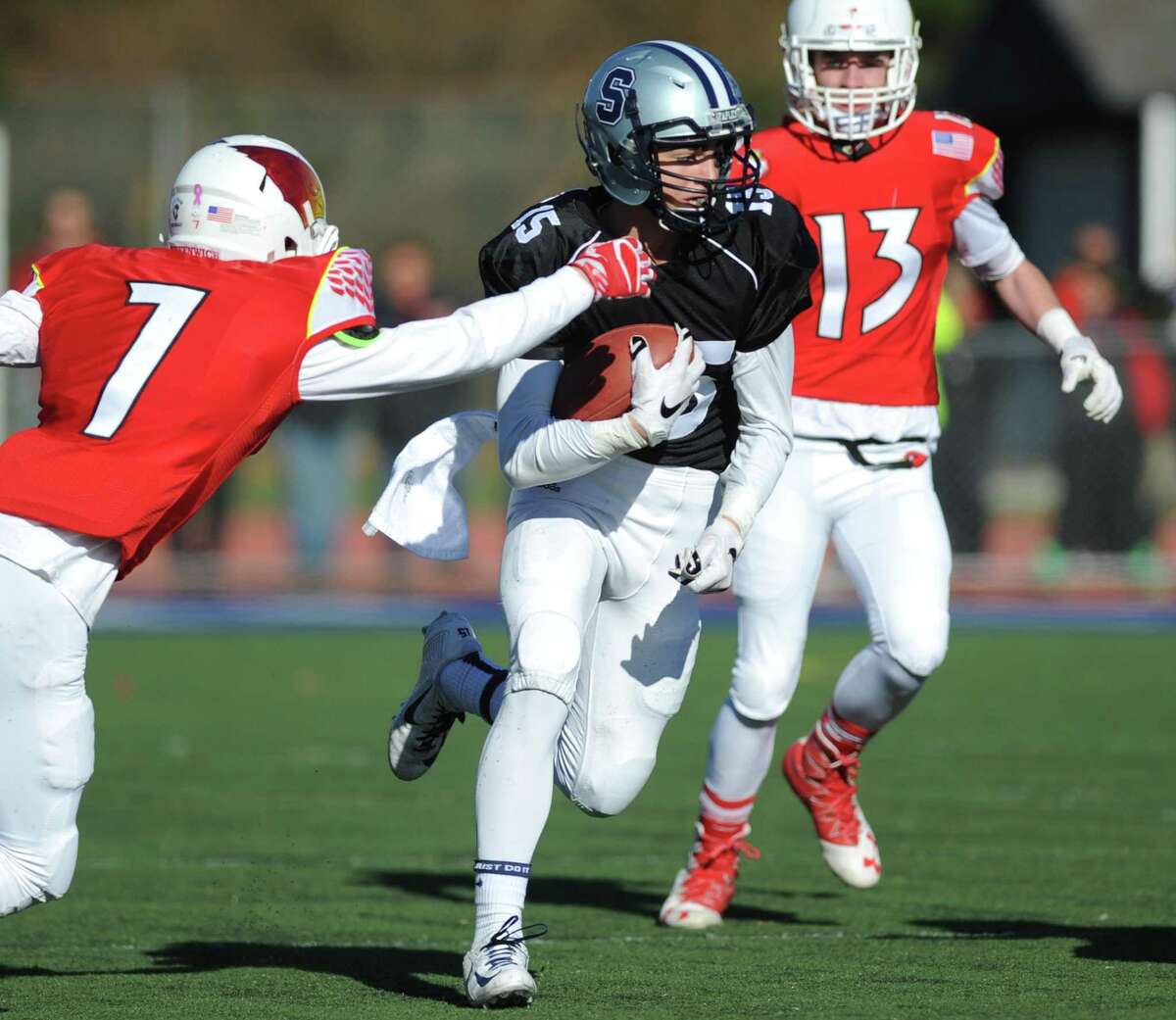 WESTPORT — After a long and arduous search for a new coach to replace Staples legend Marce Petroccio, the Wreckers found their man in Phil Treglia.
So what happens now? The Wreckers move forward, the new coach said.
"I've gotta tell you, the kids have been great," Treglia said. "We're ready to go and we're working hard. We're not looking at the past. We're only looking to handle the present. We're embracing our tradition of Staples football and the foundation that's been built, but we're looking to the future."
There have obviously been a few changes this preseason — including the installation of a new offense with new terminology — but the most important thing hasn't changed at all.
"At the end of the day, and we've all talked about this, we're still playing together, which we love to do," said Kevin Rabacs, one of four senior captains. "We're wearing the same jerseys, the same helmet, we're playing on the same field. It's just the little things that are changing. We're excited about the season like we've always been."
The Wreckers did take some big graduation hits from a year ago, losing their starting quarterback, running back and top receivers.
How Staples fills those positions with the next generation of players will answer a lot of the program's questions moving into a new chapter of their storied history.
The Wreckers only return two starters on offense and five on defense so there will be some rebuilding going on under Treglia's guidance.
"Day by day, segment by segment at practice, the kids are buying in," Treglia said. "The terminology is a lot of different than in the past."
It might appear the defense would be ahead of the offense, but the Wreckers say that's not necessarily the case.
"We're looking to have a defense-oriented team, but watching our offense, we're ready to go," said Blake Runkle, another of the captains. "We're ready for any competition on offense."
The key offensive threats entering the new season appear to be junior quarterback Jake Thaw, who saw action in nine games a year ago as a wide receiver and defensive back. He did get to throw the ball a few times, too, going 4 for 5 for 29 yards. His job is to replace graduated signal-caller Daniel Thompson (1,381 yards passing).
Senior running backs Tim Luciano and Cameron Lynch are expected to take over most of the ball-carrying duties for the Wreckers, who look to replace 1,190 of the 1,300 yards they gained on the ground a season ago.
Luciano had 19 carries last season for 75 yards and two touchdowns.
Rabacs will headline the receiving corps.
Only two starting linemen return, led by Jake Rizzy, a 6-foot-5, 250-pound junior tackle.
On defense, the Wreckers are in better shape.
Senior defensive ends Runkle (6-3, 230) and Matt Almansi (6-4, 232), another captain, look to put pressure on opposing quarterbacks while a linebacker squad led by seniors Cole Brockwell, also a captain, Dean Gendels and Lynch will look to be in the middle of things. Returning defensive backs include Robacs and Michael Thompson.
Brockwell and Runkle were Staples' top two tacklers last season.
Treglia credits the program's returning seniors for keeping the returning players on the straight and narrow — and in the weight room — as everybody awaited word on the new coach.
"The senior leadership has been wonderful and it's trickled down to the younger kids," Treglia said. "The seniors are very cohesive and they're great kids. They're playing football for the right reasons."
Treglia, a former college defensive back at SUNY-Cortland, looks to employ a spread offense and multi-front defense this season.
"We're (going) to be moving guys around and putting them in places to be successful," he said. "We just want to put our stamp on the 2018 season. There's no pressure. We're coaching, we're having fun with the kids. High school football should be fun. We're out here making memories. That's what we're all about."
Staples' numbers are down — there are 45 to 50 kids on the varsity and the Wreckers will be playing an abbreviated JV schedule, Treglia said — but with a talented group of 25 freshmen joining the program the future does appear to be brighter, numbers-wise.
If anybody is thinking of looking past the Wreckers this fall, it might be a mistake.
"I think everything has brought us closer as a team," Almansi said. "We know the odds are stacked against us, but we like that feeling. It brings us together. It's us against everybody. Now we just have to come out and kick (butt) on Friday."
The Wreckers open against Bridgeport Central on Friday.
jnash@hearstmediact.com