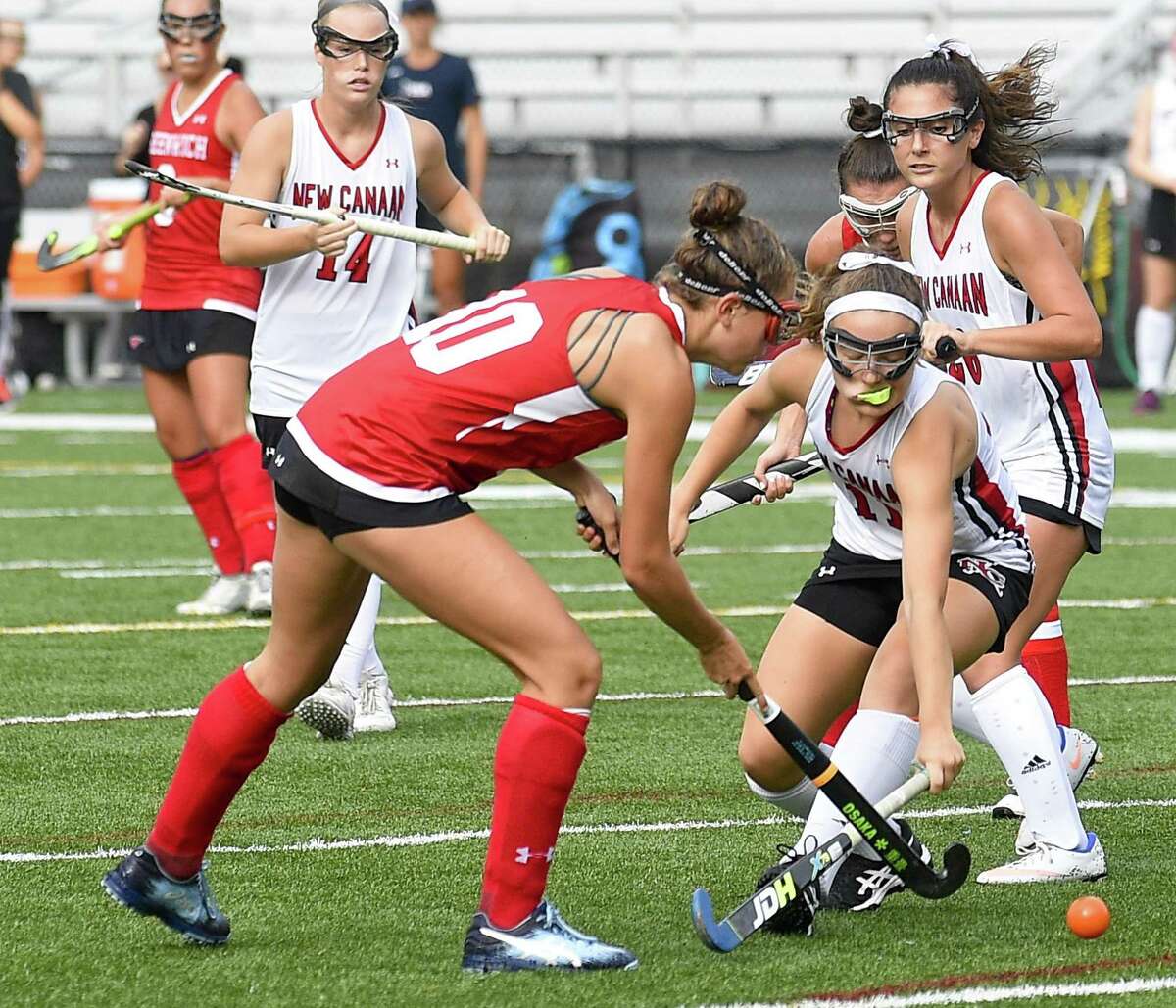 NEW CANAAN — It's been just two games, but the underclassmen on the New Canaan field hockey team have already given reason to hope for the season ahead.
The Rams responded to a 2-0 loss at the hands of Cheshire in their opener last week by shutting out Greenwich 1-0 Tuesday in their home opener.
"I think they responded really well," New Canaan coach Kelly Marks said. "With Cheshire being our first game, it's a bit of an eye-opener to see what we have. With such a big roster I'm still moving people around. It's like chess, you have to move people around and see who fits where, I think we figured that more out today and I think they felt more confident in those positions."
New Canaan got its first goal of the season at the 8:50 mark when Catherine Bopp was able to poke home a ball from a scrum in front of the cage.
From there, the New Canaan defense was able to stave off a Greenwich attack that earned six penalty-corner chances in the second half — two with no time left on the clock.
"We had a lot of opportunities, the ball just didn't bounce our way to finish," Greenwich coach Ally Oricco said. "You have to give credit to New Canaan, they're a well-coached and talented team and they really won a lot of the 50/50 balls today. I'm proud of our girls because we fought right down to the end and almost had it at the last couple of corners, but like I said it was just one of those games where that ball would not bounce the right way into the cage for us."
With 1:20 left in regulation Greenwich had an odd-man rush in front of the cage, but New Canaan freshman Rachel Gilio calmly brushed the chance away to preserve the lead.
"Rachel is a freshman and you can't tell," New Canaan goalie Emily Gaeta said. "She plays like she's a senior. She's amazing."
Gilio is one of five freshmen logging important minutes for the Rams, who also rotate in three sophomores.
"I think they had a major impact," Marks said. "Some of them are a little bit more timid than others, but their skills and their strength just fits right in. I think if we can get their personalities out a little more, it will really hone in on this team."
PLAYER OF THE GAME
Gaeta, New Canaan. The netminder tallied six saves on the day to earn the shutout despite Greenwich earning two penalty-corners with no time left on the clock.
"It's obviously a really stressful situation," Gaeta said of the final seconds. "But we have a really strong defense this year and have a lot of depth, so I was really confident that we could get it out."
QUOTABLE
"Throughout the course of the game we had some opportunities to convert and that's field hockey," Oricco said. "Sometimes the ball just doesn't bounce your way, and it just didn't bounce our way today."
IN REMEMBRANCE
Before the game, a moment of silence was observed in honor of John 'Pepe' Salerno, uncle of New Canaan player Brielle Connelly.
Salerno was one of 2,996 people that lost their life during the Sept. 11th attacks 17 years ago.
aparelli@bcnnew.com @reportedbytheAP
NEW CANAAN 1, GREENWICH 0
GREENWICH 0 0—0
NEW CANAAN 1 0—1
Records: Greenwich 0-1, 0-1 FCIAC; New Canaan 1-1, 1-0. Goals: NC—Catherine Bopp. Goalies: G—Maria Ciara Pereira (5 saves); NC—Emily Gaeta (6).