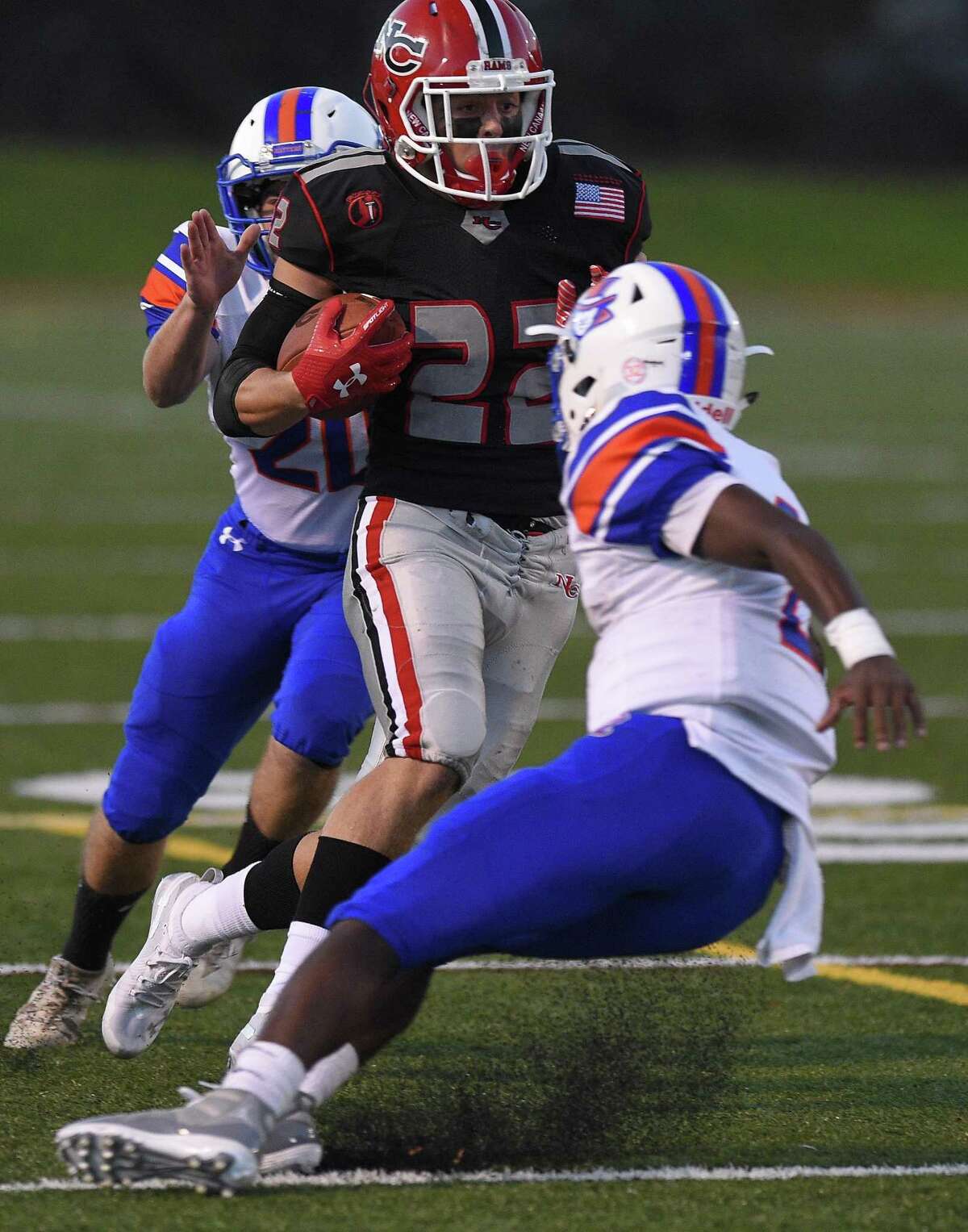 NEW CANAAN — During a pregame ceremony honoring late New Canaan assistant coach and former player Jason Cooper, Rams senior Quintin O'Connell could barely contain his emotions.
O'Connell, who is wearing No. 22 in honor of Cooper, did the one thing he knew Cooper would want him to do, going out and playing the type of football New Canaan is accustom to.
O'Connell scored the first touchdown of the game on a 2-yard pass from Drew Pyne as he and the No. 7 Rams rolled from there, defeating Danbury 42-6 Friday night at Dunning Stadium.
O'Connell said the pregame moment of silence for Cooper, who died unexpectedly this summer, was one of the toughest moments on a football field in his life.
"It's heavy. There's no sugar-coating it, it was really heavy," O'Connell said. "To wear this number for him, that ceremony meant a lot to me and to the entire team. We were playing for something bigger than ourselves and when you are playing for something other than yourself, there's that much more emotion and kind of amplifies your play and I felt that tonight."
New Canaan was also coming off one of its worst losses in recent memory after being shut out by St. Joseph in Week 1.
The Rams quickly vanquished the bad taste in their mouths by scoring 21 points in the first quarter.
Pyne hit O'Connell twice in the first quarter, also hooking up with Wyatt Wilson for a 25-yard touchdown.
In the second, New Canaan got a 36-yard touchdown run by J.R. Moore, a 19-yard pass from Pyne to Luke Morton and a touchdown by Christian Gravereaux after Danbury muffed a kickoff and the ball rolled into the end zone.
O'Connell catch and run down inside 5. Pyne hits him again 3 plays later and it's 7-0 New Canaan with 7:32 left in first #cthsfb pic.twitter.com/sY244GGJAh

— Scott Ericson (@EricsonSports) September 14, 2018
"It was tough after last week and it was a terrible week of practice. When you lose like that, you start to question everything," New Canaan coach Lou Marinelli said. "It was good to see our seniors come back and lead us to wear we should be. It wasn't the prettiest game but to get taste out of our mouths after last week, I can't even begin to tell you how important that is."
Danbury got a fourth-quarter touchdown on a 32-yard run by Jack Pompea.
QUOTABLE
"No quit. Our boys fought until the end. We got that touchdown at the end and showed we are relentless," Danbury coach Augie Tieri said. "I know after a tough loss like this, it is hard to say but I am very proud of my boys and I know how hard they are working. This is a bump in the road but we have to keep moving forward because we have a lot of positive things to continue to achieve. We are headed in the right direction as a program."
PLAYER OF THE GAME
Quintin O'Connell, New Canaan: O'Connell cuaght two touchdown passes while playing with a heavy heart.
Sericson@stamfordadvocate.com; @EricsonSports
NEW CANAAN 42, DANBURY 6
DANBURY 0 0 0 6—6
NEW CANAAN 21 21 0 0 —42
NC—Quintin O'Connell 2 pass Drew Pyne (Nick Radman kick)
NC—Wyatt Wilson 25 pass Pyne (Radman kick)
NC—O'Connell 2 pass Pyne (Radman kick)
NC—J.R. Moore 36 run (Radman kick)
NC—Luke Morton 19 pass Pyne (Radman kick)
NC—Christian Gravereaux fumble recovery (Radman kick)
D—Jack Pompea 32 run (kick failed)
Records: D 1-1; NC 1-1