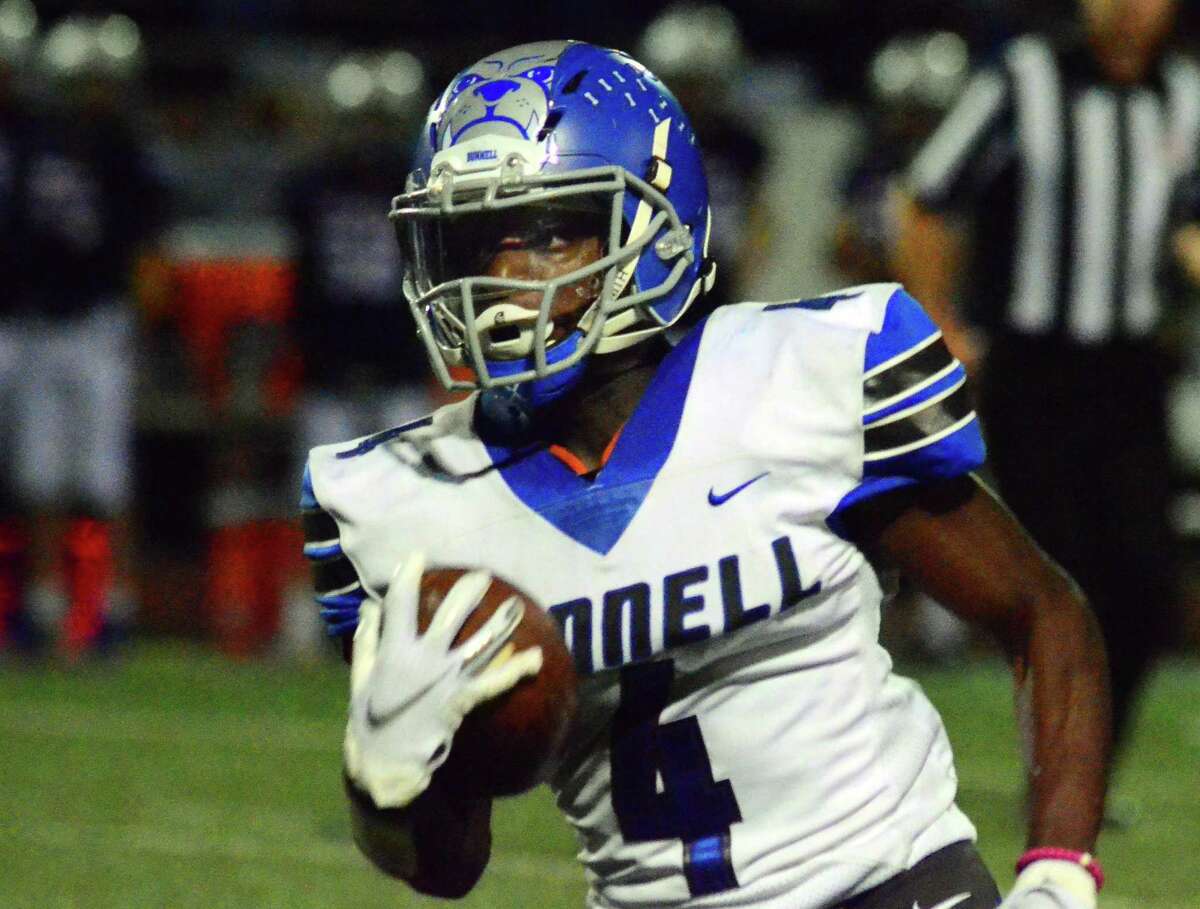 STRATFORD — Christ N'Dabian is fast — really, really fast.
"He's incredibly fast," said Bunnell football coach Sean Mignone, noting that N'Dabian was recently clocked at 4.5 in the 40-yard dash at a local combine. "His accomplishments in track speak for themselves. He's a naturally fast kid who I think is a lot stronger than people give him credit for. He's very difficult to bring down."
N'Dabian is tough to tackle. That's, of course, assuming defenders can catch him. Diminutive yet agile, N'Dabian continues to be an elusive threat in the backfield for the Bulldogs, who head into Friday's matchup against Masuk (7 p.m. at home) at 5-0.
"He has great feet," Mignone said. "He's explosive any time he gets the ball. I think it doesn't hurt — if he's 5-foot-5, that's probably saying something — that he's hard to find sometimes back there."
The winds of change necessitated the Bulldogs needing a new No. 1 running back this season. Ma'kai Curry — who had a team-high 836 rushing yards and nine touchdowns last year — graduated, as did Jarrod Davis. Jalen Madison transferred to Brunswick School. The trio that had accounted for 2,161 of the Bulldogs' 2,633 rushing yards was gone.
And one thought crept into N'Dabian's mind.
"I knew I needed to step up," he said.
All N'Dabian has done is emerge into Bunnell's best big-play threat. An all-state athlete in track, N'Dabian has put his breakaway speed to good use, rushing for a team-high 585 yards and seven touchdowns.
With two more speedsters in Tyreek Smith and Jovan Eggleston complementing N'Dabian in the backfield, Bunnell's ground game has been difficult to stop.
"Last year, we had three — and if you count, Christ, four — very, very good backs. We used to kind of use them all based on need," Mignone said. "We didn't want to wear out any one guy. This year, we have three very good backs."
Entering his fourth season at the helm, Mignone had planned to use all three backs equally. However, Smith and Eggleston were both "banged up" in Week 1, Mignone said, meaning N'Dabian had to take on a more significant role. He did so quite effectively, rushing for 147 yards and three touchdowns on only eight carries in a 34-0 rout of Notre Dame-Fairfield.
"Going in, we were going to try to ride on Christ," Mignone said. "Since then, he hasn't really slowed down."
Neither have the Bulldogs, who find themselves atop the South-West Conference alongside Newtown and Brookfield at the regular season's midpoint. They're also just one of six undefeated teams remaining in Class L.
Despite their stellar start, the Bulldogs have yet to garner much interest from around the state. In fact, they feel overlooked. They received 16 votes in the latest GameTimeCT Top 10 poll, but remain unranked.
"No one really knows about us," senior wide receiver/defensive back Elijah Alexandre said. "We're kind of underrated. We just come out every night and try our hardest."
Alexandre — who leads the Bulldogs with 21 catches for 353 yards and four touchdowns — competed with N'Dabian in the 100 and 200 meter races and 4×100 during the spring track season. The 4×100 team wound up running in the New Balance Nationals after winning SWC, Class MM and State Open titles.
Quiet, confident and determined, N'Dabian approaches football the same way he approaches track. He's not to be caught — especially in the open field.
"I might not be that big, but if I'm going to run into somebody, I try to use my speed to run through them," he said.
Added Alexandre: "He's stronger than he looks. If it's one-on-one, I'll take him all the time because he never goes down after the first hit."
More times than not this year, Alexandre has been right.
dbonjour@ctpost.com; @DougBonjour