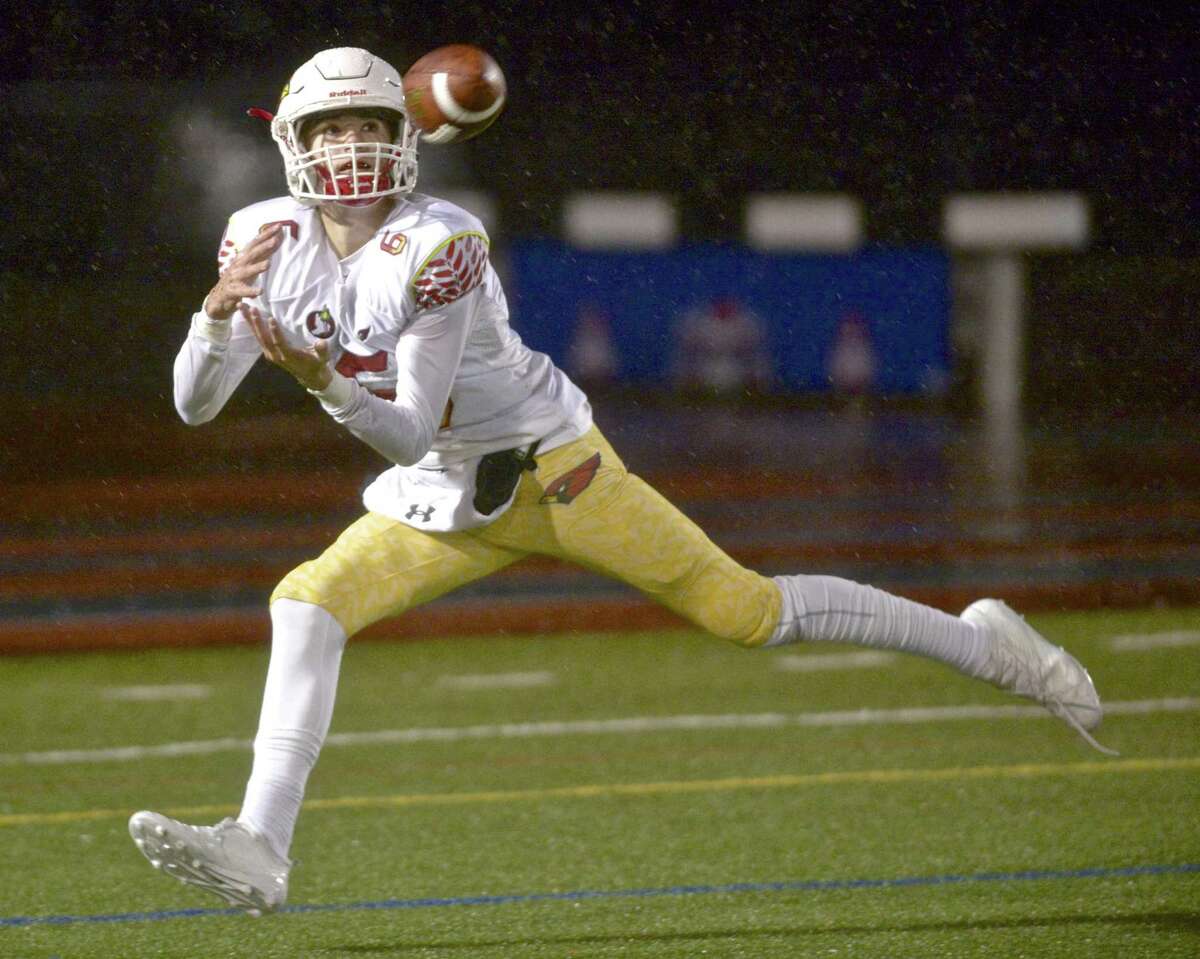 DANBURY — Heavy rain threatened to change the approach that Greenwich has brought to every game so far, with its high-flying passing attack possibly taking a back seat to a more conservative ground attack.
That plan went out the window early, though.
Gavin Muir tossed five touchdowns — including two to Lance Large — as the Cardinals downed Danbury 42-3 to improve to 8-0 and wrap up the FCIAC's West Division. Muir threw for 231 yards while trying to navigate the difficult weather.
"We actually didn't come in trying to throw the ball," Cardinals coach John Marinelli said. "My third play on the script was empty and we liked what we saw. We just kept on going with it and it worked for us."
The Cardinals picked up their defensive intensity in the second half, consistently sending the Hatters' runners backwards. This culminated in a blocked punt in the end zone by Nicholas Veronis, which was recovered by Evan Weigold for the score.
Greenwich forced four turnovers in the win as both teams tried several onside kicks through the rain.
"It was just throwing different pictures and trying to force them to coach," Marinelli said. "I think that's what we tried to do — show them different looks — and it confused them a little bit up front."
Danbury's best chance to stay close came late in the first half, when it moved the ball down to the Cardinals 1-yard line. The lone highlight of the evening came from the foot of Lucas Amaral, who booted a 39-yard field goal through the elements in the second quarter.
"I thought we played tough in the first half," Hatters coach Augustine Tieri said. "We had a lot of self-inflicted wounds and against a great team like this you can't make those mistakes and get away with it."
One of those mistakes — a fumble on a kickoff — led to a second Greenwich touchdown in less than a minute late in the first quarter after Danbury forced two punts. The Cardinals score twice in quick succession late in the third quarter thanks to the blocked punt.
RACE FOR HOME
The Cardinals are in the middle of a stretch of three straight road games that will end next weekend against Xavier. Five teams in Class LL are undefeated, leaving the possibility one of them will head on the road in the first round of the state playoffs.
"We just want to get in," Marinelli said. "Whoever we play and wherever we do it. We have to get used to playing on the road. If that's where it is, then we're pretty well primed for it."
QUOTABLE
"I thought this weather would actually be an advantage for us and it ended up being a huge disadvantage," Tieri said. "They do what they do and do it well. I thought our defense did a good job early containing them but we just made too many mistakes."
GREENWICH 42, DANBURY 3
GREENWICH 14 7 14 7 — 42
DANBURY 0 3 0 0 — 3
G—Matthew Pilc 18 pass Gavin Muir (Ben Howarth kick)
G—Lance Large 15 pass Muir (Howarth Kick)
D—Lucas Amaral 39 field goal
G—Large 12 pass Muir (Howarth kick)
G—Garrett Murphy 20 pass Muir (Howarth kick)
G—Evan Weigold fumble recovery (Howarth kick)
G—Atiim Barber 21 pass Muir (Howarth kick)
Records: Greenwich 8-0, Danbury 4-5.