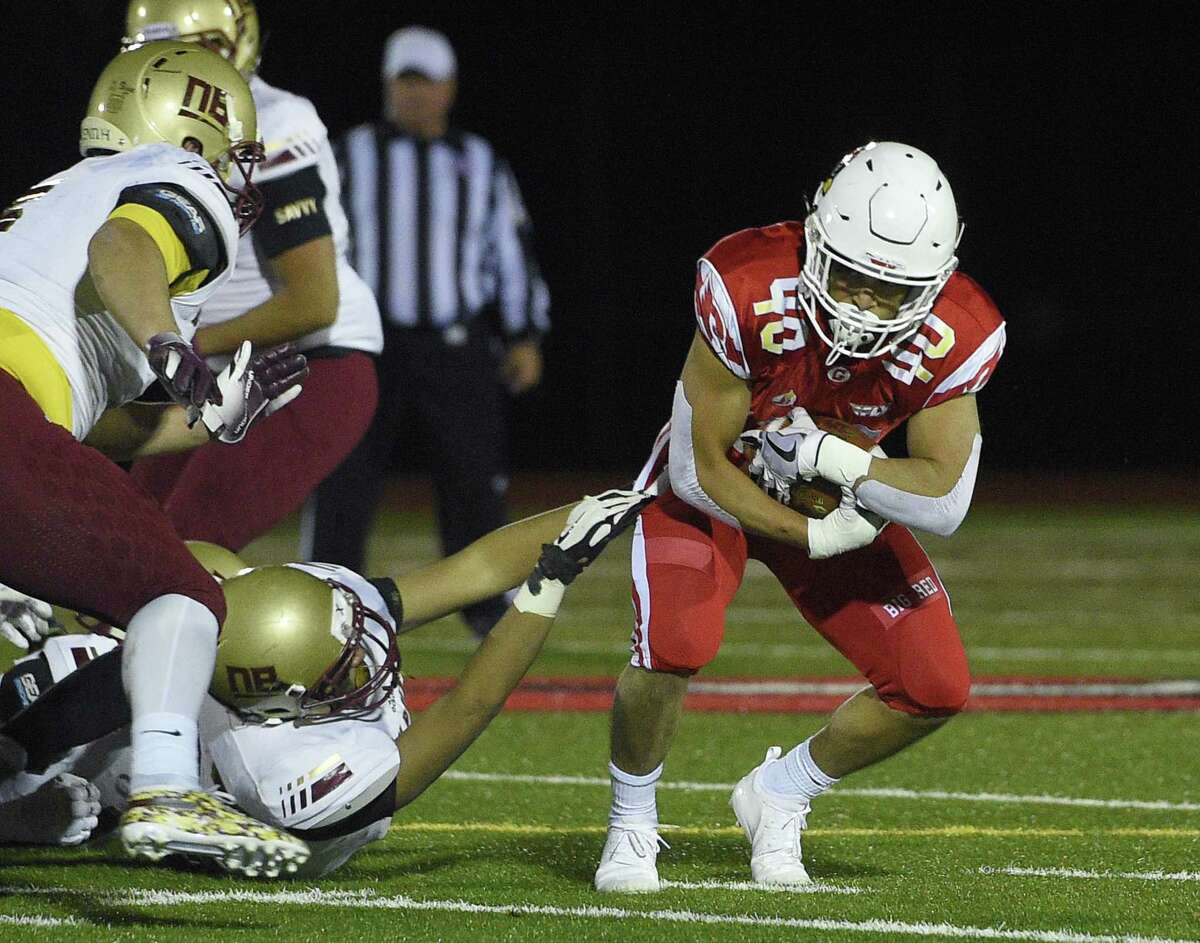 GREENWICH — Despite the bit of uncertainty that comes with playing an unfamiliar opponent, one of the aspects Greenwich took some comfort in heading into Tuesday's Class LL quarterfinal-round game against New Britain was the game was being held at Cardinal Stadium — a venue it hadn't lost at since 2015.
Senior quarterback Gavin Muir and the Cardinals' dynamic defense made sure they kept their home dominance and perfect season going, and oh yes, they made certain they kept, as they like to say, "checking off the boxes."
Sparking Greenwich with his arm and legs, Muir threw for 272 yards with three touchdown passes and ran for a score in the second-seeded Cardinals' resounding 49-13 win over seventh-seeded New Britain.
"All season we've just been checking boxes," Muir said. "Our first goal was an undefeated regular season, we checked that box. Win the first game of the playoffs, we checked that box, now we're moving on to the semifinals and we checked that box. We have all our goals in mind and we all know what our final goal is."
Greenwich — the No. 1 team in the GameTimeCT poll — advances to the Class LL semifinals to face No. 3 Newtown, a 26-15 winner over Darien on Tuesday night, on Sunday at 12:30 p.m. at Cardinal Stadium. The Cards (11-0) made it to the championship game of the state tournament last year, where they lost to Darien.
"We're playing a great Newtown team, so we really have to prepare for them," said Greenwich wide receiver Lance Large, who totaled 118 receiving yards and a touchdown. "They beat a great Darien team, so it should be a tough game. Offensively, it's our tempo that makes us tough to deal with. We keep trying to push the tempo and keep moving."
The Golden Hurricanes, who played the Cardinals for the first time since the 2004 season, finished their season at 9-2. Senior Shawn Robinson had a touchdown run for New Britain, which saw senior quarterback Tahje Yopp face consistent pressure throughout. New Britain, which possesses a vaunted running game, scored the game's first touchdown, but had difficulty getting its ground attack on track against Greenwich's stout defense.
"Their front three, their front four, controlled the line of scrimmage," New Britain coach Tebucky Jones said. "They made it tough for us to run the ball and control the clock, which is what we wanted to do. We came out and played a great team and they showed how great a team they are."
Said GHS coach John Marinelli: "The score doesn't indicate how good they (New Britain) are. That was a physical game and it was one of the toughest games we've had all year. But our team is on a mission."
The Cardinals took the lead for good at 14-7 on Muir's 25-yard dash to the end zone off a well-executed quarterback keeper with 9:46 remaining in the second quarter. Greenwich got the ball at the Golden Hurricanes' 25-yard line following a short punt into the wind.
Following a New Britain three-and-out, Greenwich quickly padded its lead, once again capitalizing on a short field. Taking over at New Britain's 31-yard line, the Cards scored four plays later, with Muir rifling a pass over the middle that was snared by Large for a 28-yard touchdown. Toby Turnbull kicked the extra point and Greenwich put New Britain in a 21-7 hole with 7:17 to go in the second quarter.
"Gavin played great it's all him," Large said. "It was right on my hands, a perfect ball and I was lucky enough to catch it and get it into the end zone."
Greenwich's defense, which forced New Britain into several three-and-outs and its special teams created short fields for its offense.
"Special teams was huge in the first half," Marinelli said. "Field position was created because of our defense, our punt return and our punt team, with Quinten Fox (punter) pinning them deep."
With the Golden Hurricanes down 21-7, senior linemen Emilio Camou and Joe Kraninger combined to sack Yopp, halting New Britain's drive. GHS then methodically drove 77 yards on its next drive — a march capped by senior Stephen Bennett's 27-yard touchdown reception with 10 seconds left in the second quarter. On a screen pass, Muir connected with Bennett, who had blockers in front of him on his way to reaching the end zone and giving Greenwich a 28-7 advantage.
"Offensively, we've been building up to it all year and we're finally hitting our stride," Bennett said. "We're finally hitting our peak."
New Britain struck first, driving 53 yards on only four plays for a score on its opening possession. Yopp's 46-yard pass put the ball on the Greenwich 1-yard line. The next play, Robinson ran it in from a yard out, giving the Golden Hurricanes a 7-0 lead.
Muir completed 8 of 15 passes for 127 yards in the first half and gained 59 yards on the ground in the opening half. Trailing 7-0 — one of the few times they were behind this season, Greenwich knotted the score, courtesy of its opportunistic defense and a New Britain turnover.
Backed up to its 2-yard line, New Britain fumbled and GHS senior linebacker Larry DeLuca alertly pounced on the ball in the end zone, making it 7-7 at the 6:46 mark of the first quarter.
"It was very exciting, that doesn't happen too much to defensive players," DeLuca said. "It popped up to me right there. They were physical and big up front, but our speed worked well against them."
EXTRA POINTS
Senior linebacker Jack Feda registered a sack in the first half for Greenwich's defense, which was also sparked by senior defensive lineman Mozi Bici and junior linebacker Evan Weigold. Feda also recovered two fumbles, while Bici and Weigold were active throughout. In the second half, caught a 4-yard scoring strike from Muir, senior running back Tysen Comizio had a 2-yard touchdown run and Chris Wint hauled in a touchdown pass from backup quarterback James Rinello. Kaiyon Gunn had a 60-yard touchdown run for New Britain in the fourth quarter. Yopp passed for 106 yards for New Britain. Hunter Cusimano and Ryan Raybuck paced Greenwich's effective play in the secondary. Greenwich's offensive line succeeded again in keeping Muir upright in the pocket.
QUOTABLE
"We started out good, then we messed up with the fumble and began making mistakes that we haven't made all year," Jones said. "I knew watching Greenwich on film that you can't let them get started. Once they get that tempo going they're tough to stop."
Said Marinelli: "We have a tough opponent coming up, but we are going to enjoy the fact that we get to go to practice tomorrow."
GREENWICH 49, NEW BRITAIN 13
NEW BRITAIN   7 0 0 6 — 13
GREENWICH    7 21 14 7 — 49
NB — Shawn Robinson 1 run (Tyree Pinnock kick)
G — Larry DeLuca fumble recovery in end zone (Toby Turnbull kick)
G — Gavin Muir 25 run (Turnbull kick)
G — Lance Large 28 pass from Muir (Turnbull kick)
G — Stephen Bennett 27 pass from Muir (Turnbull kick)
G — Bennett 4 pass from Muir (Turnbull kick)
G — Tysen Comizio 2 run (Turnbull kick)
G — Chris Wint 24 pass from James Rinello (Turnbull kick)
NB — Kaiyon Gunn 60 run (kick failed)