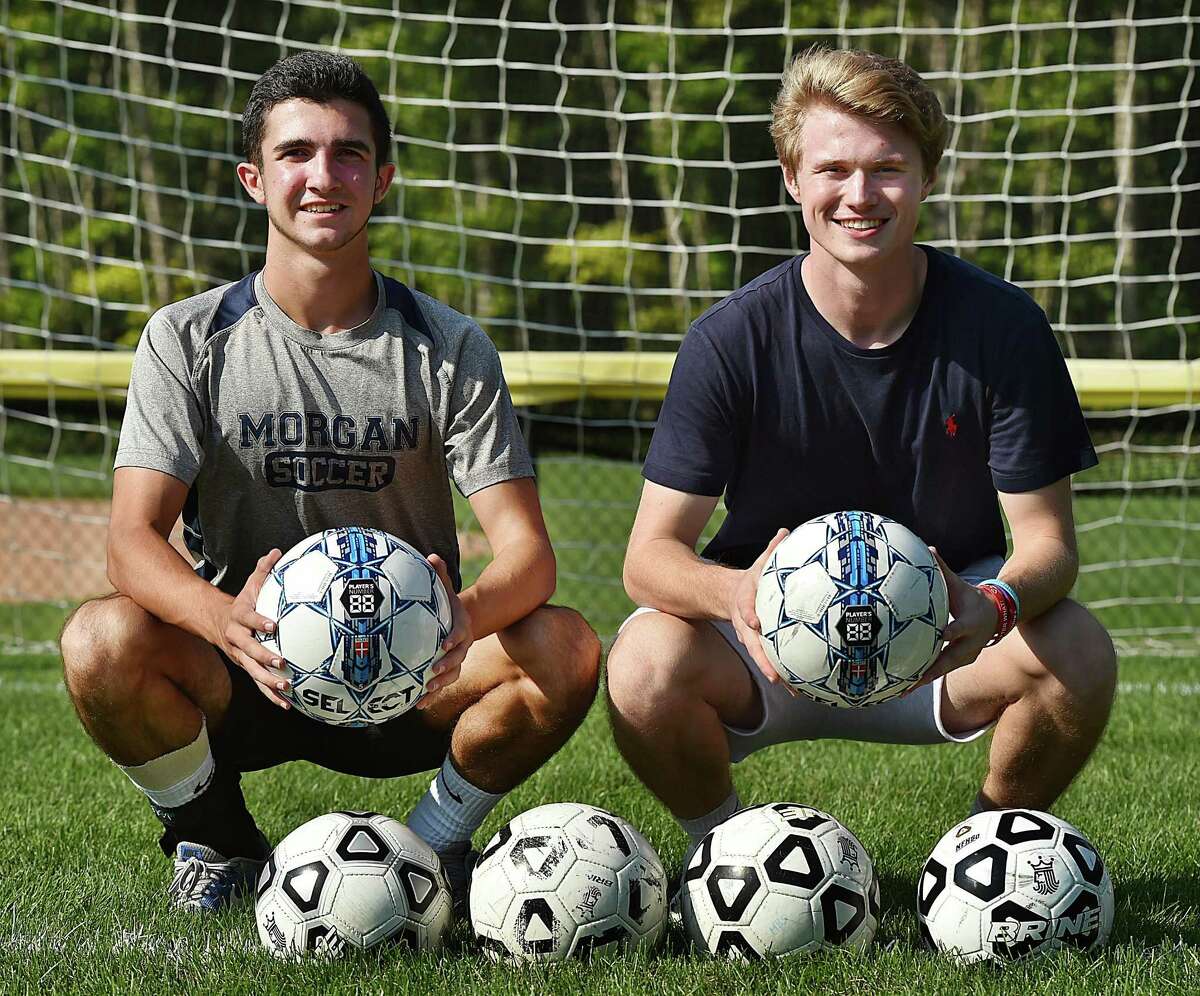 CLINTON — You can understand — and forgive — members of the Morgan boys' soccer team if they are still basking in the glory of achieving a state championship season.
Last year's Class S state championship was the program's first since 1964.
"I'll wear my Morgan sweatshirt and people would ask me, 'Were you on that team?' " junior forward Zach Tuccitto said. "It's nice to know they care and realize how much work we put in. We made history basically, something I know I will never forget."
Carter Skidmore, a starting senior midfielder, feels "like it's gotten better over time (the title). Over time, it had hit me that this will be something I will think of for the rest of my life. It was the first state championship in 50-something years and our whole town was there. We were recognized by the school and the town. Things like that has impacted how I see the victory."
Tuccitto and Skidmore are among six starters back for what the Huskies are hoping will be a repeat performance come November. Confidence seems to be high in Clinton.
"The goal every year is to win a state championship," Skidmore said. "This year we are as good, maybe better than last year. We are a deep team, pretty good up the middle, a good goalkeeper and back line. There's a lot of experience on this team. We definitely think we can be a good contender."
Said head coach Ross DeMay: "The confidence level is there. They go at each other hard, really challenge each other and hopefully, that will push us this year."
DeMay, now in his sixth season piloting the Huskies' program, said he used 19 players during last season. That experience will help in Morgan's chances to not only attempt a repeat, but also try and return to the Shoreline Conference tournament final. The Huskies were co-league champions with Haddam-Killingworth last season.
But key starters from a year ago have departed, including Juan Avila, who scored 33 goals and was the Register's Area MVP, and starting goalkeeper Anes Gadun, also a register All-Area pick.
"We lost six starters, an all-state keeper, an All-New England forward. Where do you make up 33 goals in a season or that shot-stopping ability?" said DeMay, last year's Register Area Boys Soccer Coach of the Year.
Tuccitto, last year's second-leading scorer with 15 goals, likely inherits the spot vacated by Avila. DeMay said Nick Rubino will start at keeper. "He actually is quicker on the save. This is his third year playing soccer. Hopefully, he will get a little meaner. He's one of thee nicest kids on the field."
Playing that many starters a year ago could help the Huskies' run at some more postseason glory.
"I think definitely we will have to be better defensively because goals wont come as easily (without Juan Avila)," Tuccitto said. "This senior group has been playing together for as long as I can remember. Our team chemistry will help us be successful."
Standing in the way, among other teams, likely will be Old Saybrook.
The Rams had defeated the Huskies in the 2016 Shoreline final and won twice during the regular season last year. Then Morgan went to Old Saybrook and dethroned the Rams in the league tournament semifinals.
That was just the appetizer. Morgan and Old Saybrook met in the Class S state semifinals. It went to overtime and then to penalty kicks. Jack O'Sullivan had the deciding one and the Huskies went on to beat Somers 4-0 in the final.
"Old Saybrook in states was our toughest game. Once we got past that roadblock, that made the goal (of winning a state title) feel real," Skidmore said.
O'Sullivan and Calvin Jackson will serve as co-captains as Morgan gears up for the 2018 campaign.
"I've been impressed by the improvement from quite a few of them, so we will see," DeMay said.