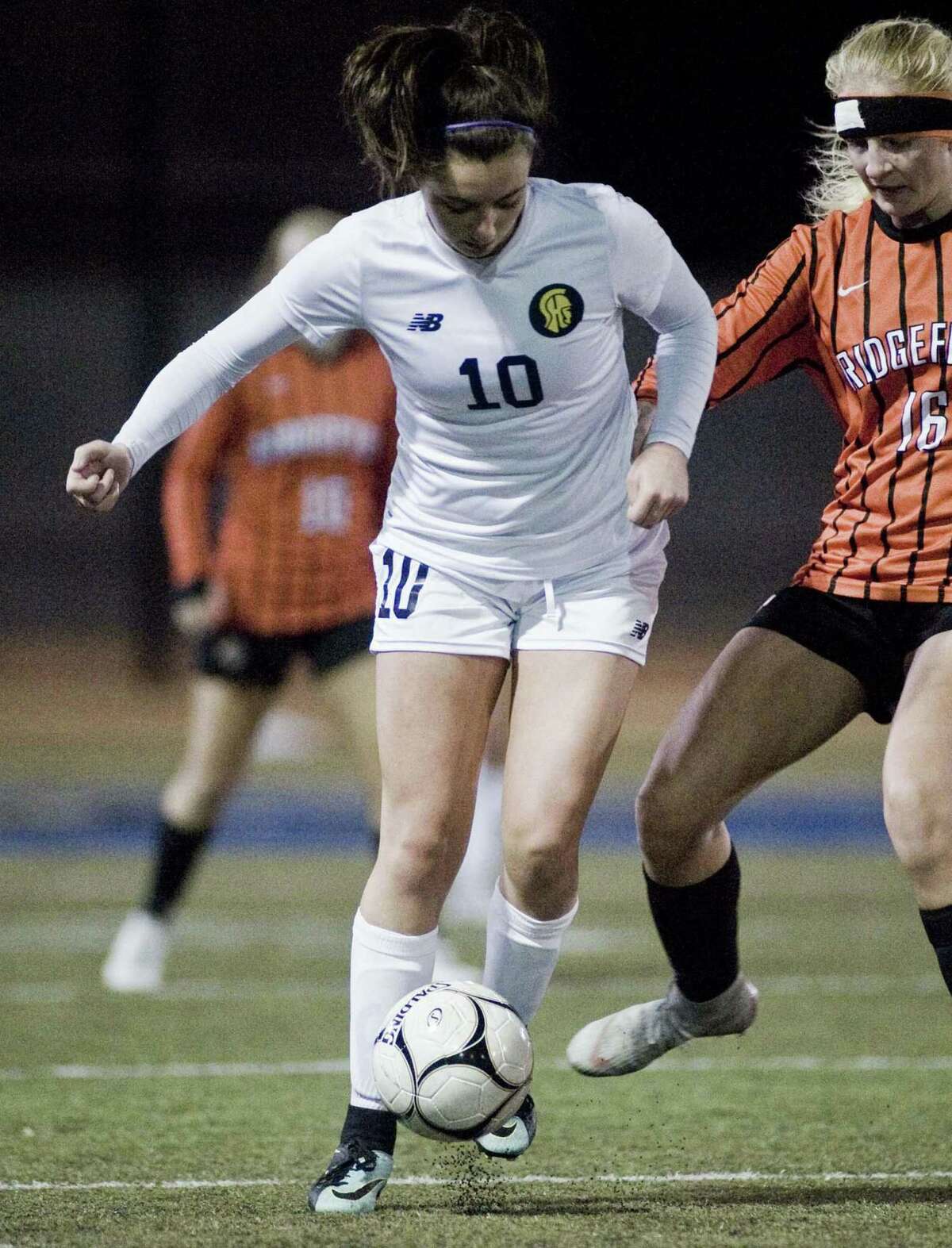 WATERBURY— Ridgefield senior Claire Middlebrook turned her team's Class LL semifinal against Simsbury into a set piece drill, one that likely could be made into an instructional video.
She lined up about six free kicks her teammates won in dangerous positions, and displayed the precision that most players only hope for once. Two found their way into the back of the net, a third was parried onto the crossbar, and a fourth found the head of a teammate for another goal.
Not a bad night for one of the program's foundations over the past four years.
No. 7 Ridgefield booked its place in the Class LL final for a remarkable fourth straight season behind a 3-0 win over No. 19 Simsbury at Municipal Stadium. The Tigers (20-2-1) will meet FCIAC rival Staples — which edged Glastonbury 1-0 — in the final Saturday at a place and time to be determined.
Middlebrook turns provider to Slaminko, who scores. Tigers going back to final again, up 3-0 #ctgsoc pic.twitter.com/EwPAKLJNfg

— Ryan Lacey (@RyanLacey11) November 13, 2018
"I'm really excited to be going back to the state championship game," Middlebrook said. "The fourth time in four years, I didn't want to lose my senior year. … I feel like once we get up 1-0 or 2-0 we focus on the zero. We know how to keep the zero and that showed through today."
Middlebrook scored both her goals in less than five minutes midway through the first half to give the Tigers a commanding lead, then found Caitlin Slaminko in the box six minutes into the second 40.
"I basically hit them all the same and I try to get them in the goal area," Middlebrook said. "And they just happened to go in. But it can be attributed to our offense working hard and drawing those fouls. Honestly, it depends on the game. Some days I'm hitting them and some days I'm not. Tonight it just went my way."
Unreal, Middlebrook does it again. 1-0 with 24:03 left in first half #ctgsoc pic.twitter.com/CYmtU8Kg08

— Ryan Lacey (@RyanLacey11) November 12, 2018
The Tigers — who have given up just four goals in 23 games this season — spent much of the second half threatening to break the game wide open. Fluid movement in the attacking third led to more chances to get on the scoresheet.
"To be honest, that was probably the best we played all season," Tigers coach Iain Golding said. "We kept possession really well, we attacked in numbers and we created overlaps. It was a really good game."
MIDNIGHT STRIKES
Great save to keep it 0-0 #ctgsoc pic.twitter.com/ru5OrrHBku

— Ryan Lacey (@RyanLacey11) November 12, 2018
The Trojans kept just four clean sheets prior to the playoffs, but a change in approach led to an outstanding run to the semifinals. Simsbury notched 1-0 wins against Hall and Wilton while beating Southington in a penalty shootout after a 0-0 tie.
The three road wins in five days took their toll, coach Steve Jarvis said.
"We were much more composed in what we were trying to execute," Jarvis said. "We really read the lines as to what we were trying to achieve. … We didn't have the energy we did last week and Ridgefield didn't allow us to even get into the game."
PLAYER OF THE GAME
Middlebrook comes this close to a hat trick of free kicks right before the half ends #ctgsoc pic.twitter.com/hXwXMh051K

— Ryan Lacey (@RyanLacey11) November 13, 2018
Claire Middlebrook, Ridgefield: Duplicated her performance from last year's state final against the Wreckers with two set piece goals.
QUOTABLE
"It was an unbelievable ride," Jarvis said.
"(Middlebrook) puts in a lot of hard work to be as good as what she is," Golding said. "She comes up with some very big goals for us and she's helped our team be very successful."
RIDGEFIELD 3, SIMSBURY 0
SIMSBURY 0 0 — 0
RIDGEFIELD 2 1 —3
Goals: R—Claire Middlebrook 2, Caitlin Slaminko. Assists: R—Middlebrook. Goalies: S—Leigh Paradis (8 saves); R—Lauren Castle (2 saves); Kelly Chittenden (0 saves). Records: Simsbury 12-7-1, Ridgefield 17-2-1.