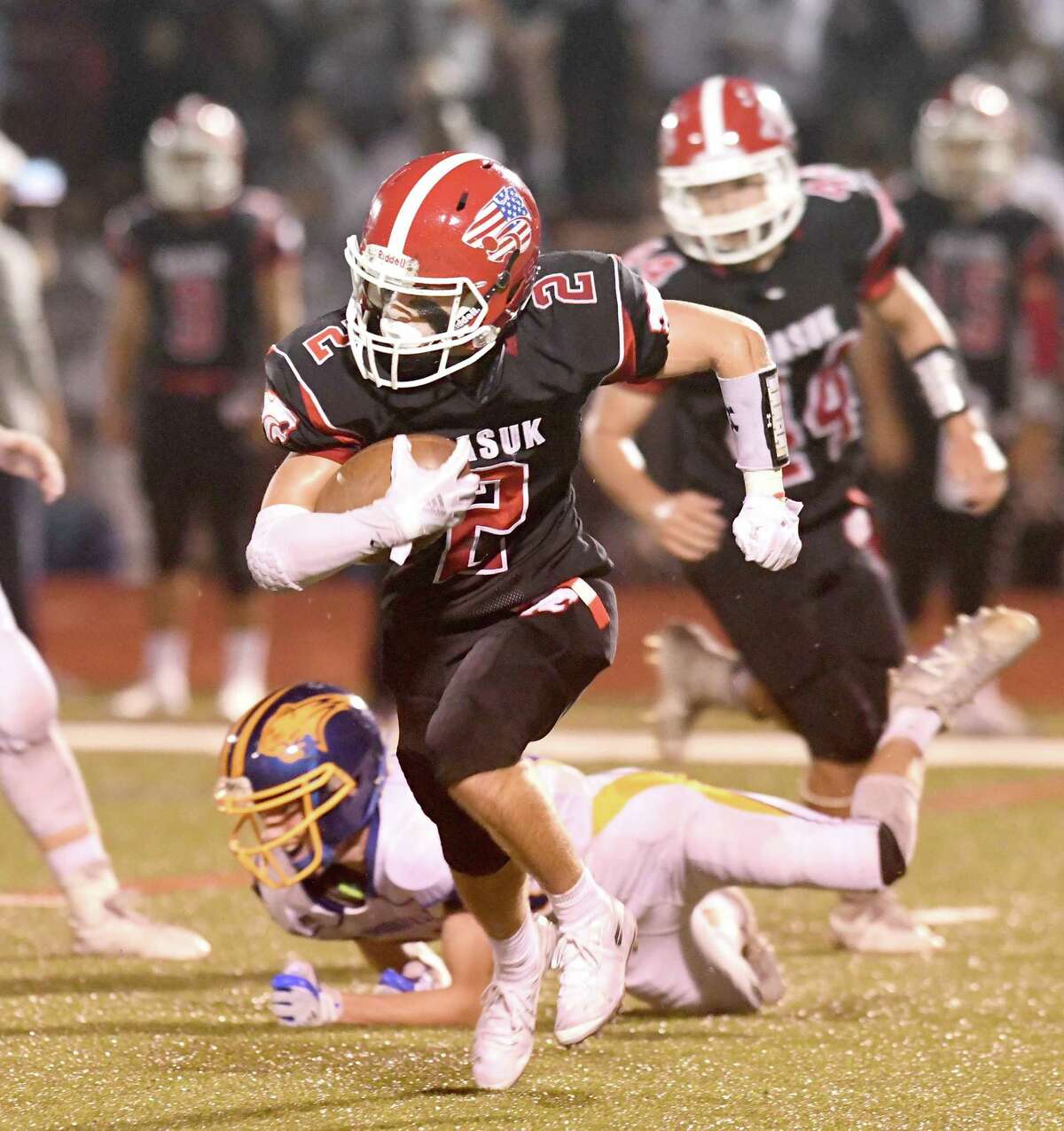 MONROE — Over the course of 48 minutes Friday, there were moments that gave Masuk football coach Joe Lato a jolt of optimism. Ultimately, though, they were just moments.
"That was a tale of two different teams right now," Lato said after the Panthers lost 42-21 to Brookfield to kick off the season. "They have a good team, and they did what they do. Our kids fought. We just couldn't — we had a shot maybe to cut it down, we had a shot at an onside kick.
"There were a bunch of little things that we just missed. If the ball bounces differently here or there maybe we could've made it a little more interesting."
Had it still been 2017, odds are they would have. That's because the Panthers were a juggernaut last season, averaging more than 40 points a game and making it to the state final for the first time since 2010.
Alas, this Masuk team is different — dramatically different.
"It was tough," said junior wide receiver/cornerback Chris Tillotson, one of only two returning starters on either side of the ball. "They had 27 seniors and we've got six of them. The majority of our lineup's juniors and sophomores, so it was just tough. We made a couple mistakes in the second half."
In addition to graduating 19 seniors — six of whom made the New Haven Register All-State team — star running back Jack Roberge transferred to Cheshire Academy over the offseason. Offensive coordinator Steve Christy also left the program, as did his son, Scott, who ran the defense.
The Panthers started fast in their opening act of 2018, taking a 14-7 lead in the second quarter, but Brookfield was stronger, faster and simply better as the game progressed. The Bobcats, a team with 19 returning starters, outscored the Panthers 21-0 in the third quarter, and finished the game with 507 yards and six touchdowns on the ground.
"This was a tough matchup for us Week One, but it is what it is. We can't control that," Lato said. "The kids played hard. [Brookfield's] physicality was an issue in the second half."
Lato understands there will be growing pains, especially with all-state quarterback Matt Hersch (3,406 yards and 36 touchdown passes in 2017) having graduated. Yet, he's kept his expectations high, believing that with a few tweaks and some seasoning the Panthers can enjoy a successful season — even if it's not 2017-level successful.
A year ago, the Panthers finished 11-2 and were ranked seventh in the final GameTimeCT/New Haven Register poll after losing 35-21 to Daniel Hand in the Class L final.
"I worry about everything, but that's coaching," Lato said in the preseason. "In high school football, you cannot just tailor-make a team every year. You get what you get and that's what you've got to do. That's your identity."
The identity of the 2018 Panthers has yet to be determined.
"It's just a different feeling," said Tillotson, who caught a touchdown in the season opener. "We got our jitters out. … Me and [offensive and defensive lineman] Colin Meroupolis, we were pretty much the only ones with regular varsity time from last year. A bunch of us were nervous. This was a game to get our jitters out. We'll be back next week."
Their next opponent — SCC powerhouse North Haven — will present many of the same problems that Brookfield did. As one of the few teams in Connecticut to use the Wing-T as their primary offense, the Indians pride themselves on their ability to run the football. They ran for 222 yards on 46 carries in a 20-19 victory over West Haven to open the season.
There's no mystery about where the Panthers, new lineup and all, will need to improve before Friday's matchup at Vanacore Field.
"Well, on the bright side, North Haven doesn't run the ball," Lato joked. "Oh, wait a minute."