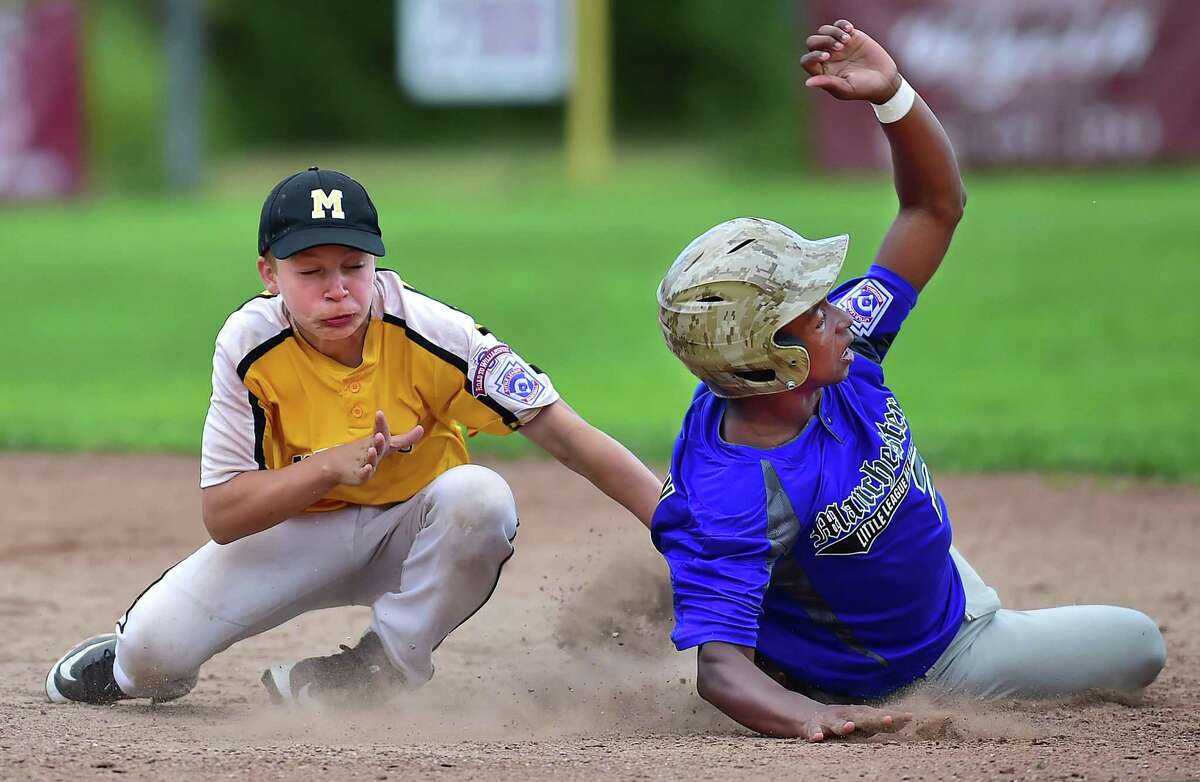 EAST LYME — Pitching and defense dominated the first two scoreless innings between Madison and Manchester National in the opening game of the double-elimination Little League baseball state championship tournament on Thursday.
And then the offense kicked in for both sides.
Trailing 2-0 heading into the bottom of the fourth inning, Eric Montez belted a three-run home run deep in straightaway center field and an RBI single by Easton Masse in the same inning led Section 4 champion Manchester National to a 5-3 win over Section 3 champion Madison at East Lyme Field.
Masse went the distance for Manchester National, striking out six and allowing eight hits.
"I wasn't worried about being down two runs," Manchester National manager Don Diehl said. "Falling behind was kind of typical for us because we've been coming out flat with our bats. But I knew our pitching would keep them down. As soon as we started stringing hits together everything else came together.
"When Eric jumped on that pitch I knew it was going out. He hit it solid. That three-run homer was the jump start we needed."
Manchester will face the Fairfield American-Wallingford winner at 5:30 p.m. on Friday at East Lyme Field. Madison will face the Fairfield American-Wallingford loser in an elimination game at 8 p.m. on Friday.
Through the first two innings it was all pitching and defense with both teams scoreless heading to the third inning. Madison starting pitcher Hudson Geremia had four strikeouts and Masse had three strikeouts in the first two innings..
In the top of the third inning, RBI singles by Christian Kells and Troy Piascik gave Madison a 2-0 lead. Manchester National answered in the bottom of the fourth inning. Montez belted the first pitch thrown to him for his three-run homer and Masse's RBI single made it 4-2.
"I knew he would throw me a fastball on the first pitch," Montez said. "As soon as I hit it I knew it was going out. We're all very excited to start off the tournament with a win."
Troy Piascik trimmed the Manchester National lead to 4-3 with an RBI double in the top of the fifth inning. But Stew Harrison got the run back in the bottom of the inning on a solo homer to left field for the 5-3 final.
"We had guys on base a few times but we just didn't hit today," Madison manager Jon Cohen said. "That three-run homer was the big hit in the game. On Friday we have to start hitting. Now, it's win or go home. We've been in this position before and I'm confident our guys will be ready."
MADISON 3, MANCHESTER NATIONAL 5
MADISON 002 010—3 8 1
MANCHESTER 000 41x—5 11 0
Batteries: Madison—Hudson Geremia, Tai Nuzzi (4), Christian Kells (4) and Nicholas Antonetti; Manchester National—Eaton Masse and Mason Breton.