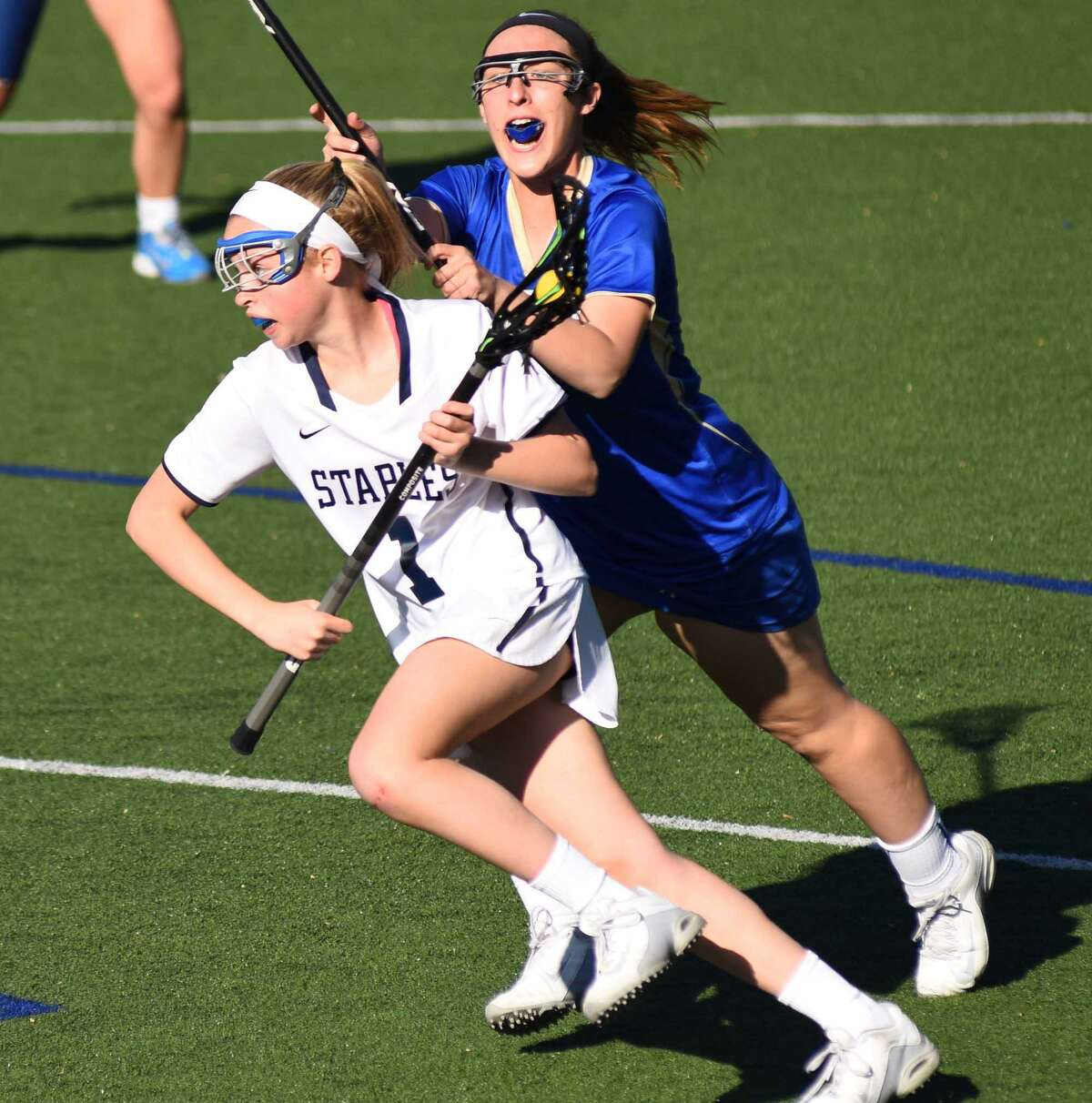 Fairfield County has long been a region where field hockey teams have made a big splash on a state level.
Norwalk, Wilton and Staples have all made deep runs into postseason tournaments and are once again chasing those same goals this season.
Brien McMahon, meanwhile, has been through a few down years, but has taken some big steps in rebuilding the program and hope to find the postseason this fall, as well.
Here's a look at our area field hockey teams heading into the 2018 season.
STAPLES
The Wreckers have made a major push to become one of the FCIAC's elite programs over the last decade and with two straight state Class L championships along with 2011's FCIAC title and 2016's FCIAC runner-up finish prove it belongs in the equation.
How will Staples look in 2018?
"We hope to compete for the top level, but we're a very young team with only three seniors," fourth year coach Ian Tapsall said.
Senior Elle Fair, who is taking her prowess to Trinity next fall, and junior Grace Cooper will captain the young Wreckers through the season.
Other key returnees from last year's varsity team, which lost seven starters, include two senior goalies in Bridget Mulloy and Lexi Tuccinadri, junior Hannah Paprotna and sophomore Laine Ambrose and Izzy Deveney.
Junior Kyle Kirby, who missed last season because of a torn ACL, returns, as well.
Two freshmen — Ava Ekholdt and Jess Leon — will see time on attack.
"The strong point is all have played club field hockey, which is the first time all of our players have done that," Tapsall said. "Players will have to adjust to a brand new system predicated by the strengths of new players we have."
NORWALK
The Bears posted a 14-2 regular-season record a year ago before falling to Darien by a 2-1 overtime score in the Class L quarterfinals.
Six seniors graduated from last year's team, but plenty of depth and talent return to keep Norwalk in the hunt for another season.
"We have a nice mix of players with experience and youth that should help infuse confidence on the field," 25th-year head coach Kyle Seaburg said. "The willingness to stay hungry and work each day to get better makes this team a joy to coach. We are looking to build upon their hard work in the offseason and to capitalize on their desire to take their game to the next level."
Three senior tri-captains — all of whom have three years of varsity experience and started last season — will lead the Bears into the new season.
Laura Deering, Lily L'Archeveque and Betsy Burke all play midfield to handle the transition from defense to offense and back again.
Three more seniors will also play key roles, including returning starting goaltender Jessica Monteiro, returning starting defender Sawyer Millilo and midfield/forward Julia Sferlazza, who left the soccer team to join field hockey.
Four other starting returnees include juniors Adrianna Alfissi and Julia Vaccaro, both forwards, and Mia Lanzarotto, a mid/back. Also back is Tessa Albrecht, a sophomore who is one of the best younger players in the state.
Julia Cunningham, a junior who missed last season because of an injury, is back and healthy while Jordan Hogan and Jackie Cota will play key roles for the Bears, as well.
"The goal for the team is to stay humble and hungry and live in the moment," Seaburg said. "The effort given by each player every day should be their best and if that is what we give then we can be happy with what we have done."
BRIEN McMAHON
Dani Brown begins her third season at the helm of the Senators program, which went 3-12-1 last season after back-to-back two-win seasons.
From what Brown has seen during this preseason, though, don't expect the same McMahon program to get off the bus this season.
"I am expecting us to challenge more teams this year," Brown said. "We have had a very good preseason and are eager to get to the start of the season and put all that hard work to the test. We had more kids playing in the offseason this year than ever before and am hoping that the extra time on the field help us to achieve our goals this year."
The Senators only scored 10 goals all of last season, so more goals must be a big goal for the Senators to be successful.
Five of McMahon's seven "key players returning" are either forwards or midfielder, so a little more experience will help the Senators.
Jess Trujillo, a captain, is a senior forward while junior Emma McLaughlin and sophomore Julia Bale will also play up top.
In the midfield, juniors Hanna Felber and Delaney Oak both return.
Manning back line, meanwhile, are senior captain Julia Curtin and junior Kam Spezzano.
Two other sophomores stepping up to the varsity level include Toni Horton, a goalie, and Brooke Thill, a midfielder.
Two freshman, including goalie Leah Pascarelli and midfielder Autumn Bartush, will also be in the mix.
"While it is improving, our challenge is overcoming a lack of experience," Brown said. "In order to compete with the top dogs in the FCIAC, your whole team needs to commit to growing as a player in the ten months that they aren't in a McMahon uniform. In addition to that, we have two young goalies who are competing for a starting job on the varsity team. They will have to learn very quickly how fast-paced this game really can be."
The Senators goals this season, though are simple and straight-forward.
"We are looking to improve on our record from last year and qualify for the state tournament," Brown said.
WILTON
After going through a major change in 2017, when longtime legendary coach Deirdre Hynds-Ormond left the program, the Warriors still made it to the FCIAC championship game, falling to Darien in the final.
This year, a minor coaching tweak has occurred as Liz Pisko has removed the "co-head coach" title from her name to be the sole head coach of the program. (Previous co-head coach Toni Ann Cortina stepped down because of travel concerns from her New York home).
Still, the coach remains one of the more familiar varsity faces this season as Wilton has to replace nine starters from last year's team, which went 13-6 overall a year ago.
In the past, Wilton has simply reloaded and continued its run of successful season.
Will that remain the case?
"New team, new season," Pisko said. "I have strong, hard-working players that love the game, respect one another and want to win."
Emma Rothkopf and Robin Clasby both return as senior captains for the Warriors. Rothkopf plays forward while Clasby plays midfield.
"Our captains have worked hard to develop a team theme/motto: Pride, Passion, Unity," Pisko said. "This is something our coaching staff has taken a step further and instilled 'Unity' among all three teams — freshman, JV, varsity. We want there to be unity with in the entire Wilton field hockey program."
Junior Olivia Hahn is another veteran at midfield while returning goalies include junior Megan Kaeyer and Michelle Prario.
Players stepping up to the varsity level and expected to play key roles include: junior defenders Cassidy Costello and Remi Taubin and sophomore midfielders Caroline Luciano, Meg Likely and Nina Sylvester.
"The girls are still getting to know one another as players, but I would not say it's a weakness, just a learning curve," Pisko said.