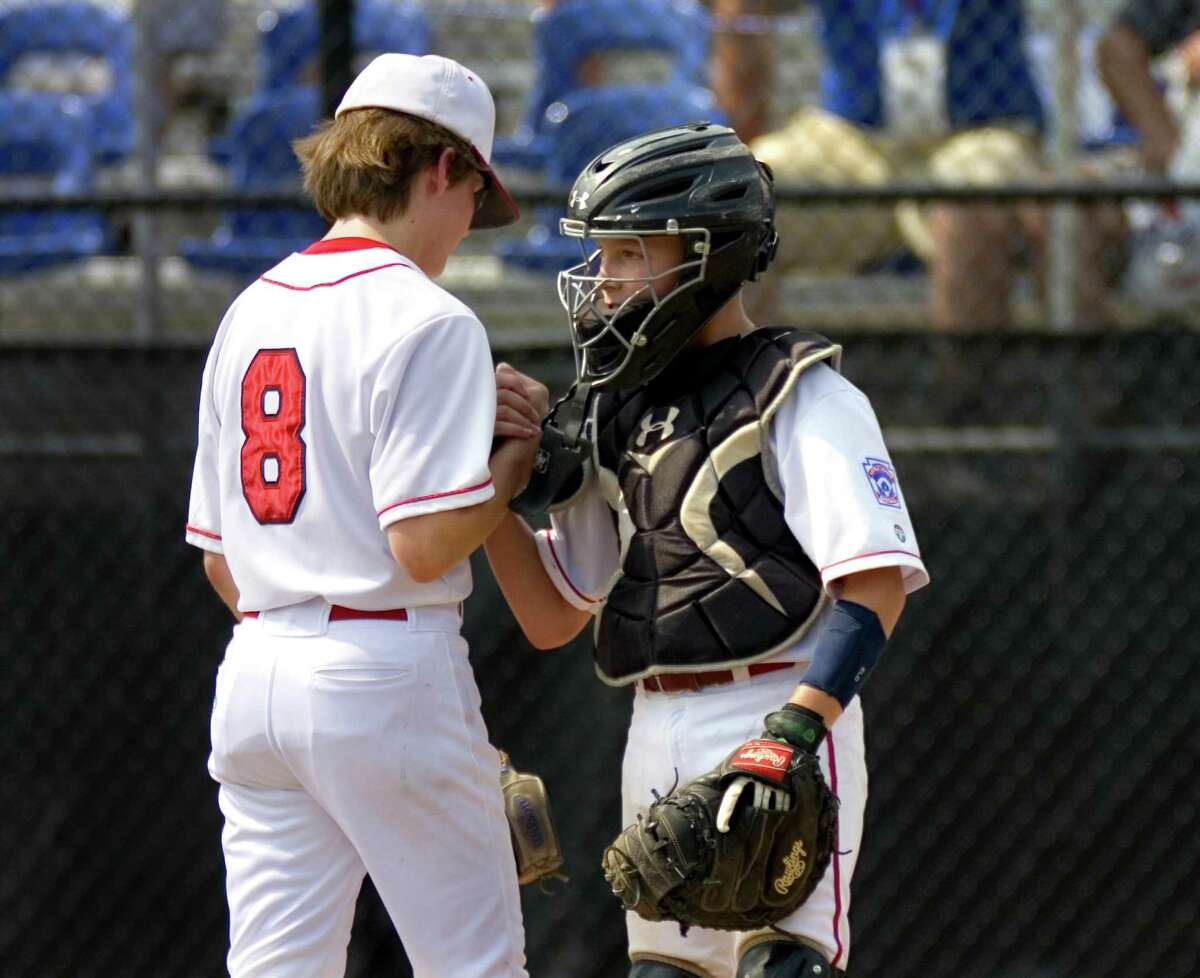 BRISTOL — Now, that's more like it.
Facing elimination, Fairfield American put together its patented formula – clutch hitting, great defense and power pitching – and rolled past Saco, Maine, 7-0 in a loser's bracket game Tuesday afternoon at Breen Field at the A. Bartlett Giamatti Little League Leadership Training Center.
Will Meyers pitched into the fifth, allowing just three hits with six strikeouts, pinch-hitter Dustin Walters hammered a two-run home run, Jon Morris added a two-run triple and Fairfield made every defensive stop in staying alive in its quest to win a return ticket to Williamsport, Pa., and the Little League World Series. Fairfield will play either New Hampshire or Vermont on Thursday at 1 p.m. in a loser's bracket game with its season still on the line.
"Before the game, we told them 'be confident." I said let's get the edge back,'" Fairfield American manager Jeff Gouley said. "This is a great atmosphere here, all the teams are together but I thought we needed to get back that edge, that little bit of fight that we had before. To get that back today, you could see the difference."
Indeed. Shortstop Pierce Cowles made three back-to-back-to-back, solid defensive plays in the second and handled all four fielding plays flawlessly while first baseman Robbie Donahue made two great plays of his own in the third and the fifth to keep Maine scoreless.
"I just work hard at it," Cowles said, who also had a double and a single, scored a run and had an RBI. "We just continue to do the things we do in practice, taking ground balls, making plays. We all did great today."
Especially Meyers. Knowing that the season possibly hung in the balance of his start, El Gato Grande – the Big Cat – delivered. He threw four scoreless innings, allowing just one ball to be hit out of the infield en route to the win.
"I was just focused on hitting my spots, putting the ball where (catcher) Timmy (Domizio) wanted it," Meyers said, who threw just 67 pitches. "Both my fastball and curve ball were good … my curve ball could have been better but it got the job done."
"The big cat was throwing strikes, he was hitting his spots, like he always does," Gouley said. "He did a great job … Domizio did a great job, to be a catcher on a day like today, he didn't lose his focus at all. He was blocking the balls, he caught a great game but Will, time in and time out has been hitting those spots. We're really proud of him."
A leadoff single from Jon Morris and an RBI double from Cowles gave Fairfield a quick 1-0 lead just two batters in and American pushed that to 2-0 when Cowles scored on a single from Domizio. Three singles from Eli Balkan, Cowles and Charlie Yates loaded the bases in the second and Balkan scored on a wild pitch to make it 3-0.
In the third, Walters, pinch-hitting for Jude Gussen, hammered a two-run home run to give Fairfield a 5-0 lead. The ball cleared the 225-foot fence in left center with plenty to spare, traveling an estimated 275-feet.
"It's the best feeling in the world, just great," Walters said. "I went up there trying to get a hit and it was first at-bat in Bristol so I wanted to make it count and … that happened."
"We've been throwing a lot of BP, and one thing we've been saying is bat right through the ball and that's … you couldn't ask for a better hit," Gouley said. 'That thing had a stewardess on it. That was amazing, that sound … that's special. There was a gasp from the fans when that was it."
A two-run triple from Morris in the fifth opened a 7-0 cushion for Fairfield and one inning of relief from Yates and another from Cowles locked down the victory.
celsberry@ctpost.com
FAIRFIELD AMERICAN 7, MAINE 1
FAIRFIELD AMERICAN 212 020—7 12 0
MAINE 000 001—1 4 0
Records: Fairfield American (14-2), Maine (9-2). Batteries: FA – Will Meyers (W), Charlie Yates (5), Pierce Cowles (6) and Timmy Domizio; M – Jeremiah Chessie (L), Matt Kimball (4) and Henry Lausen, Justin LaBelle (3).