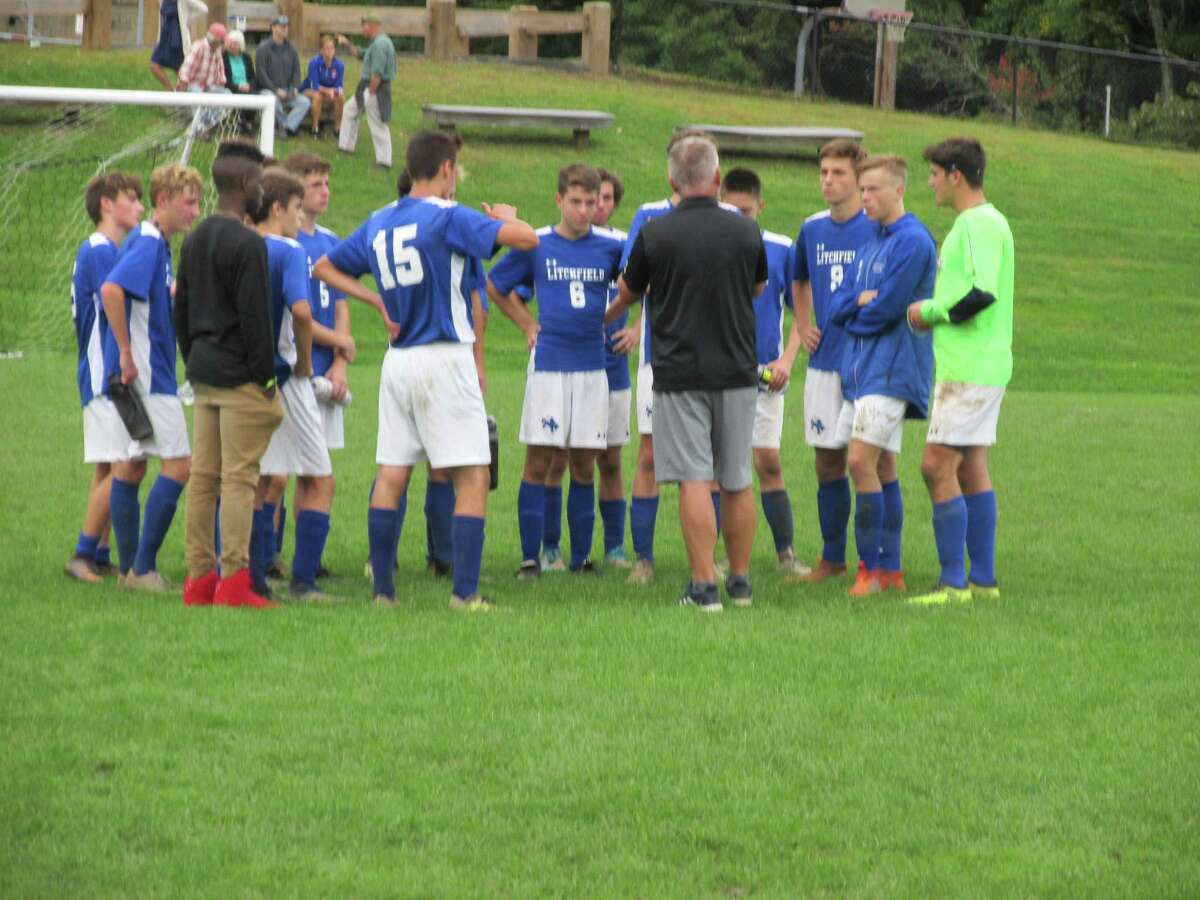 LITCHFIELD — Litchfield's undefeated boys soccer team (6-0) made its biggest statement yet in a 6-1 rout over Northwestern, handing the Highlanders (4-1-1) their first defeat Thursday afternoon.
"We know they're physical. It was a test," said Litchfield's Matt Gostowski. "We responded by being technical."
Northwestern came to Litchfield's Plum Hill Sports Complex with just one blemish — a 2-2 tie against Shepaug last Friday — on their early-season record.
The Cowboys passed their first big test two weeks ago in a 3-2 win over perennial Berkshire League power Nonnewaug.
Now, with defending Berkshire League and Class M state champion Lewis Mills facing a killer schedule next week against Nonnewaug Monday, Northwestern Tuesday and Litchfield Friday night, the BL title could finally be up for grabs against undefeated Mills' traditional domination.
"This team's chemistry is the best I've had," said veteran Cowboy coach Rob Andrulis.
"We definitely pass well," echoed sophomore Tim Donoavan, who came away with a hat trick Thursday in the midst of a senior-laden team.
"Everybody is striving for the same goal," said Miles Chapman.
"The key is energy and focus," said Matt Gostowski, assessing Litchfield's chances against the Spartans.
"If we just play our game and pressure every ball, we can do it," said Carson Mello.
Nevertheless, Coach Andrulis had his doubts for the first 15 minutes of Thursday's game.
"They're beating us to every ball," he shouted 10 minutes in, after the Highlanders came away with the game's first two shots and a corner kick.
"If they score first, it's a different game," Andrulis said.
But the Cowboys picked up their pace on offense, forcing Highlander keeper Zach West into a great sliding kick save in the twelfth minute.
Four minutes later, it was the Cowboys with the game's first goal when West came out for a high bouncing free kick from Chapman and Donovan headed it in.
Two other Cowboy shots narrowly missed, with another nice save by West.
Then came a scramble in front of the Highlander net. Charlie Shanks sent it out to Chapman on the wing and the senior midfielder booted it in.
"We need one more to make me comfortable," said Andrulis.
He got his wish eight minutes from the half when West batted a shot back to Shanks, who sent it to Mello by the post for a 3-0 lead.
"We're not hanging back on defense; we're going after them," Andrulis said at the half.
Five minutes in, Shanks kicked a long send; West came out for another high bouncer with just a single defender in front of the goal. The ball slipped off his foot to Gostowski, waiting for the chip into an empty net.
Donovan made a penalty shot two minutes later after a trip in the box, then got his third goal midway through the half, evading a defender for another empty-goal shot for the final Cowboy score.
Down 6-0 with five minutes left, Highlander James Nelson crossed a pass to Fred Wierdsma for Northwestern's goal.
"(The final score) didn't surprise me," said Northwestern coach Andy Campbell. "They have really good players and good teams make you pay when you make mistakes. We'll bounce back."
Litchfield 6, Northwestern 1
At Litchfield High School
Northwestern 0 1 — 1
Litchfield 3 3 — 6
Goals: NW — Fred Wierdsma. L — Tim Donovan 3; Miles Chapman; Carson Mello; Matt Gostowski. Assists: NW — James Nelson. L — Chapman; Charlie Shanks 3. Shots: 16-7 Litchfield. Saves: NW — Zach West/Max Langer 10. L — Colby Bunnell 6.
Records: Northwestern 4-1-1; Litchfield 6-0.