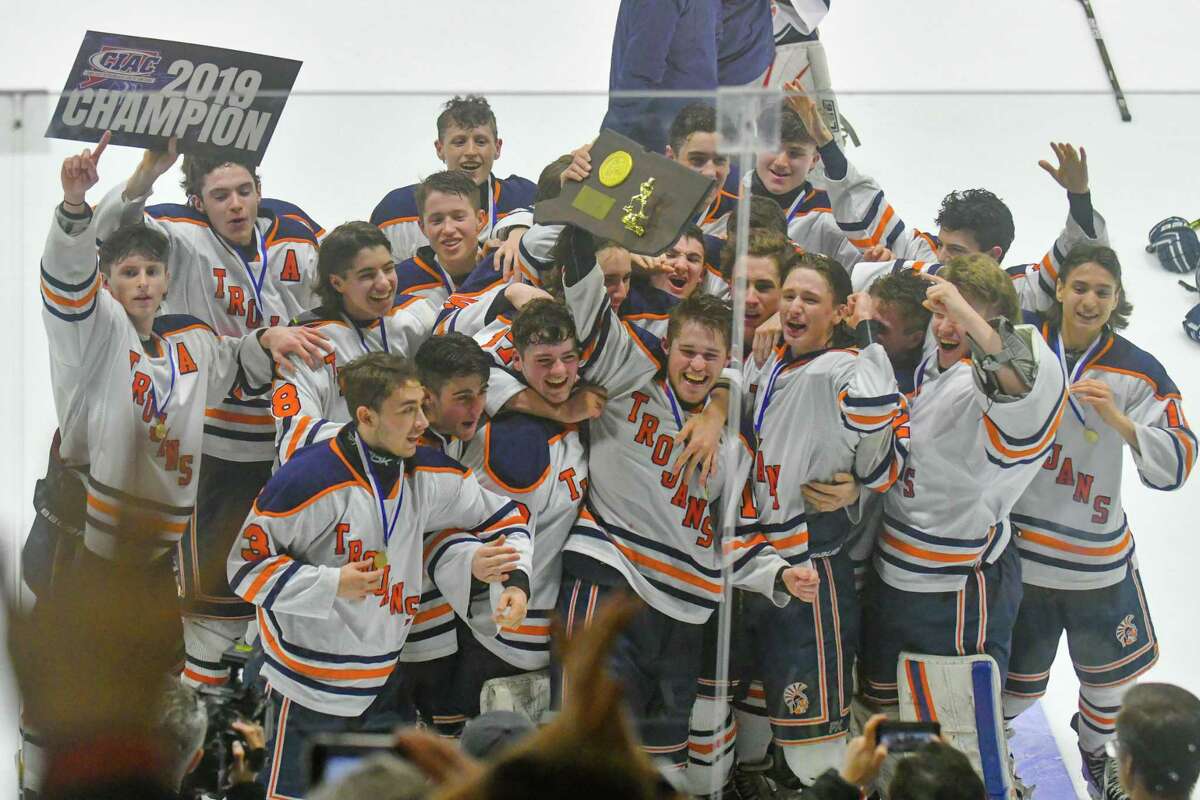 NEW HAVEN — The Battle of Wallingford ended in three handshake lines, with an awful lot of hugs.
It ended with only one trophy, though. And that belonged to Lyman Hall's co-op, the first boys hockey championship in the town's history.
Matt Pettit scored twice, his second putting the Trojans ahead for good, in Thursday's CIAC Division III final, a 6-2 LHK win over Sheehan at a sold-out Ingalls Rink.
"I can't even describe it. It's just the best feeling in the world. To share it with my friends is just amazing."
Pettit, Aidan Weir and Kyle Roberts each scored one of his two goals in the second period as the Trojans took control.
"We had a lot of doubters all year," Roberts said, "and just wanted to come out and prove them wrong."
Second-seeded Lyman Hall/Haddam-Killingworth/Coginchaug (18-7) and their fourth-seeded crosstown rival Titans (19-6-1) were both playing in their first CIAC final. Attendance was announced at 3,500.
"It's such a great experience for the town of Wallingford," Sheehan coach Dave Festa said. "The two schools have really created a great buzz. Lyman Hall came out and played a great game, and really give them credit, congratulate them on a great season."
Andrew Sacco made 32 saves in the win, clutch throughout, but maybe especially in the first when his 10 saves kept it a 1-1 game after 15 minutes.
"I've said it all year," LHK coach Rich Minnix said. "When the kid is on fire, he's on fire. There's no better goalie in the state. When he's off, there's no worse goalie in the state. The last couple of times, he locked in and did what he needed to do. Best goalie in the state."
The Trojans struck first, a Pettit deflection past Sheehan goalie Tyler Robertson 4:33 into the game. But the Titans tied it on Devin Napoli's power-play goal with 3:07 left in the first.
"We only had five shots in the first," Roberts said. "We thought maybe Robertson was a little shaky with those first couple of shots. We wanted to make sure we tested him."
Pettit capitalized on a turnover to slip a shot between Robertson's legs 4:11 into the second. Weir got credit for a power-play goal that pinballed around the front of the net and finally caromed in off the left post. And Roberts came up the left wing, beat a defender and scored from the base of the left circle with 2:59 left in the period.
"They exploded on us, kind of put us back on our heels, really took advantage of the power-play opportunities," Festa said. "We knew they had a strong power play that could really get us behind the 8-ball."
Weir (power play) and Sheehan's Anthony Romano scored 12 seconds apart early in the third, but Roberts' second, on the power play, put it away with 3:56 left.
PLAYER OF THE GAME
Both of Matt Pettit's goals gave LHK a lead.
SHAKE AGAIN
The teams took part in the traditional postgame handshake. There were hugs throughout from opponents who knew each other well. Roberts, a senior captain, was near the end of the LHK line and had hugs for lots of players and coaches, including Festa.
After the Titans received their runner-up medals, they went to shake hands with the Trojans again, lined up on their blue line. LHK returned the favor after accepting their championship medals.
PERSPECTIVE
Sheehan was among the hottest teams in the state down the stretch. They beat top-seeded Hand 8-2 in Monday's semifinal after beating the Tigers in the SCC/SWC playoffs.
"We set the expectations high, and these kids delivered consistently," Festa said. "To beat the No. 1 seed the other day, then come back and play in this game, putting the two back-to-back was a tough order for us. (The Trojans) came out ready to play tonight, and they capitalized on their opportunities."
QUOTABLE
"I would say there was a game like this in us. We just had to produce it. I wouldn't say this was easy, but I think we grinded as a team well and just jelled." — Pettit
LHK 6, SHEEHAN 2
SHEEHAN 1 0 1—2
LYMAN HALL/HK/COGINCHAUG 1 3 2—6
Records: Sheehan 19-6-1; LHK 18-7. Goals: S—Devin Napoli, Anthony Romano; LHK—Matt Pettit 2, Aidan Weir 2, Kyle Roberts 2. Assists: S—Joey Romano, James Stratton, Napoli, Jake Festa; LHK—Jack Roberts 2, Kyle Roberts, Mike O'Toole, Pettit. Goalies: S—Tyler Robertson (21 saves); LHK—Andrew Sacco (32). Shots: S—34; LHK—27.